From the pages of
The Sublette County Journal
Volume 3, Number 21 - June 17, 1999
brought to you online by Pinedale Online
---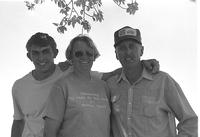 Jory, Lisa and Stub Tatro

Jory
When Jory Tatro's body was found last November, the questioning began for his friends.
by Rob Shaul

Lead Detective Rocky Shaver of the Sublette County Sheriff's Department walked back to Jory Tatro's blue, Chevy pickup on the morning of November 21, 1998. Search and Rescue personnel helping with the search for Jory had noticed that the passenger side mirror had a bullet hole through it.

Jory and his truck had last been seen at approximately 11:30 p.m. on November 2, nineteen days earlier. On November 20, Detective Shaver and Tip Top Search & Rescue member John Linn of Big Piney used a helicopter to spot Jory's pickup near the end of the South Cottonwood Creek road in western Sublette County.

The trajectory of the bullet showed that it passed through the mirror from the inside of the vehicle, outward. To Detective Shaver, it appeared the mirror had been turned so that a person sitting in the passenger side of the vehicle could see, and shoot his own reflection.

There were several spent .22 casings on the pickup floorboard, and Jory's Ruger .22 rifle was missing.

Detective Shaver followed in the direction of the bullet's path hoping to find a stump or tree where it had hit. Not finding anything, he continued to walk through the foot and a half-deep snow in the same direction the shots had been fired.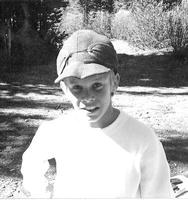 Jory at age 11

"I noticed a large stand of trees approx. 40-50 yards near the same direction as the bullet path," wrote Detective Shaver later. "I searched around those trees and then noticed a creek bed to the south of the trees. I walked around the trees to the creek bed and I noticed what appeared to be a chrome or stainless steel pipe sticking up from the snow. Closer inspection showed there appeared to be the tip of a work boot also sticking up from the snow. I noted the snow was raised and there appeared to be the form of a body under the snow. I contacted Undersheriff Schmidt and advised him that I had located the subject. The time was later relayed to me as being 1007 hours."

Jory Tatro was twenty-one years old when he died. He was a 6 feet, 1/2 inches tall and a lanky 165 pounds. He had green eyes, dark hair, a wonderful smile, and was very soft-spoken. "He talked quiet like his mom," said Jory's aunt, Jenny Sievers. "Jory was soft-spoken, but he would draw your attention."

He owned three horses, drank Coors, wore Wranglers, never rolled up the sleeves on his western shirts, and always sported a ball cap. Jory never pulled on a pair of cowboy boots, unless he was riding. He preferred work boots.

His favorite movie was Butch Cassidy and the Sundance Kid, and he loved Garth Brooks and "old, old country music."

Friends described him as good-natured, quick to smile, and an incessant teaser. Jory's smile could "light up the room," says Beau Faler.

Dianne and Mandy Boroff, Jory's aunt and cousin, said Jory was a perfectionist, who could be hard on himself in his effort to always be at his best. Jenny agreed, saying, "Jory had his own way of doing things."

"He never half-assed anything," added Beau. "It would be perfect before it was done and it would be done up to his standards." She remembers once watching Jory wash his dishes. "He scrubbed and scrubbed," she said.

Several people told the Journal that Jory was an extremely hard worker. "Jor worked incessantly; he worked really, really hard to do a good job," said Melanie Hart, his last girlfriend.

John Neely remembers how Bill Barney had sent the sixteen-year old Jory to help him do the spring fencing in Merna's Beaver country. A heavy snow year had stretched and broken the barbed-wire and pulled many of the staples.

"I didn't know Jory when they first sent him to help me," John said, "but he was the best help I've ever had." John continued, "He was really conscientious. I only had to tell him once, and he did just what I wanted. And he was real careful of Bill's tractor. He'd check the water, oil, and fuel every time before he started it up, and then he'd let it run a while to warm up before he'd take off. . . .You know, I would've recommended him to anyone."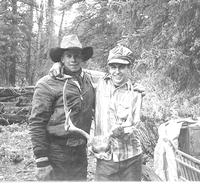 Jory and Josh, hunting up Cottonwood, September 1997

Jory was known to be responsible, honest, and trustworthy. He treated people fairly, and liked to be treated fairly himself.

"Jory was very definitely an honest person," said Jenny. "Lying was just not acceptable."

"I would have trusted him with anything," said Lisa Tatro, Jory's mother. "Jory was one of the most honest people I'll ever know," added his father, Stub.

Lisa described how Jory was responsible for his actions, and wanted to be held accountable. In high school, he was punished for using chewing tobacco, and right after he was caught, the school changed the rule, allowing chew. Lisa expected Jory to be upset by this, but he wasn't. "Mom, I was in the wrong," he said, "and deserve the punishment."

Jory's friends called him the "old man" because he would knock off the partying and go to sleep early to be ready for work the next day. "I have to quit," Beau remembered Jory telling a group of friends, one night, as he stood up to go to bed. "I have to be able to work hard tomorrow." She continued that Jory was very responsible when it came to being on time, not only for himself, but for others, too. He would make sure friends were awakened in time for work, or that they called their parents when they were supposed to, or were home on time.

Jory Tatro also had a deeper, more sophisticated side. He was an artist, wrote in a journal and composed poetry; and he wore slippers inside his home. "They were brown, with fuzzy stuff inside," said Sally Penton.

There were times last summer when Jory would get in what Melanie called an "artistic mood." He would tell her, "Melanie, just leave me alone and let me draw."

"Jor could draw the most wonderful pictures, and he could write, too," Melanie said, remembering his wildlife and scenery sketches. "He always talked about writing a book of poetry someday. In fact, we went into the mountains last summer and wrote a poem together. I read it at his funeral. It was really hard to do."

Jory loved hunting, and Lisa Tatro said her son would leaf through each new Cabela's catalog making up a long wish list. Jory's younger brother, Josh, said Jory enjoyed hunting "a lot more than I did," and he would get really excited when hunting season came along, and when they were up looking at animals.

Beau Faler remembered one time when Jory drove her and Megan Byerly back on "some two track" on Horse Creek. "He wanted to show us some special places to him," she continued, "and the stuff he and Lou (Jory's cousin) did, and where he shot his first elk."

In his own journal, Jory wrote: "Hunting is the best sport in the whole world. Some may think that it is a cruel and unusual sport, but to get up in the morning to meet the sun, let the cool crisp air run through my body, and hear nature's calls, gives me a feeling like nothing else has."

Though an accomplished hunter, Jory was a terrible fisherman. "He loved to fish," said Stub, "but Jory was one of the sorriest fishermen I've ever seen. He was just unlucky or something."

Dru Roberts, an uncle, wrote Jory's obituary, and explained his nephew's "knack" for fishing: "Jory knew how to retrieve a lure, cast a fly, and the way to keep a fish out of position to strike. Most of Jory's fishing days ended with him content in knowing he'd left a creek or lake well-stocked with frustrated fish."

Jory, however, did have a "terrible temper," said his family. When he would get frustrated or something wouldn't go right, Jory would "throw down his hammer, stomp his feet, or hit something," said his brother, Josh.

Jory loved his close-knit family and spent a lot of time with them. In fact, he was so close to his parents that Aunt Jenny was envious, saying she wished her kids were as close to her. Jory was always "confident and ambitious, and couldn't sit still," Lisa said, "but, he would always call or check in just to tell us what was going on and to see how we were doing." Every couple of days, he'd call home, and take time to talk to Lisa, Stub, and Josh.

Jory rarely called his family with problems. Instead, he liked to work things out himself, and then tell his family what he had done afterwards.

When Jory visited his family he loved to eat his mom's home cooking - her broccoli and cheese, fried potatoes and clam chowder. Stub said, "Lisa makes the best darned clam chowder, and Jory would just gorge on it. He would practically eat a kettle full all by himself. He just loved food."

Jory, however, didn't enjoy housekeeping. Lisa said from the time he hit the door, he peeled out of one coat after another, leaving a trail of clothes as he waded across a room scattered with Wranglers and hiking shoes, cowboy boots and his cleanest dirty shirts.

Lisa and Jory were especially close. When Jory was born, Lisa was a young, inexperienced 18-year old girl, and with Stub away much of the time, mother and son spent their time just "paling around." Jory was always there for her. "I relied on Jory a lot," Lisa said, "I leaned on him, and I could always count on him to say, `Mom, I love you.'"

Stub and his son's relationship, however, was more strained. As a parent, Stub admitted he's a strict disciplinarian. "I was hard on Jory. Anything he didn't do right, I'd chew him out or make him do it again." Stub knows that some people question this approach, but he responded that because of his demanding parenting, "Jory could do things kids five or ten years older couldn't do."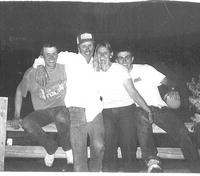 The family together, 1998, Jory, Stub, Lisa and Josh

Lisa shared that her husband and son were growing closer in the months before Jory's death. Jory had matured and grew to understand his father. "Jory had a lot of respect for Stub," she said, "and the way he dealt with children."

Jory Tatro was last seen alive on Monday, November 2, 1998. He had been working as a ranch hand on the Antelope Run Ranch southwest of Daniel since late May 1998. U.S. Surgical CEO, Leon Hirsch owns Antelope Run with Merrill Dana managing the cattle operations.

Jory had asked for and received permission from Mr. Dana to take off from work on the morning of November 2 to attend the funeral of Bill McGinnis in Big Piney. Lisa and Stub work on the McGinnis ranch for Bill's son, Jay.

Jory met up with his parents and his brother, Josh, at Allen's Equipment west of Marbleton, at which time he and Josh rode together in Jory's truck to Plainview Cemetery south of Big Piney.

"Jory was just his normal self," said Josh. On the way to the funeral they talked about women. "My girlfriend, and if I had one," Josh said, smiling.

After the funeral, Jory and his family attended a dinner at Jay McGinnis' house. "He sat by me most of the time," Josh continued. "He didn't know a lot of the people there." After the dinner, Jory dropped Josh off at school and headed north, back to work.

Meanwhile, at the ranch, Merrill Dana, together with rancher Jim Greenwood of Halfway and another hired hand, Brian Lozier, had gone to the mountains to get some fence poles.

Messrs. Dana, Greenwood, and Lozier all declined to talk with the Journal about the events of November 2, 1998. The description of the events that follow comes from the Sheriff's report and a statement written by Mr. Dana and his wife, Allene.

Mr. Dana told the sheriff deputies that after finishing with the poles, the three men went to Mr. Dana's house and began drinking whiskey and cokes. He estimated that the three men drank 2-3 drinks each.

Jory returned to the ranch from the funeral. He was offered a drink and declined, at which time Mr. Dana told him to go to the Mickelson ranch to pick up a heifer.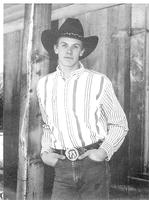 A Graduation Picture

Mr. Dana told the deputies that after he, Mr. Greenwood, and Mr. Lozier had finished the whiskey, they decided to drive to Daniel to get something to eat. They went to the Green River Bar and continued to drink.

Mr. Dana estimated they left the ranch around 3:00 p.m., which would put them at the bar about 3:30 p.m.

Kathy Rouse was bartending at the GRB that day, and remembers Messrs. Dana, Greenwood, and Lozier arriving sometime in the late afternoon. The three men were at the bar when bartender Rena Johnson's shift began at 6:00 p.m.

Jory arrived back at the ranch from getting the heifer sometime late that afternoon. At 5:31 p.m., according to phone records, he called his friend Randy Pfister, who was working for Zac Roberts in Daniel. The two agreed to get together that evening.

Jory's whereabouts between 5:30 p.m. and 8:00 p.m. are not entirely known, but according to Pfister's statement to the deputies, the two arrived together at the Green River Bar in Jory's pickup around 8:00 that night.

April and Randy Hill of Big Piney were in the GRB when Jory arrived. Mr. Hill is "best buddies" with Stub Tatro, and knew Jory well. He and Ms. Hill visited with Jory that night, and recalled that he was "having a good time, visiting with everyone." Jory was drinking beer, but he wasn't overly drunk. "Jory was in a good mood, laughing and joking with us," said Mr. Hill. At the time the Hills left the bar, Jory and the three men were still there.

Rena Johnson, the bartender, knew Jory by face, but was not a friend. He had been in the bar, "maybe twice before" when she was working.

Around 9:00 p.m., Jory, Messrs. Dana, Greenwood, and Lozier decided to go bar hopping in Pinedale. According to Ms. Johnson, Jory had had two to three beers, was the most sober, and was elected to drive. She tried to talk them out of going.

Randy Pfister stayed behind and called his girl friend to come and pick him up.

The four men made it to Pinedale without incident. They stayed in Pinedale approximately two hours, until 11:00 p.m., before deciding to return to Daniel.

According to Mr. Dana's statement to the deputies, while traveling back to Daniel from Pinedale, Jory was driving on the wrong side of the road. Mr. Dana became upset and told him, "The last f-ing thing I want to do is die in a car wreck."

Jim Greenwood told the deputies that Jory "locked up the breaks" near Zac Robert's turnoff on Hwy189, between the Daniel Junction and the GRB.

According to Mr. Dana, as Jory pulled the truck to the side of the rode, he said, "F--- you, Merrill Dana."

The two men then exited the truck and got into a fight of some type. Mr. Dana told the deputies he could not remember anything about the fight. He did not know if he hit Jory or not. According to the sheriff report, "Dana stated he could only remember being on the ground, on his hands and knees, and getting his hat." Mr. Dana was asked if his hands hurt, and replied that they did not. When asked if he would have hit Jory, Mr. Dana told the deputies, he did not think so. He told Detective Shaver, "Rocky, I don't think I would have hurt him. I really liked Jory."

Mr. Dana told the deputies he would be willing to take a polygraph test, if needed.

In their statements to the deputies, Jim Greenwood and Brian Lozier's memories were also fuzzy about the fight. Mr. Greenwood told the deputies that a shoving match between Mr. Dana and Jory Tatro began, and that he did not know if either man was hit during the altercation.

Mr. Lozier told them he did not remember, or see much of the fight that night.

After the altercation, Mr. Dana and Mr. Lozier began walking in the barrow ditch toward the GRB. Mr. Greenwood stayed behind to calm Jory. Mr. Greenwood told the deputies that Jory "was very upset and mad. Tatro's teeth were gritted and his eyes were staring straight ahead while I was talking to him."

Jory and Mr. Greenwood then got back into Jory's truck, pulled ahead, and picked up Mr. Dana and Mr. Lozier. Jory dropped the three men off at the Green River Bar.

Rena Johnson was still working and was about to close up when the three walked through the door at approximately 11:30 p.m. She saw Jory's truck pull up and the three men get out of the pickup. She couldn't tell who was driving, but the truck "peeled out" heading south towards Big Piney.

Meanwhile, Mr. Dana's wife had been worrying about her husband. She'd called the bar at 9:00 p.m. to check on him, but had just missed him heading out the door for Pinedale. At 10:30 p.m. she called Suzy Greenwood, Jim's wife, to ask if she'd heard anything.

Ms. Dana then decided to drive to Daniel to see "if they had ran off the road somewhere." According to her statement, Ms. Dana said she was coming off the hill just above the Ryegrass Road's junction with Highway 189, when she passed Jory's pickup heading west, "driving very slow." Ms. Dana did not see who was driving, but knew it was Jory's vehicle.

When she arrived at the GRB, Mr. and Ms. Dana got into an argument over his drinking. She then left, drove up the road, but returned, intending to speak to him again. However, she decided against it, and instead removed the keys from Brian Lozier's truck, so the three men could not drive home. Ms. Dana said she then returned to the ranch.

According to Rena Johnson, after being dropped off by Jory and entering the bar, the three men were "all upset about what had gone on" concerning the fight. Mr. Greenwood and Mr. Lozier were telling Mr. Dana what had happened. "Merrill didn't really remember what had happened," she said. "He knew he and Jory had gotten into a fight, but he didn't really remember what had happened and so both Greenwood and Lozier were telling him what happened."

Ms. Johnson didn't overhear any of the specific details of the fight, but she could tell "they'd thrown punches." However, "Merrill didn't look like he'd been punched in the face or anything." She did not look at his hands.

Ms. Johnson fed the three men, then agreed to drive them home. They purchased a half-gallon of whisky before leaving at approximately 1:00 a.m. on November 3.

On the drive to Mr. Dana's house, Ms. Johnson says the three men were still talking about the fight. Mr. Lozier and Mr. Greenwood were still explaining to Mr. Dana what had happened. "They told Merrill it wasn't his fault, that both of them had just got into it. They were saying that Jory was being a jerk about it." She said Mr. Dana was upset, "but he didn't seem mad."

Ms. Johnson first drove the three to Mr. Dana's house, arriving at approximately 1:30 a.m.

Ms. Dana told the deputies she was home when Ms. Johnson dropped the three men off, and that she and Mr. Dana got into another argument. She told the deputies that she went outside, took all the keys from all the vehicles so her husband couldn't leave, then got into her vehicle and drove to Pinedale. Once in Pinedale, she turned around, returned to the ranch, and slept in a fifth-wheel trailer parked outside the house.

Mr. Dana told the deputies he went inside his home and passed out.

Messrs. Greenwood and Lozier got into the Greenwood vehicle, which they had left at Mr. Dana's home, earlier, and drove on to the Greenwood place.

Ms. Johnson followed them to the turnoff, then continued on her way, across Bench Corral to Big Piney, where she was living at the time. During her circle on the Ryegrass road, she could have passed Jory's house, but she said she didn't know where he lived, and she doesn't remember any lights being on in any of the houses she passed.

Nineteen days later, Jory Tatro was found lying on his back beneath one and one-half feet of snow. Jory's legs were crossed, and he was wearing leather work boots, Wrangler jeans, a brown Carhartt jacket, and a red shirt. His hat was still on his head with the bill pointed upward. Under his head rested his gloves, which appeared to have been used for a pillow.

Jory's hands were positioned at his sides with his left thumb raised. His right hand was under the stock of his Ruger .22 bolt-action rifle. The rifle rested across his thighs from right to left, perpendicular to his body, with the scope side closest to his head. The safety lever was on "Fire", and there was one spent .22 casing in the chamber. The clip was empty.

Upon discovery of the body, the Sheriff's Department immediately determined that the most likely cause of death was suicide, and Sheriff Hank Ruland sent out press releases to that effect. Jory's truck was never dusted for fingerprints.

Initially, Detective Shaver thought Jory had shot himself through the mouth. However, the autopsy revealed a "contact gunshot wound" behind the right ear.

The forensic pathologist who conducted the autopsy, Dr. Patrick Allen of Loveland, Colorado, wrote in his report that the entry wound was in an "unusual, but not unheard-of site for a self-inflicted gunshot wound, and the angle of the shot was very consistent with a self-inflicted, intentional wound." He continued, "The manner of death, assuming no new information becomes available, is consistent with suicide."

When they first heard that Jory had committed suicide, Stub and Lisa Tatro said they numbly accepted it. About a week after Jory had been found, they went to speak to the Sheriff's Department, at which time, Lisa asked if Jory had been beaten. She was told that he had a "cut on his lip, and a few bruises."

Only later, when the Tatros received a copy of the autopsy report, did they realize the full extent of Jory's injuries.

Bruises on Jory's face and forehead when he was found clearly showed that Jory had been beaten. Wrote Dr. Allen, "The abrasions and bruises to the head and face are consistent with being in a fist fight (and being beaten!)."

Both of Jory's eyes were blackened, and his upper and bottom lips were bruised and swollen. The entire right side of his face was bruised, and he had two deep, purple bruises on his forehead, both near the temple areas on either side of his face.

Jory's hands were uninjured. It appeared he had not defended himself.

All of the questions Lisa and Stub Tatro have concerning the manner of Jory's death begin with the fact that their son had been beaten. As far as the Tatros are concerned, their finger points to the fight on November 2 - and to Merrill Dana.

Stub first notes that Messrs. Dana, Greenwood, and Lozier told the deputies they clearly remember what happened before the fight, and what happened after the fight, but no one remembers what happened during the fight.

Secondly, the Tatros point to inconsistencies and changing stories in Mr. Dana's statements to the Sheriff's deputies.

On November 6, Mr. Dana called Deputy Gene Bryson and told him he had visited Jory's house on November 5, where he had found that the dog had been locked in the house for several days. Mr. Dana told Deputy Bryson that Jory had picked up his paycheck on November 3, and had quit his job. He didn't tell the deputy anything about the fight four days before. Mr. Dana also said he tried to call Stub Tatro, but the phone was busy. He did telephone Dru Roberts, Jory's uncle, and Garlie Swain, to tell them about the fight and to express his concern about Jory's whereabouts.

Then contradicting himself, Mr. Dana later told deputies that Jory had not quit, that he had not fired him, and that the last time he saw Jory was the night of November 2. He said he had not told Deputy Bryson about the fight because he knew Gene Bryson was a good friend to Charlie Mitchell, Dana's supervisor at Antelope Run, and he did not want Mr. Mitchell to find out about the fight.

The deputies did check with Dru Roberts and, subsequently, verified that Mr. Dana had called him on November 6 to tell him about the fight.

The deputies were suspicious of Mr. Dana while they were searching for Jory, said Detective Shaver. What made them suspicious was the altercation, "his lack of memory about it," and the fact that Mr. Dana was one of the last people to have seen Jory alive.

The deputies questioned Mr. Dana several times. Mr. Dana was doing some backhoe work at one site on the ranch and the deputies went to the extent of getting a metal detector to search the dig area for any signs of Jory's truck.

As the Tatros began to consider the possibility that Jory didn't commit suicide, other questions also arose.

Jory had left no suicide note, and the Journal could find no indication that he was in any way depressed or suicidal.

Jory had kept a journal, which was found in his house. He wrote in it infrequently, and while it has deep, revealing passages about women, sex, work, and his future dreams, there is nothing in it that is disturbingly dark or depressing.

Jory's grandfather, Stub's dad, committed suicide years ago. According to Sarah Hixson, a clinical social worker with Sublette Community Counseling Services in Pinedale, sometimes a suicide in the family "opens the door" to other family members by "taking the taboo away."

We asked Jory's parents about this. Stub said he wasn't close to his father, and he couldn't remember ever talking to Jory about that suicide. Josh Tatro can't ever remember Jory talking about their grandfather's death. Jory's Aunt Jenny remembers that he once said his grandfather's death was "awful."

Ms. Hixson further stated that over 50% of suicides involve alcohol. When Jory was found, he had a blood alcohol content of .12, approximately equal to four beers. There were empty beer cans in his truck, and a half-full 12-pack of beer. The interior of the truck reeked of beer.

We asked Jory's friends and brother what he was like when he drank, and if he ever became depressed, angry, or seemed to change into a different person.

Beau Faler, Sally Penton, and Jory's brother, Josh, said when Jory drank, he became louder and more open around people he didn't know. Beau described him as "the drunk who took care of the rest of us," by getting out the crackers, bread, and coffee.

However, Rena Johnson saw him real drunk at the bar one time, and believed he couldn't handle his alcohol well. She said he got belligerent. "He kept asking me out, and wouldn't leave me alone."

According to friends and family, Jory showed no signs of being depressed or down during the days before he disappeared.

Cheryl Long of Big Piney taught Jory art in high school. She says they watched a football game together about a month before he died, and talked about hunting and the book Dave Long helped author. Jory was excited about his future, liked his job, and seemed very happy. He was thrilled when Cheryl took him to her classroom to give him a picture she had found recently. He had painted it when he was a sophomore. Jory promptly declared he was going to give it to his mother.

Sally Penton and Lou Roberts spent the Saturday night before Jory disappeared at his house watching videos. Sally said Jory "seemed pretty happy; he wasn't down at all."

On Sunday, the day before he disappeared, Jory had been with his family in LaBarge, helping to cut up his brother's elk. Stub remembers that Jory was hung over when he arrived around 10:30 a.m., but "left in good spirits" at 7:30 p.m. on Sunday night.

Jory's family and friends note that he was looking forward to his future. Jory had recently purchased a new snowmachine, and everyone said he was "way excited" to be going snowmachining that winter. He even told his parents he was thinking of going back to school to become a welding instructor, so he could take his summers off to hunt and fish.

Stub Tatro raises other questions about the suicide. He and Josh tried to reenact how Jory might have shot himself, and can't see how the gun could have fallen the way it did. "I'm not saying it won't work, said Stub, "but no one ever looked or asked."

Stub said Jory had hauled the cow elk he'd shot in the back of the truck just a week before, but there was "not a drop of blood in the truck." Also missing from the truck was Jory's fishing pole, and a spare tire, said Stub.

Further, Brian Lozier has told others details about the fight that night, that he didn't share with the Sheriff's deputies. The day after Jory was found last year, Mr. Lozier told two people in Pinedale, who wish to remain anonymous, that there were punches thrown during the fight, and that Mr. Dana hit Jory "real hard."

Mr. Lozier told Lisa and Stub Tatro, that Mr. Dana fired Jory after the fight, contrary to Mr. Dana's statements to the deputies. According to Mr. Lozier, Mr. Dana told Jory, "He didn't need to show up for work the next day."

The Tatros showed Mr. Lozier the photos of Jory's face after their son was found; they said Mr. Lozier swore that Jory didn't get beaten up that bad in the fight with Mr. Dana along the highway.

Rocky Shaver believes Jory sustained his injuries in the fight with Mr. Dana. Either Mr. Dana and the others honestly don't remember the details, or they weren't forthcoming when the deputies interviewed them.

Concerning the second point, it's important to note that all three men were interviewed before Jory was found. And even if they weren't forthcoming about the fight, Jory was still alive when he dropped them off at the bar.

Deputies contacted only Mr. Lozier after Jory was found. He didn't have any information to add.

Furthermore, Detective Shaver believes Jory committed suicide because of the "totality of the scene." According to Dr. Allen, Jory was alive when the bullet entered his skull. Thus, he wasn't beaten to death, and then made to look like a suicide. And Jory's body was found in one of his favorite places, South Cottonwood, a factor typical in suicides.

Detective Shaver notes that Jory's left thumb was sticking up, and there was a slight indentation on it where the gun barrel would have rested as he held it behind his ear. Thinking through and staging this level of detail would have been difficult, especially for a man such as Mr. Dana, who was intoxicated at the time.

In Detective Shaver's opinion, Jory drove up to South Cottonwood before dawn. He sat in his truck, mulling it over, and shot his reflection in the passenger mirror as a "courage builder."

Shortly before dawn, Detective Shaver believes Jory put one round in the chamber of his rifle and went to the final location. He then lay down, putting his gloves under his head for a pillow as he waited for the sun to come up. After daybreak, Jory sat up, rested the barrel behind his ear and ended his life.

Stub and Lisa Tatro know there are people in Sublette County who think they are just parents unwilling to accept that their son committed suicide. They respond that they did accept it, initially, before they discovered how badly Jory had been beaten.

"I could accept it," said Stub, "If there weren't all these questions."

One theory circulating in the county is that Stub is feeling guilty for mistreating Jory when he was younger, and Lisa is feeling guilty for allowing it to happen, and together they are expressing their guilt by creating a stir about his suicide.

The Tatros respond to this charge directly. "No," Stub said, "I can't see where it was our fault." He noted that when Jory left the family around noon, November 2, he was in good spirits. "Something happened to Jory between the time he left us at noon, and later that night."

Finally, the Tatros understand that in raising questions about Mr. Dana, they are suggesting that he could have murdered their son. But, if Mr. Dana and the others did, indeed, tell the deputies the truth, his being wrongly accused would only add to the tragedy of Jory's death.

"I know that people have trouble with us," said Stub. "We felt Sublette County should know Jory got beaten, and Merrill probably did it." He added, "If we aren't 100% sure Jory didn't commit suicide, we'd be sullying Jory's name."

Last fall, the Tatros hired private investigator Paul Rock to conduct an inquiry into Jory's death. They said Mr. Rock's findings were inconclusive.

In December, they spoke to Pinedale attorney Van Graham about a possible civil suit against Mr. Dana, at which time, they were told there was nothing they could pursue. They weren't after money, declared Stub. "It is the accountability, the responsibility."

Overall, the Tatros are unapologetic for asking questions. Concerning Mr. Dana, "He did pull the trigger, one way or the other," said Stub. Considering the fact that his 165-pound son was found severely beaten, Mr. Tatro continues, "These guys were supposed to be our friends and take care of our kid

Photo credits: Family Photographs

See The Archives for past articles.
---
Copyright © 1999 The Sublette County Journal
All rights reserved. Reproduction by any means must have permission of the Publisher.
The Sublette County Journal, PO Box 3010, Pinedale, WY 82941 Phone 307-367-3713
Publisher/Editor: Rob Shaul editor@scjonline.com