From the pages of
The Sublette County Journal
Volume 3, Number 23 - July 8,1999
brought to you online by Pinedale Online
---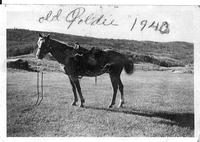 Old Goldie, 1940.

A Few Good Horses
Every horse person has one horse in his or her life that stand out amoung the rest.
by Gina Feltner

By Gina Feltner

Every horse person has one horse in his or her life that stands out among the rest. The horse I'd like to start with is my dad's, George Pape's top horse, Old Goldie. He was spoiled, but he also could be a fine cow horse or hunting horse, even a roping horse in the rodeos. Uncle Rod, however, had written "No damn good" on his registration papers.

My favorite "Old Goldie story" involves a rodeo. Rod Pape was pickup-man riding Goldie. My dad was the contestant, and during his saddle bronc ride, Goldie bucked Rod off. My dad rode the bronc over to the fence, got off, called to Goldie, and rode back in. Uncle Rod was not happy! That was probably when he wrote the "no damn good" line!

Rod had a horse named Gaysor that had quite a lot to do with getting quality horses into this country. Gaysor could outrun anything around. Jack Dew brought in several good horses trying to outrun him. Goldie, a remount thoroughbred was one, but Goldie was spoiled, and bucked everyone off. Jack sold him to my dad for $40.

Jack was most surprised to see him in a couple of days on a packtrip and being ridden bareback by one of Daddy's lady dudes. My dad would say Goldie wouldn't buck with a lady or a kid. I have to say, though, he bucked me off - for whatever that means.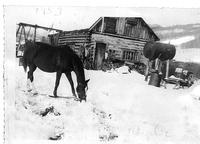 Gay Ester about to foal, 1953

Walt Lozier looked wonderful on a horse. The Loziers just have a way of sitting on a horse like no one else. The horse I remember him riding was Brown Dad. Brown Dad was a leggy thoroughbred. Walt worked cattle on him and in the winter hooked him to a cutter and won races with him. Jackie Chapman also raced him with a flat saddle during our cutter races.

Amie Reynolds' horse of horses was Brown Jug. After she and Sid were married, Sid told her he would get her any horse she wanted. A few years went by, and they were looking over some of Bob Miller's horses. Amie spotted one with a particular brown nose, and told Sid, "This is the horse!" Sid always said there were finer horses to choose from, but Amie stuck with Brown Jug and loved him till he died.

My dad once spent the day cowboying for the Bar Cross and using Norm Barlow's horse, Home Brew. Norm was proud of Home Brew, a large goodlooking bay who he raised on the ranch, but I remember Daddy coming home, saying he knew what was wrong with Norm's back!

My dad told stories of his father, Will Pape, running down wolves on a horse named Towner. One such story involved shooting several wolves, having one bullet and one wolf left, and with Towner nearly played out. Will unsaddled him to lighten the load, got on him bareback, ran down the wolf, and killed him. Somewhere, there's a picture of Will with that wolf hide, but I can't find it.

Carroll Noble gave Wayne Feltner a black mare named Midge. Midge was Wayne's pride and joy. He didn't have a bicycle, and he didn't have a scooter, but he had Midge. A lot of the Pinedale kids besides Wayne rode Midge.

One of the good stories is of Bill McCurtain of Rock Springs riding Midge in a kid's cowpony race during one of the big rodeos. They were way behind, so Midge cut across the track and came in first. Wayne and Bill laugh about this seventy years later.

Another horse that comes to mind belonged to Gene Pfisterer - Tipo. Tipo was a dark chestnut and was considered one of the good quarter horses studs of the country. We wanted a colt out of Tipo, but couldn't afford the stud fee. I remember Gene saying, "Well, I guess if your mare got in with him, there wouldn't be much I could do! Ho, ho, ho!" I seem to remember we did breed her, but she didn't take.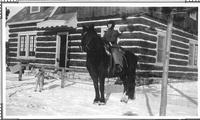 Wayne on Midge, 1933

Another horse of that era, Chalkie, was at every rodeo and very much in evidence. Chalkie was an albino belonging to E.J. Bing. Bing roped off him, used him for a pickup horse, and loaned him to anyone who needed a horse for whatever. Chalkie was bomb proof. Bobbie Bing cut his teeth on Chalkie, I'm sure. He looked like a peanut on him out in the arena.

My horse of horses was Gay Ester. She not only was bomb proof and would do anything; she was my best friend. When Nan and Dick Wilson left from our ranch on a packtrip during the summer of 1952, they were using this beautiful, little, sorrel thoroughbred mare for a packhorse, which just killed my dad. Nan was riding some big plug. When they returned, Daddy said, "Just leave her here, and Gina will break her for Nan."

Well, Gina did, and Gina fell in love for the first time - with a horse. My dad tried to buy her, but Nan wouldn't sell. One day in September, Daddy and Dick spent all day and all night partying. Daddy bought Gay Ester that night. Nan was furious, but she signed the papers over to me. I rode Gay Ester from then on.

Years later, my three daughters learned to ride on Gay Ester, and I've been through quite a few horses since. Most all of them have been rather spoiled. Several of them were Gay Ester's colts. Her first colt, Yip Yip, belonged to Les Anderson. Yip Yip was quite a horse, too. My main memory of him was pulling Les on a pair of skis, skijoring at the cutter races and winter carnivals.

My horse now is Hopi. He's a nondescript bay horse that still shies, and still bucks, after five years and lots of riding. I told him about all these wonderful horses, and he just said, "It isn't cool to be an old grandma's horse!"

See The Archives for past articles.
---
Copyright © 1999 The Sublette County Journal
All rights reserved. Reproduction by any means must have permission of the Publisher.
The Sublette County Journal, PO Box 3010, Pinedale, WY 82941 Phone 307-367-3713
Publisher/Editor: Rob Shaul editor@scjonline.com