From the pages of
The Sublette County Journal
Volume 3, Number 24 - 7/15/99
brought to you online by Pinedale Online
---
Profile of a Developer
Sublette County's most successful developer speaks about change, making money, and preserving the land.
by Rob Shaul

"Obviously I'm in the business to sell land and develop land and make money doing it," says Sublette County's most successful developer, Ron Saypol, "but I'm interested in the dignity of the land, too."

It was last Thursday morning, and Mr. Saypol and I were driving in his black Suburban on a narrow gravel road on his most recent and most successful development in Sublette County, the Seven-Mile River Ranch just east of the Daniel Junction.

Ron, a large man, was dressed casually, urban-style, in a white polo shirt, black fleece vest, pleated khakis, and leather penny loafers without socks. He's bald with a Marlon Brando-look about him and is soft-spoken and wise, but with a boyish excitement.

The Seven-Mile River Ranch is the most ambitious of Mr. Saypol's five land developments in Sublette County. In late 1997, Mr. Saypol purchased approximately 3,200 acres of the Quarter Circle Five ranch from Jack Schwabacher, shortly before he died. The property was renamed and split into 20 separate large-acre parcels with an average size of 163 acres. The average asking price for each parcel is $957,000; ten have sold so far.

A "Recreational Property"

Following the model of his Ryegrass Ranch development on North Cottonwood Creek, Mr. Saypol didn't design or market the Seven-Mile as a housing development, but rather, calls the ranch a "recreational property" focused on fly-fishing.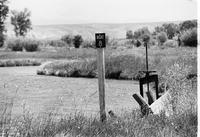 "Beat" Number 8 on the 7-Mile River Ranch

No livestock is allowed in the subdivision, except for horses. All of the waterways on the ranch - the Green River, Horse Creek, Faler Creek, Poole Slough, and two "casting" ponds - have a 50-foot easement on either side, which allows any parcel owner fishing access to the entire property. Only catch and release fly-fishing with barbless hooks is allowed.

To guard against over-fishing, the property's waterways are regulated by a "beat" system, which Mr. Saypol says is common in Europe. A "beat" is a length of stream bank designed to give two fishermen 3/4's day fishing. Only two people can fish a beat per day, and a single beat may not be fished more than 2-3 days without being rested.

The beat system translates into a limited amount of fishing time for each million-dollar parcel owner. Fishermen must call ahead and reserve a beat to fish with the Stream Manager or risk not getting a beat. Further, at any time, says Mr. Saypol, the property's stream manager can cut off fishing to a portion of the property or the entire property, if he or she feels the resource is threatened.

"It's pretty severe and it sounds pretty snobby," says Mr. Saypol of the property's fishing regulations, "but it will preserve the place."

Preserving the fishing takes precedence over almost everything. The bugs were thick the day I interviewed Mr. Saypol. He said the issue of spraying "comes up all the time." But - "If you want lots of fish, you've got to feed `em," he adds, noting that spaying would kill not only the mosquitoes, but also other insects trout feed on. "I'm not selling comfort. I'm selling good fishing. People, who appreciate good fishing, understand that."

Recreation takes precedence over home building. One home is allowed on each of the parcels, but strict covenants discourage the construction of large trophy homes. If anything, owners are encouraged not to build.

Jack Schwabacher's home has been remodeled into a small, but comfortable lodge with a kitchen and dining room. Three small cabins have been built adjacent to the lodge. The cabins are very comfortable but not extravagant. The owners are encouraged to stay in the cabins and eat at the lodge while they're fishing.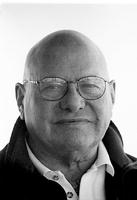 Ron Saypol

Mr. Saypol knows he's lost a few sales because of the restrictions on building large homes. He has no regrets. "You've got to decide what you are," he says. "It's very clear here."

Not a Fishing Club

Though parcel owners are encouraged to stay at the lodge, the Seven-Mile River Ranch is not a fishing club, says Mr. Saypol. Properties that are fishing clubs become commercial operations, he says, and this changes the character of the place. "We want recreation," he continues. Creating a commercial fishing club would lead to "slippage", and the resource would suffer.

To that end, Ron says the market for potential, parcel buyers is limited to wealthy, avid fishermen who fish all over the world. Print and other advertising does little to sell the property. Word-of-mouth advertising - especially from top fishing guides - is most effective.

The property is listed with Jackson Hole Realty, but Mr. Saypol won't let real estate agents take potential buyers fishing when they come to the place for the first time. He says this is a distraction. "People who know fishing will know this is good," he explains. "But how good, they won't know." Ron continues, "If you think about it, they're buying million-dollar fishing licenses."

Developer or Preservationist?

If outstanding fly-fishing is the primary concern of the Seven-Mile River Ranch, Mr. Saypol says preserving the land in its natural state is second. "I, essentially, am a preservationist at heart," he maintains. Though developing the property, he wants to "preserve open-space and the dignity of the land."

Mr. Saypol realizes it is contradictory for a developer to be saying this and he confronts this contradiction head on. "I realize that development is change," he responds, "but I want that change to be as unobtrusive as possible." As examples, Mr. Saypol has spent thousands of dollars to bury all the new utilities coming into the property. The new gravel roads he's built are a narrow 14 feet, instead of the regular 22 feet.

Mr. Saypol argues that there is more open-space on the property now than when the Schwabachers owned it. He's had miles of cross-fencing torn out, and deed restrictions prevent parcel owners from further subdividing their lots.

By now we've driven to a homesite on a sagebursh bench. "This is real preservation," he says, motioning toward an unfenced meadow below us. "That meadow will look like that, unchanged, forever."

Mr. Saypol knows there are people who will argue that before he bought the property, there were two houses on it. Now, there's the possibility of up to eighteen. He responds that there's a trade off, and now without the fencing, the property is opened up more.

Ron isn't trying to hide what he is, however. "I'm a developer. "I develop land for commercial reasons," he states directly. It's cost him money to develop the ranch as inconspicuously as possible. This comes "at my expense," he added.

Change is Inevitable

When we arrived back at the lodge for lunch, I asked Ron to address the cultural changes a development such as his will have on the character of Sublette County. Mr. Saypol subscribes to the Journal, and knows how I feel about the loss of our ranches. He saw my question coming and again, responded directly: "You've concluded that change is bad," he told me. "All I do is conclude that change is inevitable. The key to survival is adapting to change, enjoying it, taking advantage of it."

Mr. Saypol lives in Jackson and has developed property in Teton County, but he doesn't think Pinedale will become another Jackson for several reasons. First, Ron says only 2% of the land in the Jackson Hole is deeded, resulting in a very limited, and thus valuable, commodity. Also, Pinedale doesn't have a world-renowned attraction like Yellowstone Park, a major airport, or a major ski area. He believes it will take "many, many generations" for Pinedale to develop into another Jackson.

In terms of planning for our own future, Mr. Saypol believes the process must start with the people who live here now. We must ask ourselves three questions: Who are we? What do we want to be? How do we get there?

The answers to these questions are "always legitimate," says Ron, because they come from the people who live here. However, he cautions that with the answers comes sacrifice - "There's always a cost."

Finally, Mr. Saypol says we must keep our minds open to new opportunities and new people moving into our community. "I'm a great believer in dynamics," he concludes. "We grow and learn from it."

Photo credits: Rob Shaul

See The Archives for past articles.
---
Copyright © 1999 The Sublette County Journal
All rights reserved. Reproduction by any means must have permission of the Publisher.
The Sublette County Journal, PO Box 3010, Pinedale, WY 82941 Phone 307-367-3713
Publisher/Editor: Rob Shaul editor@scjonline.com