From the pages of
The Sublette County Journal
Volume 3, Number 27 - 8/5/99
brought to you online by Pinedale Online
---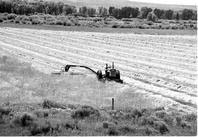 Tall hay yields big windrows near Daniel.

Hay Season Has Begun in Sublette County
Ranchers hope for average crop.
by Cris Paravicini

I returned to the Daniel Valley from my Pinedale supply run on Monday afternoon and took note of all the neighbors who've lowered their cutter bars and are taking a run at the enormous job of putting up the hay crop.

I've heard that Eddie Steele has geared up his round-bale operation in the Cora Valley, and the Nobles are preparing for their loose hay project. Zac Roberts is knocking `er down in the Clodius Field near the Daniel Junction, and Zac's neighbor to the south, Bob Beard, is baling up a storm near Prairie Creek.

Barbara Pape told me that her family kicked off their little square baling season on July 24. On a good run and with "very good luck", Barbara says, it will take about a month to put up what appears to be an average crop. The Papes run with a crew of 5-6 hands - two swathers (Casey Marincic and Norm Pape); two balers (Richard Brewer and David Pape); one stacker (Fred Pape); and one side-rake when needed (operated by whoever is available). The Pape wives, Barbara, Michelle, and Naomi alternate the cooking duties to tie up this smooth running operation.

On Sunday, I checked in on the Gene Siems family and spoke with their ten-year old daughter Dorothy about how their hay season is shaping up. "We started a few days ago. I'm raking again this year. I started by myself last year," Dorothy said. "As a matter of fact, I always went to the field before that, so I pretty well knew what to do. I wasn't as good at it last year, but I'm going to be better this year. I try real hard."

Dorothy explained the work they do before heading to the field. "I've started to mechanic a little, and I fuel and change the oil in my tractor (a Farmall A). Before we started haying, I helped my dad service the rake, grease it, and fix up the little square baler. We had to put a new joint on the thingy that turns on the baler tractor."

The Siems family will be putting up their hay on Forty Rod and Beaver Creek using just family members. Dorothy's dad, Gene, runs the baler and bale-stacking wagon; fifteen-year old brother, Herman, is the mow man and will also be learning more about the job of baling; mom, Shona, and sisters, Jeannie and Lisa, fill in wherever needed between other off-ranch jobs - running a shuttle service for river floaters, working at Stanley's Junction, and postal duties in Bondurant.

Because early June was still seeing snowfall followed by many nights of near freezing temperatures, and because we were shy of rainfall throughout most of the growing season, Shona says they're still hoping for at least an average hay crop. On a good run it will take about three weeks to get their crop into the stack.

This year, after many years of putting in little squares, the ranch where my husband and I work will be taking the big step toward a round bale operation, partly because it's so hard to get the bigger crew required for our old way of haying. But, the price of the new/used equipment will be a major problem in itself. A new 4-wheel tractor can run upwards of $65,000. And that's not the final line. Added to this expense are the baler and the bale feeder. Needless to say, we'll be leasing some of the equipment. There simply is no way to justify this kind of expense with a cow/calf operation - unless you can't live without the lifestyle.

Photo credits: Rob Shaul

See The Archives for past articles.
---
Copyright © 1999 The Sublette County Journal
All rights reserved. Reproduction by any means must have permission of the Publisher.
The Sublette County Journal, PO Box 3010, Pinedale, WY 82941 Phone 307-367-3713
Publisher/Editor: Rob Shaul editor@scjonline.com