From the pages of
The Sublette County Journal
Volume 3, Number 27 - 8/5/99
brought to you online by Pinedale Online
---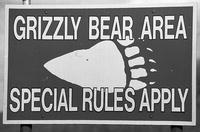 As of Friday, July 30, one ewe and three lambs have been confirmed victims.

Grizzly Activity Down in Upper Green
Black bears are busy taking sheep.
by Cris Paravicini

In a bear update, Warden Duke Early of the Pinedale Game and Fish office reports that bear activity is ongoing, but appears to have decreased in the Pinyon Ridge/Mud Lake. However, a bear-mauled calf had to be destroyed in the Gypsum Creek area across the Green River (southeast of Pinyon Ridge). Gyp Creek, until now, has had little or no bear movement reported.

During the last week of July, in their normal rotation of grazing grounds, Green River Association cattlemen moved their livestock over the crest of Pinyon Ridge, into the Fish Creek allotment. This change in the playing field could be part of the reason for the apparent decrease and/or discovery of killed or wounded livestock, according to Warden Early. The Fish Creek area is more heavily pine-timbered than the East face of Pinyon Ridge, where quaking aspens grow more sparsely along its open, rambling face. Either the grizzly has yet to stalk the new grazing area or his maraudings are harder to find.

By analyzing all the evidence as seen this season by the cattlemen and officials working closely together, and by being aware that the change in the cow pasture to Fish Creek, it is hopeful that the grizzly bear, which was euthanized in July, was the prime offender. This particular grizzly was notching one kill/maul each night from the time the cattle hit mountain pastures. Activity from the grizzly, currently camped in the area, is thought to be in the neighborhood of two attacks per week.

It is also reported that the three sheep bands (two bands on Elk Ridge, one in the wilderness of the Tosi Creek area) belonging to the Thoman family, are falling prey to black bear attacks. As of Friday, July 30, one ewe and three lambs have been confirmed victims. It has not been determined, at this time, if the black bears are sharing the sheep territory with the grizzly.

Photo credits: Jonita Sommers

See The Archives for past articles.
---
Copyright © 1999 The Sublette County Journal
All rights reserved. Reproduction by any means must have permission of the Publisher.
The Sublette County Journal, PO Box 3010, Pinedale, WY 82941 Phone 307-367-3713
Publisher/Editor: Rob Shaul editor@scjonline.com