From the pages of
The Sublette County Journal
Volume 3, Number 27 - 8/5/99
brought to you online by Pinedale Online
---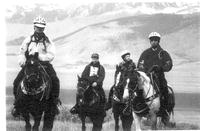 Photo of race participants from the race's promotional package.

Multi-Sport Race Staff Arrives in Pinedale
The USA Supreme Adventure Race begins Aug. 14 and starts and finishes in Pinedale.
by Rob Shaul

Race organizers with the Four Winds Adventure Company arrived in Pinedale Tuesday to begin final preparations for an adventure race which begins August 14.

The USA Supreme Adventure Race will span seven days and over 300 miles. Teams of four or two people will mountain bike, hike, climb, rappel, white and flat water paddle, horseback ride, and run over a secret course during the race.

According to race founder Dr. William Lionberger, up to twelve teams have signed up to compete in the race thus far. The four-member teams will pay an entry fee of $2,500 to compete, while the two-member teams will pay $1,350. The race winners will take home trophies and belt buckles.

The race support staff arrived in Pinedale Tuesday evening. It consists of 18-22 people and is staying at Lakeside Lodge says Dr. Lionberger. Lakeside Lodge is sponsoring the race and serving as its basecamp.

The race course itself is kept secret until the last minute. The Sheriff Department's Henry Schmidt has been told that the race will start at Elkhart and end at Lakeside Lodge. It will span 325 miles, all but 35 of which will be in Sublette County. The teams will have to navigate and orienteer the course. Each team will carry a "passport" which will have to be validated at multiple checkpoints along the course route.

Part of the key to completing and winning the race will be strategy. There are no mandatory overnights during the race, and Dr. Lionberger says team strategy in deciding when to move will be the key to victory.

The race includes eight transition areas where teams will shift from one event to another. The public and media will be able observe the transitions.

In terms of media, two television crews will be filming the race - one for Fox Sports Net and the other for the Outdoor Life Network.

Two county officials, Road & Bridge Supervisor Mike McGinnis and Sheriff Hank Ruland are somewhat upset at the race organizers for late notice about the event. Mr. McGinnis said he just received a letter last week notifying him that the race participants would be using county roads.

Mr. Ruland said the race organizers expected Tip Top Search & Rescue to be on standby during the event. He told them Tip Top was made up of volunteers and the Sheriff's department wouldn't treat the race participants different than anyone else. Further, because the race is being put on by a private organization, he's concerned the state won't reimburse the county if Tip Top has to make a rescue during the event. If not, Mr. Ruland said he would ask the race organizers to pay.

See The Archives for past articles.
---
Copyright © 1999 The Sublette County Journal
All rights reserved. Reproduction by any means must have permission of the Publisher.
The Sublette County Journal, PO Box 3010, Pinedale, WY 82941 Phone 307-367-3713
Publisher/Editor: Rob Shaul editor@scjonline.com