From the pages of
The Sublette County Journal
Volume 3, Number 27 - 8/5/99
brought to you online by Pinedale Online
---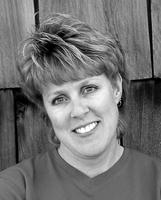 Betty Cheeney

Old Jeeps & Barbwire

by Betty Cheeney

"Screekkkk". Yeah! I still had the touch. I can stretch barbwire fence with the best of them. Of course I didn't come by the talent naturally, I had years of practice. At the tender age of sixteen, I had a summer job fencing for the Wyoming Game and Fish through the Youth Conservation Corp. Program (YCC). We were a five girl crew with Mr. Lewis, our high school English teach as crew leader.

The Game and Fish outfitted us with all the proper equipment including an old Army truck complete with a camo green canvas top. Their head maintenance man was assigned the task of giving us a one day seminar on the intricacies of fixing barbwire fences. Having grown up on a ranch, I was pretty familiar with the tools and techniques of all kinds of fencing. However, I had learned early on not to show too much expertise in any kind of manual labor, as the more experience you have the more bosses tend to expect from you.

After the one day "class", we were off on our own, stretching wire from Black Butte to Soda Lake and on up to Little Half Moon Lake and then down to Boulder. We fenced over sagebrush, rock, hill and dale. We fenced through trees, ponds and straight up cliffs. If there was a wire down, we were on it!

The Army Jeep played an important part in the work crew echelon. As I said, I grew up on a ranch and could drive all the trucks and tractors we had. The Jeep was a three speed stick shift with four wheel drive and a winch on the front. It also had a manual choke with a starter button on the floor. If you parked on a hill it took three feet to start it. One on the clutch, one on the brake and one on the starter button.

By the second day, I had the job figured out. Mr. Lewis would split us into two groups. He would take two girls and go one way down the fence and then send me with the two other girls and the Jeep. We would work the fence for the allotted amount of time and then drive back and pick them up. I had it worked out to where I did very little actual fencing. Since I was the only one besides Mr. Lewis who could drive the Jeep, I was the designated driver. That is until the rest of the girls figured out it was to their benefit to learn to drive the jeep!

I lived about five miles out of town on the Bar Bar O Ranch. We had a seventy something Buick. It was a tank! But it made a great kid's car. I would drive it to town every morning to meet the crew and then back home in the evening. There were several rules to being allowed to use the Buick. We had to buy our own gas and obey ALL traffic laws, especially the speed limit.

My sister Jane was notorious for speeding in the Buick. But as far as my parents knew, I was a perfect driver. That is until one day when Wayne was beating brush up on the hill. He had a great view of Pole Creek Road for a couple of miles. I was doing my usual seventy down the dirt road when I spotted something lying in the road. I slammed the brakes on and slid sideways to a stop, threw the Buick into reverse and backed up to a beat up old hat. I decided I didn't want it, so I peeled out and went on my merry way.

That night at dinner, I got the surprise of my life when Wayne told everyone of my "surprising" behavior. My punishment was that I would not be allowed to drive the Buick to work for a week. Shoe leather or bicycle rubber were to be my only transportation.

The next morning I got up before anyone else. I had never walked to town before and had no idea how long it would take me. I left at 6 a.m. and believe me I had plenty of time to spare. When I got to main street, the Drug Store wasn't even open yet. I cooled my heels on the little bench in front of the courthouse for quite a while.

As fate would have it, our crew boss announced that we would be moving our fencing operation that day to Little Half Moon Mountain. I drove the Army Jeep and Mr. Lewis and the rest of the girls followed in the old blue station wagon. The Army Jeep had a top speed of about 40 miles an hour going down hill. It took us well over two hours just to get to the job site. After fencing for about four hours it would be time to start back for town.

It wasn't very efficient to have to drive that Jeep back and forth to town when we could all ride in the station wagon. Being the thoughtful employee that I was, I suggest to the crew boss that I could take the Jeep into the ranch every night and then meet them at the end of our road in the morning. I assured him my parents wouldn't mind us leaving the station wagon there during the day. He thought it was a dandy idea and agreed to give it a try that night.

Oh, the look on Wayne's face when I came toodling in the ranchyard driving that old Jeep. He was standing on the front lawn just shaking his head. Pretty soon I could see him reach for his hat, and I knew what was coming. Yep...he threw that hat on the ground and gave it a good stomping. All I could do was grin, after all - bosses orders!

See The Archives for past articles.
---
Copyright © 1999 The Sublette County Journal
All rights reserved. Reproduction by any means must have permission of the Publisher.
The Sublette County Journal, PO Box 3010, Pinedale, WY 82941 Phone 307-367-3713
Publisher/Editor: Rob Shaul editor@scjonline.com