From the pages of
The Sublette County Journal
Volume 3, Number 28 - 8/12/99
brought to you online by Pinedale Online
---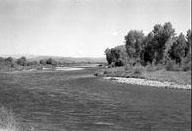 "In our time on the river, we've discovered that for every twenty law-abiding floaters, we'll get one or two that try to ruin it for everyone."

A River Runs Through Us
"River Rage" is what many landowners along the Green River are calling the increasing frenzy of float activity.
by Cris Paravicini

State Highway 354 cuts a path right through our family ranch about one hundred yards to the south of our home. Over the years, the traffic on this little "boulevard" has gotten thicker than flies on a day-old cow pie. In fact, some days we have to make an appointment just to cross the highway to get to the meadow on the other side.

Each person's reason for traveling this road is probably different from the guy following him; while some folks are headed to or from their ranches, others are going to summer homes or to the mountains for firewood, snowmobiling, camping and hiking.

On the northern edge of the property, just a biscuit toss from our kitchen table, the Green River rolls by beneath a 100-foot high sage-covered bluff. The one-way traffic on the river - tin boats, canoes, and rubber rafts - is different from that of the highway, and each sportsman's mindset is pretty much the same. Float and fish. Float and fish.

My first memory of anyone floating the state-owned waters was nearly forty years ago, and like today, these diehard folks appeared to be having one heck of a lot of fun as they peacefully drifted along. However, from the riverbank we see a completely different scene being played out. Some of the action is entertaining and funny, but some is simply too disrespectful not to address.

I remember my first, rather quiet encounter with the float crowd, when I was just a kid. We were riding along the river checking the ewes and their newborn lambs, and chanced upon a man taking a nap under a willow bush. We kind of hated to disturb his peaceful sleep, but his presence was stirring up the sheep, so we woke him up and set him adrift again...

Another time, my mom was cooking supper for the hay crew when she heard a rapping on the back screen door. She was startled because she hadn't heard or seen anyone drive in. What she found when she answered the door was two local teenage girls wrapped up in a couple of our saddle pads. They had been floating topless, sunning themselves, when their boat washed under a cut bank and tipped over, spilling them into the icy river. They, literally, had lost their shirts, so on the way to the house they stopped by the barn and outfitted themselves in Navajo-print saddle blankets.

My mom gave the girls a couple of old shirts and let them use the telephone to call home for a ride. I don't know what ever became of their boat or its contents...

Another time, on a very dark moonless night, a man and his little son stumbled into the ranch. They had miscalculated the distance to civilization and wound up stranded. The little boy was scared, muddy, and cold from wallowing across all the ditches and bogs between the river and the house, and his dad was irritated at the situation he'd gotten into. He kept saying how mad his wife was going to be. My mom warmed them by the stove, fed the little boy, and my dad then hauled the pair down the creek to their vehicle. The man returned the next day, and we helped him retrieve his boat...

To this very day, many folks continue to vastly misjudge their time and distance from one of the launch points near the Warren Bridge to a destination at the Green River Bridge near Daniel - many meandering miles away. Subsequently, as night overtakes them, they wind up pulling ashore when they spot our "lighthouse" or zero in on the fading silhouette of the barn and corrals. We've joked with them, saying we're going to put in a Bed and Breakfast. But when reality returns, we just shake their hand, load `em up, and haul them to their vehicle...

My dad is rather fond of telling about the time nearly twenty years ago, when he was doing some backhoe work along the river. He'd spotted an overloaded boat of very happy floaters as they drifted into view, then watched as they passed by right under his nose. The entertaining part - everyone in this co-ed group was naked as a baby jay bird, and no one even offered to cover up. Instead, they just laughed and waved and hollered as they disappeared around the next bend, happy as heck with themselves...

It's the saddle horses, sheep, milk cows, and dogs that usually spot the floaters first. I recall one such time during a cold, set-in downpour. We'd tied our horses to the corral fence and went to grab a cup of coffee before finishing our work. My big gray horse suddenly went berserk. He pulled back and rattled the corral gate and fence as though the Devil had stepped up and stabbed him in the nose with his pitchfork.

I ran to see what the heck had gotten into this normally quiet horse, and was quite startled myself. Coming towards us across the calving lot from the river was four legs with a bright orange raft thrown over the top. They zigged and zagged as they carefully picked their way through the tall, wet grass, the raft bobbing along, starkly apparent against the gray drizzle.

My horse was still trying to tear the fence down, so I hollered to the legs and asked if they might possibly leave it set a spell till I could move or blindfold the horse.

When they heard my voice, they dropped the boat and started to dogtrot towards me. Through chattering teeth and purple lips, the man and his wife explained that they had never done this float thing before and kept tipping the danged raft over. They'd lost everything - wallets, jackets, oars - everything. We filled them with hot coffee, wrapped `em up in a big blanket, and hauled `em to their vehicle...

Then there are times while riding along the river that my horse suddenly gooses ahead and kicks with both hind feet, then swaps ends, riveting his eyes and ears on the ground as he snorts and backs off like he just came through a snake pit. I can never convince the ol' horse that it wasn't a den of snakes, but upon closer inspection, I'm most likely gonna find a bunch of abandoned fishing line waiting to trap something...

In our time on the river, we've discovered that for every twenty law-abiding floaters, we'll get one or two that try to ruin it for everyone. One summer, when we went to regulate the headgate, we discovered a campsite that had been used the night before. I've never seen such a mess. Empty pork and bean cans and beer bottles were scattered through the cottonwoods; bread bags blew in the breeze; and a campfire still smoldered in the river rock near some dry grass. We were griped at this blatant disrespect. But the funny thing was, not only did they leave their junk, they'd also, absentmindedly, left their mail with names and addresses scattered about the debris of the "beach party"...

We're lucky to have outfitters like Irv Lozier of the Box R, who, once every three or four years, call ahead to get permission to put in, take out, or eat lunch along the river. Unbelievably, the Box R is the only outfitter or guide service that's ever asked permission to dock on the property. They're clean, proper, and polite, and we danged sure appreciate them.

As one of my neighbors says, "Floaters know the rules." By law, river runners have the right to travel a navigable waterway, but in so doing, they must remain in their boat at all times. No roosting on a sandbars, walking on the banks, or standing in the streambed - without written permission from the landowner. Folks know this. High-paid river guides, both domestic and foreign, know this too.

Sadly, though, we've locked horns with many, many offenders of this law. Some folks apologize for yielding to the temptation; others are downright cranky and hateful, saying the guides told them they had permission from us to fish or sit and eat lunch or stroll along the banks. Still others ignore our inquiries about permission and keep right on fishing as though they're invisible to us. Whether they're aware or not, we witness the right and the wrong of their activities, and we photograph and write stories about it.

We worry, too, about the health of the river: the scattered junk; the picnic castoffs; the traffic (21 boatloads floated past a fence corner within two hours, a while back); and the scattering of belligerent guys packing cases of beer, knives, and guns, and threatening to use `em if we don't back off! We don't back off, though. We can't...

A couple of weeks ago, we were building some new fence upriver. While my husband finished stapling a stretch of wire, the dogs and I shaded up beneath a willow. It wasn't long until a sickening odor boiled up under my nose and the dogs began to squirm. We quickly moved away from the bush, and I discovered its source. Bonnie had bedded down in a pile of human crap. I nearly puked, and immediately called her into the water. Wearing fencing gloves, I washed her off the best I could. She was agitated and so was I. In the thousands of boatloads over the years, here was more proof that there's absolutely no way a human can make it all those miles without answering the call of nature...

But, just when we've about had enough of river sports, we'll be fencing or haying a little patch of ground near the river, and chance to visit with some mighty fine folks, or watch a family float by, waving and grinning, with their kids suited up in lifejackets, sunscreen, bug spray, and a big yellow lab in the bow of the boat.

We've got some big problems, we know, but we've never trespassed anyone for his mistakes, and have never turned anyone away who was in trouble. Regarding the bumper to bumper traffic on The Green River Freeway, I don't have an easy answer. However, the only thing we ask when you pass through our backyard is: Please Float and Fish - Only...

See The Archives for past articles.
---
Copyright © 1999 The Sublette County Journal
All rights reserved. Reproduction by any means must have permission of the Publisher.
The Sublette County Journal, PO Box 3010, Pinedale, WY 82941 Phone 307-367-3713
Publisher/Editor: Rob Shaul editor@scjonline.com