From the pages of
The Sublette County Journal
Volume 4, Number 10 - 11/4/99
brought to you online by Pinedale Online
---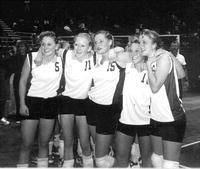 The Pinedale Wrangler five starting seniors will leave the team as Wyoming 2A State Volleyball Champions. Left to right: Andrea Schaefer, Lindsey Gooch, Emily Lehman, Tayte Biffle and Mysti Andersen.

1999 Class 2A State Champions!

by Jennifer Binning

The Pinedale Lady Wranglers captured the 1999 2A Wyoming state championship last Saturday after soundly defeating Sundance in two first-round matches on Friday. They then advanced to the semi-finals, where 2A Coach of the Year (for the third year running) Bev Walker's girls trounced Riverside in two 15-7 matches. Pinedale faced Big Horn in the Championship game, which went three grueling matches, 5-15, 15-13, and 15-8.

Lady Wrangler Coaches Bev Walker and Diane Willson accompanied the team back into Pinedale, where they were met by a throng of excited parents and fans.

Starters Andrea Schaefer, Lindsay Gooch, Tayte Biffle, Mysti Andersen, and Emily Lehman, all seniors, were chosen to the All Conference team, and Junior McKenzie Hartwig was an honorable mention. Other members of the 12-woman team that traveled to state are: Kristi Stevens, Rachelle Transtrum, Elisabeth Storrud, Eve Swank, and Paige McKinney. Stacy Eatinger was a member of the team headed for the state tournament, but fell ill and was replaced by Ms. McKinney.

Pinedale Mayor Skinner has proclaimed November 4 as Lady Wrangler Day, and during an assembly at 11 a.m. on Thursday in the Pinedale Auditorium, Dick Kennedy will present the team with the State Championship Trophy. Following the presentation of the 1999 Volleyball Coach of the Year to Bev Walker, a short video will be shown of the highlights from the tournament. At 11:30 the Lady Wranglers will stop traffic when they take a run down Pine Street, proudly riding a wailing fire truck.

This is the first time Pinedale has returned home with a state championship in volleyball. Well done, Ladies!

Photo credits: Vicky Biffle

See The Archives for past articles.
---
Copyright © 1999 The Sublette County Journal
All rights reserved. Reproduction by any means must have permission of the Publisher.
The Sublette County Journal, PO Box 3010, Pinedale, WY 82941 Phone 307-367-3713
Publisher/Editor: Rob Shaul editor@scjonline.com