From the pages of
The Sublette County Journal
Volume 4, Number 10 - 11/4/99
brought to you online by Pinedale Online
---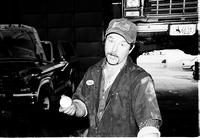 Lance Koppenhafer and his unopened can of Copenhagen.

No More Chew!
After 25 years, Lance Koppenhafer has taken his last pinch of Copenhagen.
by Rob Shaul

"I even remember the first time I chewed," says Pinedale's Lance Koppenhafer, a nervous bundle of energy trapped inside his dark blue coveralls, his jaw working over a poor, mangled piece of gum. "I was the sickest little cut you ever saw in your life - but it didn't stop me, I got hooked."

Lance started chewing sweet-tasting Beechnut, when he was just 9 years old, in his hometown of Mancos, Colorado. On September 27, 1999, after 25 years, he took his last chew. It's been a struggle.

Not For Health, But For Money

Lance's habit got the young man into plenty of trouble throughout his school years. His dad knew of his chewing, but he managed to hide it from his mom until his senior year in high school. "Then there was no more chewing in the house," he says, after she found out.

Soon after he started chewing, Lance graduated from the sweet tasting, but hard to conceal leaf tobaccos like Beechnut to the potent Copenhagen.

In all those years he tried to stop just once before. He managed to quit for about three days. "I couldn't take it," he says. "Everyone around me wanted to buy chew for me."

This last time, Lance didn't decide to quit chewing because he feared getting lip cancer or for some other health concern. "I've had guys tell me all my teeth were going to fall out, or whatever, if I didn't quit," he says. "Hell, I told 'em when my teeth fall out I'd just stop brushing them." Lance explains, "Everybody's gonna die anyway, it might as well be from a bad habit." He adds that when he was in his late teens, the doctor told him that the tobacco juice was exacerbating the ulcers in his stomach and he told Lance to quit chewing. "I just started spitting more," Lance says.

No, it wasn't his health that finally caused Lance to quit chewing. It was money. "Christ almighty," he says through feverish bites on his gum, "they'd hoe it out of me every time I went in the store after a can of Copenhagen." When Lance started chewing, a can of chew cost 65¢. Today the price approaches $4.00. "You just can't enjoy something if it's costin' out the wazzoo," he declares emphatically.

When he quit chewing, Mr. Koppenhafer was working his way through a can of Copenhagen every day and a half. He swears he'd still have the habit if the cost of Copenhagen was still around $2.50 per can.

Sunflower Seeds and Match Sticks

Breaking himself of a 25-year nicotine habit hasn't been easy on Lance or the people around him. For the first week after he quit, he only managed 2-3 hours of restless sleep a night. Once he woke up in the middle of the night and though to himself, "Oh s---, this is it!" He couldn't go back to sleep and found himself staring greedily at a half-full can of Copenhagen sitting on his dresser. He made it until morning.

For the last three years, Lance always had a chew in his mouth, morning and night. "It got so that when my can was half empty, I'd start getting nervous and have to run to the store to buy another can. I was afraid I'd run out and wouldn't be able to get another can."

The worst times come after meals, when Mr. Koppenhafer finds himself automatically reaching for the can of Copenhagen that resided in his shirt pocket for 25 years. "If it was still there," he says, "I would have had a chew a long time ago."

Lance's friends haven't provided much moral support. Todd Stevie pities him, "You poor bastard . . ." he tells Lance. At work, one of Lance's employees, Travis Bing, made the mistake of opening up a can of Copenhagen and grabbing a pinch of chew somewhat close to Mr. Koppenhafer. "You know how when you smell something and it makes your jaw lock up?" Lance asks me, "That's what happened to me. I just about lost it." Lance told Travis that if he did that again he'd fire him.

After a month of no chew, Lance's craving for nicotine has waned, but he's finding it harder to break the physical habit and sensation of chewing. He constantly has to have something in his mouth, and chews gum "220 miles per hour." He's also taken to sunflower seeds. "I can go through a bag of sunflower seeds in half a day," he says.

He's even had to chew up matchsticks and put the remaining pulp between his cheek and gum to fill in for the chew that held the spot for so long. Lance's wife, Lana, told him he was going to get splinters in his lip. "I told her that when I'd get enough in my gut I'd pass (Lance used another word) a two-by-four."

Grouchy and Hyper

Quitting chewing has made Mr. Koppenhafer more hyper. It seems like his hands shake a little more than they used to - or that he just notices it more. He adds that the little things seem to bother him more.

What Lance calls "hyper," those around him daily describe as "grouchy." Lana says he got an "attitude" when he quit chewing. Lynn Bohnet, another of Lance's employees at L.K. Repair, said Lance got so grouchy at work that he and Travis Bing thought of buying a can of Copenhagen and dumping it into Lance's coffee everyday, "just to get it back into his system."

Lance doesn't accept the descriptions of him as grouchy. "I think I'm still a damn angel," he growled.

The Unopened Can

On a cluttered shelf inside Lance's auto shop sits an unopened can of Copenhagen. Early in the interview Mr. Koppenhafer picks it up and gently brings it over to me, fingering it nervously. I can tell he's proud that the seal isn't broken.

Lana's been hoping her husband would quit chewing for a long time. She even nagged him about it for a while, but gave up. Though she's got "sunflower seeds everywhere" in her house, Lana's proud of her husband. "I didn't think he'd last this long," she says. "Now I can get a kiss whenever I want one. Before, I just told him flat out, 'No way, not with a chew in your mouth!' He would sneak one in every once in a while, not too often."

"At least I get more kisses from my wife," Lance agrees.

Photo credits: Rob Shaul, Rob Shaul

See The Archives for past articles.
---
Copyright © 1999 The Sublette County Journal
All rights reserved. Reproduction by any means must have permission of the Publisher.
The Sublette County Journal, PO Box 3010, Pinedale, WY 82941 Phone 307-367-3713
Publisher/Editor: Rob Shaul editor@scjonline.com