From the pages of
The Sublette County Journal
Volume 4, Number 10 - 11/4/99
brought to you online by Pinedale Online
---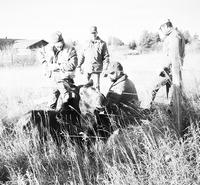 Wrangling Nuisance Moose

by Jennifer Binning

Game and Fish personnel removed two cow/calf pairs of moose from North Franklin Street in Pinedale early Tuesday morning. Parents and officials had become concerned about how aggressive the cow moose had become, and the decision was made to remove the moose before someone got hurt. As students on their way to school watched the commotion, the four tranquilized moose were loaded into a horse trailer for the long trip to the Sybille Research Station between Laramie and Wheatland. Once there, the animals will join the other moose that were removed from Pinedale last winter. The animals are being used to test the effect of an oral RB51 elk brucellosis vaccine on moose to determine the effect of the vaccine should a moose accidentally become exposed to the drug. Thus far all moose in the trial are doing well, and the mothers and babies are recovering well from their experience.

Photo credits: Julie Early, Julie Early

See The Archives for past articles.
---
Copyright © 1999 The Sublette County Journal
All rights reserved. Reproduction by any means must have permission of the Publisher.
The Sublette County Journal, PO Box 3010, Pinedale, WY 82941 Phone 307-367-3713
Publisher/Editor: Rob Shaul editor@scjonline.com