From the pages of
The Sublette County Journal
Volume 4, Number 11 - 11/10/99
brought to you online by Pinedale Online
---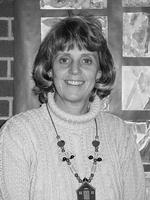 Bev Walker

Educator, coach loves her family, players, students
Bev Walker brightens the lives of those she touches
by Jennifer Binning

"I teach for all the 'little' benefits," says fourth grade teacher Beverly Walker, and she is not talking about the school system's retirement plan.

Bev's smiling face lights up as she talks about the fun she has in her classroom every day, delighting in the thirst for knowledge embodied in her young charges. Her enthusiasm for teaching is matched by the love she has for coaching the high school volleyball team, and surpassed only by the sheer enjoyment she has experienced being a wife and a mother.

Beverly MacDonald was born in Moose Jaw, Saskatchewan, Canada, in a year she refuses to divulge, as the middle child and only daughter of Ron and Mary. Her father worked for years with the Canadian Pacific Railroad, and when Bev was just a little tike, her family moved to Calgary.

When Bev was in the sixth grade, her father made the decision to try his luck in the builders' trade with his brother, who lived in a little American town, called Casper, Wyoming. Her parents simply packed up and sold everything, got American green cards, and moved to Casper on a permanent visa. Bev was a bit hesitant about the move, as all she had ever heard about Americans were unflattering remarks about "those yanks!"

The move was a good one, Bev recalls, and it broke her of a bad habit. She was a nail biter as a child, and Beverly was very concerned about what "those yanks" would think of a pint-sized Canadian with gnawed on nails. She stopped her nail nibbling before she ever got the chance to find out.

All in all, Bev found the people in Casper to be not so very different than those she left behind in Calgary, although she did discover a few key differences. In Canada, Bev had never seen catsup or mayonnaise, and she seasoned everything with vinegar. She also discovered when an American asked for a napkin at the dinner table, they were asking for what she called a serviette, and not a baby's diaper.

After just a few months, her father's business venture failed and the family was contemplating moving back to Canada. Ron decided to make another stab at making it in America, and he took a job with the railroad in Casper. Things worked out for the family, and Bev graduated from Kelly Walsh High School at the age of 17.

Bev was in her second year at Casper College when she met a man who swept her off her feet from the moment she laid eyes on him. Kyle Walker was the CC Student Body President and acting mascot for the basketball team. Bev was a Casper College "Thunderette" when they met on a bus on the way to a game in Hutchinson, Kansas. She recalls the date of that first meeting without a moment's hesitation - March 19, 1970. It was love at first sight. The Walkers were married just five months and three days later, on August 22, 1970. Bev was just 18 years old.

Kyle and Bev graduated from Casper College in 1971, and they continued on to the University of Wyoming where they both graduated two years later. Soon after this, Kyle told Bev he would like to try teaching in a little town called Pinedale. "Where in the world is Pinedale?" Bev asked, and Kyle replied it was a beautiful little town where it would be great to raise children. There were wooden sidewalks, great views, and the wind never blew! Kyle wrangled an interview with then superintendent Spike Jorgensen, and the pair left for Bev's first look at Pinedale. Although it was a cloudy day and Bev could not see the mountains, she trusted her husband enough to give it one year.

When Bev moved to Pinedale, there were no job openings for her with a degree in physical education, so she went to work for John Sulenta, Sr. as a payroll clerk. Bev laughs when she remembers the size of the computer there. One computer filled an entire room in what is now the Mountain High Real Estate building. The Sulentas knew Bev's first love was teaching, so they gave her lots of time off so she could substitute teach and coach in the schools.

After a few years, Beverly was offered a job as a part-time phys-ed teacher. Bev was pregnant with their first child, Kari, who was born in 1975. With the school budget crunch looming and more children in the future, Bev left the school and went back to college, earning another degree in elementary education, while having three more children over the next four years. Returning to teaching full time several years ago, Bev has found herself in the third and fourth grade classrooms ever since, and loving every minute of it.

As a young girl, Bev never had the opportunity to compete in school sports, and as soon as she moved to Pinedale, she joined the county softball team, sponsored by the Wyoming Telephone Company, and was on the championship team for four years running.

Bev's first coaching experience was in the high school as an assistant volleyball coach under Ken Konicek. She then took over the middle school volleyball coaching position, and finally returned to the high school volleyball team with Mike Cothern as head coach, for three years.

Laurie Loftus then moved to Pinedale and took over the volleyball program for three more years, serving as Bev's mentor and teacher. "I learned the game of volleyball from her," Bev says with her ever-present smile.

After five years in the head coach's seat, Bev led the Lady Wranglers to their first ever state championship this fall. "The girls did an incredible job," she says with pride, "I could not have asked them to do any better."

Bev's infectious enthusiasm and natural affection for her players are a few of the reasons she has been selected as coach of the year for four of the last five years. Her secret? "I just keep encouraging them and don't set limitations. They never know what they can do until they try," she says. "Desire, commitment and a love of the sport brought them to the level where they could reach out and grab that championship." A quiet, self-deprecating woman, Bev credits Kyle for helping her to become such a successful coach.

The Walkers have always worked as a team, even in the early days of their marriage, when they played together in a band to help pay their way through college. They continued to play when they moved to Pinedale, and recruited their children to join them when they became old enough to hold an instrument. "It has been a wonderful thing for our family," Bev says in her singsong voice, even if Kyle won't let her sing. The love of music has been handed down to their children. Both daughters, Kari and Jamie, are music majors at the University of Wyoming.

With son Kelly, a freshman at BYU, and the 20-year-old baby of the family, Justin, away on a mission for the LDS church in Dallas, Texas, Bev says her house feels a little empty. But the family comes together frequently to camp and work on the Walkers' "retirement home" in the Upper Green River Valley. Beverly says wistfully that the greatest sorrows and the greatest joys in life come from being a mother.

This is information she will pass on to daughter Jamie and son-in-law Ben when they make Kyle and Bev grandparents in April. Another milestone for the Walker family will arrive next August when Kyle and Bev celebrate their 30th wedding anniversary.

In the meantime, Bev keeps herself busy teaching, making her yearly volleyball team books to give to "her" girls in May, and collecting lots of hugs from her fourth graders. "You must have five hugs a day to maintain a positive attitude in life," she concludes, her smile beaming.

See The Archives for past articles.
---
Copyright © 1999 The Sublette County Journal
All rights reserved. Reproduction by any means must have permission of the Publisher.
The Sublette County Journal, PO Box 3010, Pinedale, WY 82941 Phone 307-367-3713
Publisher/Editor: Rob Shaul editor@scjonline.com