From the pages of
The Sublette County Journal
Volume 4, Number 12 - 11/18/99
brought to you online by Pinedale Online
---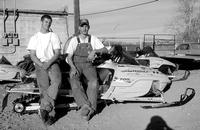 Ryan McGuire and Ryan Persinger.

Water Skipping Sleds
Ryan and Ryan water skip sleds across Fremont Lake
by Rob Shaul

"I first got the idea in high school," Ryan Persinger tells me as he's assembling the handlebars on a new sled at Performance Tech in Pinedale where he works. Ryan's idea was to ride a snowmobile across Fremont Lake from Sandy Beach to the lower boat dock. Clarification: Ryan's idea was to ride a snowmobile across the water - not on top of the snow and ice. In snowmobiling lingo, this feat is called "water-skipping."

Last Sunday, before a crowd of about twenty people, Ryan who graduated from Pinedale High School in 1997, and Ryan McGuire, a high school senior this year, completed the feat and most likely set a Sublette County open water distance record for snowmobiles.

It's really not a big deal to ride snowmobiles on top of water says Brent Cheeney, who owns Performance Tech and employs both the Ryans. Brent water-skipped a sled across Halfmoon Lake from the boat ramp to Christmann's beach in 1995, and has ridden sleds several times in a couple of shallow ponds in the county. To water-skip a sled, the water must be calm, with minimal chop, and the sled must maintain 28 miles per hour, or it will sink. Back east and in Idaho there are actual sled water-skipping competitions, says Brent, who adds that he started water-skipping several years ago to prepare for a competition they used to have in Tensleep. Back when Brent started, the sleds weren't nearly as powerful as they are today. "You had enough power to go about 400 yards and then they'd sink," he says. With today's much more powerful sleds, water-skippers can even draw figure eights in the water and Brent has pulled knee boarders behind a sled on the water.

Not a lot of planning went into Sunday's water-skipping exploit, says Ryan P. He and Ryan McGuire planned it for "about a day" is all, but still managed to attract a sizable crowd for the attempt. Ryan P. went first and rode atop his brand new 2000 Ski-Doo Summit 700. Outfitted in a life jacket, he started about 20 feet up on sandy beach, gunned the sled, and pointed straight for the boat dock. A "support crew" in a "rescue boat" borrowed from Leon Letsinger rode alongside. The ride itself lasted only about 2 minutes, "but it feels like a long time," says Ryan P. He was traveling fast enough to outrun the support boat, which itself was clipping along at 40 miles per hour.

Ryan McGuire rode his 1999 Summit 670, and says he got a little excited and took off before he should have. Shortly off the beach he hit the support boat's wake - "every time the machine would bounce, it would bog down," he said. Ryan M. powered through that wake, got his speed up and was well on his way when about midway over to the dock he hit the support boat's second wake, and feared he'd lose his sled to the deep as his machine bounced and bogged yet again. He made it through, and landed safely at the dock.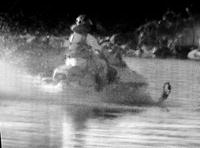 Ryan McGuire water skips his sled past Lakeside Lodge

Ryan and Ryan wish to thank everyone who helped them out with their water-skipping exploit, especially Leon Letsinger who loaned them the boat. Troy Bredthauer, who was listening in on the interview, admonished me, "Make sure you mention the awesome support crew in the boat sucking down Coors."

Next weekend Ryan and Ryan want to water skip their sleds over three miles from Sandy Beach all the way to the upper boat dock. Brent Cheeney might join them. Concerning their water-skipping trip last weekend, Brent says, "I've been wanting to do it for years, those guys just beat me to it!"

Photo credits: Rob Shaul

See The Archives for past articles.
---
Copyright © 1999 The Sublette County Journal
All rights reserved. Reproduction by any means must have permission of the Publisher.
The Sublette County Journal, PO Box 3010, Pinedale, WY 82941 Phone 307-367-3713
Publisher/Editor: Rob Shaul editor@scjonline.com