From the pages of
The Sublette County Journal
Volume 4, Number 13 - 11/24/99
brought to you online by Pinedale Online
---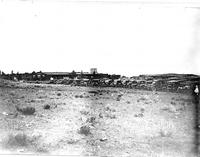 Thank you for my Community.

23-000

by Cork Kelly

Last August, as I was getting gas in Fort Stockton, Texas, a young man approached and asked if I was from Pinedale. Sure, he had noticed the "23" on my license plates and recognized its significance. I am proud to have Sublette County plates, and I hope the person who took one of them from my door many years ago in Pippa Passes, Kentucky, realizes what a nice souvenir he now owns. We are the county with the highest plate number and the fewest residents. Perhaps for that reason, it is difficult to go any place without being recognized and greeted by a relative, a friend, or an acquaintance. This happens on the street or in the post office, in a restaurant or a gas station, in the library, the courthouse, or the grocery store. We are a small community, fiercely independent, ferociously friendly, supremely supportive. We are diverse and we are united.

When a young lady from Pinedale was working for the Smithsonian Institute in Washington, D. C., and discovered a "23" on a car she was walking by, she left a note with her name and phone number and later made contact with the owner.

Whenever I am traveling and people learn I am from Pinedale, they ask me if I know the woman in that Saturn commercial on TV. I tell them I don't know her and take the opportunity to let them know we have no stoplights in our county and that we are one hundred miles from the nearest railroad and that our altitude makes the air thinner and the sun hotter.

Things here continue to change. It's inevitable. There is now a one-way street (behind the new bank) in Pinedale. There is a new stop sign for traffic coming from the Fremont Lake Campground and the Sylvan Bay Home Area at the turn-off to Sandy Beach. Boulder has a turn-out lane for southbound traffic. One can now access the Fremont Lake Road from the Faler parking lot. What doesn't change is the congenial interaction of the people.

Ultimately, it's the people who make "23" so distinctly special.

Can you imagine early morning shopping in a store and being invited to the residence quarters in back to have biscuits and gravy with the owners? Yes - if you knew Owen and Audrey Reed when they owned the Daniel Store.

We march to a slower drummer here in Sublette County. On one occasion I had a visitor from Boston with me in my pick-up when I stopped to visit with Bill Alexander on a back road. We rolled our windows down and passed five or ten minutes in small talk: fishing, weather, beaver dams, hay. When I drove on, my guest remarked that in Boston thirty seconds would have been sufficient for that conversation. I didn't explain to him that it was not the content of the conversation that was important but the courtesy of being social. I wonder what he would say about the traffic jams in the grocery stores that this kind of visiting produces.

I've heard rumors for years now that there are people from other counties who license their vehicles here just so they can have that special feeling of belonging. I understand their motives. When I have been away and am returning, I always smile when I see the Sublette County signs or get my first sight of the Wind River Range, because I know I'm home again, that my "23" belongs, and that I can expect the greetings, the waves, and the gentle nods from this friendly family.

Cork lives in Pinedale.

Photo credits: Photo courtesy Frances Clark Collection

See The Archives for past articles.
---
Copyright © 1999 The Sublette County Journal
All rights reserved. Reproduction by any means must have permission of the Publisher.
The Sublette County Journal, PO Box 3010, Pinedale, WY 82941 Phone 307-367-3713
Publisher/Editor: Rob Shaul editor@scjonline.com