From the pages of
The Sublette County Journal
Volume 4, Number 13 - 11/24/99
brought to you online by Pinedale Online
---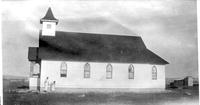 Thank you for my Church.

Our Fellowship

by Bobbi Wade

I am a member of Community Congregational Church in Big Piney. There was no special initiation or ceremony required of me to join; all I had to do was walk through the front door and stay for awhile. I've stayed for nearly six years.

My folks managed to take us to church occasionally throughout our growing-up years. We tried to get to the most important ceremonies during Christmas and Easter, after the chores were done and the cattle were fed. Shortly after the ranch house we were living in burned down in 1972, all of us became members of the Congregational Church in Lusk and the four of us kids were baptized. The ladies that owned the ranch were all active members of the church and were extremely generous and kind to us after the fire. I think they encouraged and invited our parents to become members, and I imagine after the stress and trauma of losing everything, Mom and Dad were in need of some support and fellowship in their adult lives.

I remember a feeling of confusion at that time, because I was not consulted as to whether I wanted to do this or not, and the whole thing seemed to have been forced on me. Since I was into adolescence and prone to be a little defiant anyway, I purposely did not try to gain anything from attending services that I felt I hadn't chosen. I never felt that it was the place for me.

For the next 20 or so years, I went without any regular spiritual influence. The hole in my spirit grew and I tried to fill it with any number of unacceptable things. I had a couple of good scares that started me to thinking there had to be something better available to fill the void in my life. I started searching in earnest for that something, which led me to the doors of my church.

One of the first friends I made here, who remains one of my closest friends today, invited me to attend this church. I figured that if Lois went to this church, there had to be something special about it. I wasn't well acquainted with many Big Piney people at that time, but the people who gathered in this simple, beautiful building took me in with a hug and hearty welcome. I found a surrogate family here.

The Congregational Church is the "Church of the Pilgrims" who came to America to be free to worship without a king or a priest or any other self-appointed middleman getting between the individual and God. This remains the fundamental underpinning of the church today and suits my spiritual journey quite well. Our congregation is a group of people who come together as a family in fellowship. The Sunday service is filled with music, and the first thing we do is greet each other with hugs and hellos. We bring our concerns and joys to the group for discussion and prayer, and we work and pray together for anyone who needs it, whether they are part of our church or not.

The choir is small, but we "make a joyful noise." The pastor is outgoing and friendly and can tell stories that relate the point of his sermons in a way that keeps my attention, and he reinforces his words with scripture throughout the sermons.

We laugh about it among ourselves, but my church family likes to eat. We can put on a feed like nobody's business. Margaret's roast beef with June's brown gravy; Bonnie's dinner rolls and Kay's salads; Theresa's desserts and Sherrie's pie are the standard fare of one of our potluck dinners. Every Sunday we have fellowship in the adjoining hall; coffee and cookies together make the time seem like a visit in my own mom's kitchen.

I try to be a thankful person all year, but in November I am especially aware of all I have been blessed with in my life. My church family is a cornerstone in my life's foundation. They have carried me through some tough and trying times in my personal life with their friendship, concern, attention, and prayers, and I try to give what little I have to offer back in a humble and joyful manner as a way of thanking all of them.

I don't think you can have a church of one. A real church is made up of people who have a common faith and belief in God and who are there whenever you need them, both in joyful times and during a crisis. There is power in our faith when we put it all toward a common goal with prayer and persistence. I love all these good people very much and need them in my life. God gave them all to me and all I had to do was walk through those doors and ask for them.

Bobbi lives in Big Piney

Photo credits: Photo courtesy Mary Moffat Alexander

See The Archives for past articles.
---
Copyright © 1999 The Sublette County Journal
All rights reserved. Reproduction by any means must have permission of the Publisher.
The Sublette County Journal, PO Box 3010, Pinedale, WY 82941 Phone 307-367-3713
Publisher/Editor: Rob Shaul editor@scjonline.com