From the pages of
The Sublette County Journal
Volume 4, Number 13 - 11/24/99
brought to you online by Pinedale Online
---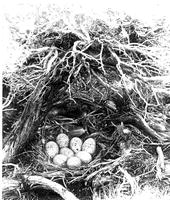 Thank you for my Family.

Blessing of Family

by Kay Storrud

Growing up with two working parents and a much older brother, I lived a rather solitary life as a child. My dreams included graduate school, a successful career, a husband, two children, and a quiet, orderly home.

My dreams remained the same, however I decided to get married before I finished college. Within the first three weeks of my marriage, I was recovering from major abdominal surgery and my husband was recovering from a mine cave-in, which had crushed both of his legs. I should have realized from the start that God's plans were greater than any I might have in mind. After I became a mother, I did alter my dreams to include four children.

Six years later my husband made a major career change and entered the seminary. When he began graduate school, we decided that we would have to be satisfied with our family of three small children. Little did we know that Jesus had other plans in store for us. Looking back, I remember the struggles and joys of raising four more children who arrived during graduate school and the first years of my husband's ministry.

With seven children age 12 and under, older mothers would tell me (especially at times like when I had three little ones with the chicken pox) that I would look back at those years as the happiest of my life. Yes, those were good times in spite of the illnesses, fatigue, and struggles. I cherish memories of my babies and each new development and discovery. Those were exciting and special times.

Now our children range in age from 24 to 12, and I am realizing that the present is the best time for any family. This is the moment that counts. I cherish not only the successes in each child's life, but also the struggles. I suffer along with my children when they experience painful situations, but I know that they are gaining valuable coping skills and strength of character. I rejoice along with my children when they experience pleasant situations, for I know that each friendship or accomplishment also enriches their lives. I am often amazed by a child's resilience, perseverance, optimism, and humor. My world is being broadened by my children's experiences, and I am anxious to see their dreams fulfilled.

Our family does not live in an idyllic world where each member is perfect and completely unselfish. Since we are human, there are problems. In a large family the challenges seem more difficult just because more people are involved. There are the obvious problems of needing more finances and having a greater workload, but there are also the more subtle and serious problems. When you have nine people living closely together, there are bound to be conflicts in personalities and needs. Learning to see a situation from another's perspective is helpful, but we aren't perfect.

We get self-absorbed and frustrated, but we also know that Jesus loves us as we are and values each one of us so much that He died for us. Knowing this enables us to love and forgive each other. This is what makes a family such a blessing. Each child and parent can rest in the assurance that they belong and are accepted just as they are. We cherish each member of the family not for what they are or do, but just because God has given us to each other.

When I was young, I'd dream of making a notorious and important contribution to society. (I'd also dream of a quiet, orderly home!) I have not won the Noble prize, but my dreams are being fulfilled beyond my expectations. When I look at my family, my heart swells with pride, and I am content.

Kay lives in Pinedale.

Photo credits: Photo courtesy Frances Clark Collection

See The Archives for past articles.
---
Copyright © 1999 The Sublette County Journal
All rights reserved. Reproduction by any means must have permission of the Publisher.
The Sublette County Journal, PO Box 3010, Pinedale, WY 82941 Phone 307-367-3713
Publisher/Editor: Rob Shaul editor@scjonline.com