From the pages of
The Sublette County Journal
Volume 4, Number 13 - 11/24/99
brought to you online by Pinedale Online
---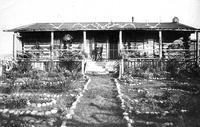 Thank you for my Home.

Tiny Closets

by Helena Linn

Just inside our front door, there's a coat closet. It's 7' tall, 4' wide . . . and 10 inches deep! Tiny, huh? The living room is small too if I'm comparing it with the 20 x 20' room we used to live in. The piano only fits in one corner, there's a woodstove in the opposite corner, the organ has to stay along one wall, and the china cupboard has its own space. Not much choice in rearranging furniture!

Then there's the dining room. On the ranch the dining room had a long table with a 10-foot padded bench along one side. Now we expand our four-footer with two leaves when we have company and it's still crowded.

The bedrooms are s-m-a-l-l, - and the closets match. The utility room barely holds washer, dryer, a storage closet and a couple of tiny tables.

However, the den is just right - holds about everything I've got to put in it.

So, why am I so thankful for this little house?

First of all, that tiny coat closet is unique. It's great for caps, mittens, boots (if you place them sideways), and has pegs for several coats. A hall tree holds more coats.

To the dismay of some of my children, I don't really care if the furniture stays in the same place all the time so our little living room is just right! As for the dining room, most of the time it accommodates most who are on hand for a meal and TV trays do the rest. My Hoya plant likes the east window so well it has nearly covered the top third of that dining room wall. The Hoya has been with us so many years we want it to stay happy and blooming.

I don't have to rearrange the bedroom furniture either. Everything has a place and there's nowhere else to go. Our heirloom chaise longue took up the last available piece of space between the nightstand and the wall - a little niche to curl up with a good book!

For anyone who needs his and hers walk-ins for clothes, our closet would be a joke, but for us, his and hers fit in ours.

When daughter Jannette and son-in-law Gib finished installing a fancy new sink and counter top last summer, then painted the room, our kitchen suited me perfectly. I'm delighted with our old fashioned cabinets that have deep, wide shelves and sturdy drawers. And, I'd never sift flour anymore if it weren't for the old fashioned sifter that has always been an integral part of a Hoosier cabinet. The wood in the Hoosier hardly matches the wood in the newer style cupboard or the spice rack, or even the cup shelf over the stove, but it's close enough.

I used to say, "if they ever start taking things away, the dishwasher will be the last to go." This kitchen didn't have a dishwasher or space to put one. I've been surprised to realize I haven't missed that appliance that always seemed to need emptying.

A feature of this house, which was moved here years ago with several others from Stansbury coal mining camp, is that the corners that jutted into the room were rounded. Also the walls were plastered (we try not to make any more nail holes than necessary). The house was built well and set into a great neighborhood.

Years have put character into this house. I suppose the character changed each time a new family moved into it. Now it holds the "things" of our life and absorbs our personalities into its character. If all 31 of our children and grandchildren ever come at the same time, most of us will have to stand up, but believe me, I'm thankful to live in this little house I love, and I'm grateful to our children who have helped to make it a home.

Helena lives in Big Piney.

Photo credits: Photo courtesy Frances Clark Collection

See The Archives for past articles.
---
Copyright © 1999 The Sublette County Journal
All rights reserved. Reproduction by any means must have permission of the Publisher.
The Sublette County Journal, PO Box 3010, Pinedale, WY 82941 Phone 307-367-3713
Publisher/Editor: Rob Shaul editor@scjonline.com