From the pages of
The Sublette County Journal
Volume 4, Number 13 - 11/24/99
brought to you online by Pinedale Online
---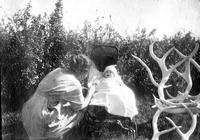 Thank you for my Son.

Will

by Lynn Grassell

The doors swung open and there was Will. His hair tousled with bright red cheeks and eyes a vibrant blue. Had it not been for the rather large bandage wrapped around his head, and the ten or so physicians surrounding him, one would never know he had just been through eight hours of major neurosurgery to remove a life-threatening malignant tumor from the back of his brain.

An early afternoon at the beginning of June: Chopper and I were once again in Jackson trying to convince the physicians that there was something desperately wrong with our son. Finally, someone listened. An MRI was performed, and a mass was discovered on the cerebellum of our eldest child's brain. The news was devastating. Screams, fear, and seemingly endless tears followed. Our son was desperately ill.

It wasn't until the morning following surgery that we had any hope. Dr. Jack Walker, Will's pediatric neurosurgeon, gave Will an excellent prognosis for a full and complete recovery. As he spoke, a large smile expanded over his rather large, friendly face. "It is for this reason I am a pediatric neurosurgeon," he later told me.

The months of recovery and chemotherapy were, and continue to be, very difficult. It is only because of Will's tremendous courage that all is bearable. He doesn't cry or whine. He has never asked why. He has grown into an incredibly strong five-year-old, with a will that will one day help him to accomplish great things.

As Thanksgiving draws near, I am especially thankful for Will. He has made us a better family. His courage throughout his illness has been phenomenal. What he has taught us about the love we have for one another is difficult to describe. It is for this reason that we give special thanks on this glorious holiday.

Photo credits: Photo courtesy Frances Clark Collection

See The Archives for past articles.
---
Copyright © 1999 The Sublette County Journal
All rights reserved. Reproduction by any means must have permission of the Publisher.
The Sublette County Journal, PO Box 3010, Pinedale, WY 82941 Phone 307-367-3713
Publisher/Editor: Rob Shaul editor@scjonline.com