From the pages of
The Sublette County Journal
Volume 4, Number 13 - 11/14/99
brought to you online by Pinedale Online
---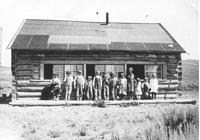 Thank you for my Work.

Art of Teaching

by Arlinda McLaughlin

I vividly remember my first class of second graders twenty-four years ago. They marched into the room with smiles across their faces, hair curled up or slicked down, faces ruddy from summer in the hayfield or at Sandy Beach, and volumes of stories to tell. I had spent the summer cutting out letters, making wall decorations, and preparing lessons for children I had never met. They confidently walked in, knowing the routines of school, to meet a teacher that had not been to elementary school for many years. Many of those students still live in Pinedale, including the editor of the Sublette County Journal, Rob Shaul.

It is to these students, my first real class, that I attribute much of my success as a teacher. Not only did they teach me the routines of school, like lunch count and recess, but they taught me the value of listening to and believing in the children. They taught me that their ideas and interests are important and relevant. Together we built a curriculum that included many hands-on projects that are truly memorable (like making cheese, bread, and cookies). Those experiences are the ones that motivated me to continue learning with children as a school teacher in the Pinedale Elementary School.

My earliest memories of being a teacher stretch back to childhood. With eight younger siblings in my family, I had plenty of opportunities to work with children. I taught them their prayers, their times tables, and their chores. Whenever we had any free time, we played school, and they dutifully pretended to be students, while I assumed the role of their teacher. In the summer, our classroom was outdoors under a huge elm tree. Sometimes we took field trips to pick wildflowers or find frogs and turtles. Other times we gathered up combs and cigarette wrappers to create a symphonic orchestra. We kept the bare walls of the house decorated with our art projects, and then we danced wildly to the radio tunes popular at the time.

In my school teaching days of childhood, I honed my skills from another master teacher: my mother. Not only was she the busy caretaker of a large family, she practiced her own teaching skills with her children. She patiently taught both boys and girls to cook, clean, sew, diaper babies, fix appliances, and take care of the animals on the farm. Our learning was not incidental; it was intentional and calculated. Not only did she teach her own children life skills, she took on hordes of other people's children, through 4-H and church, and helped them learn the basics of surviving and enjoying life.

My other master teacher was my father. He had a completely different approach to teaching and learning. My experiences with him were totally unplanned and unpredictable. He was a believer in learning by doing, mistakes and all. Nothing ever had to be perfect or finished. The biggest lesson I learned from him is that any job could be made easier if somehow it could be turned into fun and games. While fixing the plow or other farm equipment, we might whittle a whistle or two, and whistle while we worked. "Old Bess" often became a participant in ensembles as we made up tunes and milked to the rhythm of the music, complete with crescendos and syncopation.

The lessons I learned in my early days from parents, brothers and sisters, and students are the ones that have guided me through the years as a professional in the art of teaching. Nearly 500 children have spent nine months of their lives with me since I entered the halls of Pinedale Elementary School. Even though I have enjoyed years of experience teaching school, every September I feel like I am a beginning teacher once again. I know the routines, but I don't know what adventures I will encounter during the year. I know there will be plenty of children, but I don't know their interests and stories. I know the curriculum, but I also know there will be unexpected twists and turns that will make old ideas come alive and seem fresh and new again.

Oftentimes, people ask me how children have changed over the years. Yes, the world has changed around us, but children have the same basic needs. They need strong guidance to learn the values the community expects of its citizens. They are curious and want challenging opportunities to fill their chasms of learning. They need unconditional love and expect forgiveness when they fall out of line. They need smiles and hugs to reassure them they are valuable members of the family and community.

I was destined to become a teacher. I had the perfect mentors from birth through childhood. But it is the children who keep me in the profession. Their sense of wonder when they learn a new lesson in math, their delight in learning a new dance for Grandparents' Day, their tears when they lose a favorite pet, and their hugs when I've lost someone I love make every school day unforgettable. Although my title is "teacher," I feel each new day is an opportunity to learn something new about the world and the young children of our community. I am grateful to the people of Pinedale for allowing me to learn with their children for the past 24 years and look forward to the years to come.

Arlinda lives in Pinedale.

Photo credits: Photo courtesy Sublette County Historical Society/Museum of the Mountain Man

See The Archives for past articles.
---
Copyright © 1999 The Sublette County Journal
All rights reserved. Reproduction by any means must have permission of the Publisher.
The Sublette County Journal, PO Box 3010, Pinedale, WY 82941 Phone 307-367-3713
Publisher/Editor: Rob Shaul editor@scjonline.com