From the pages of
The Sublette County Journal
Volume 4, Number 13 - 11/24/99
brought to you online by Pinedale Online
---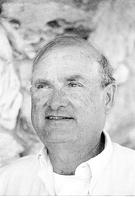 Bill Barney.

"Western Wyoming Beef" Has Solid First Run
Bypassing packers, Big Piney ranch sells 11,000 pounds of beef directly to 50 customers
by Rob Shaul

Sublette County's first and only direct marketing beef endeavor has had a solid first run. Last spring, Big Piney rancher Bill Barney and his family send 20 steers and heifers to a feedlot in Colorado in preparation for direct delivery to consumer's homes this October. Throughout the summer, the Barney's advertised their "Western Wyoming Beef" to consumers in newspapers throughout western Wyoming and through their website. The results from this first run in direct beef marketing were promising. As of last Friday, the Barneys had sold and delivered all but eight quarters of the twenty cattle they sent down to the feedlot.

Who Bought the Beef?

Approximately fifty individual customers purchased beef directly from the Barney Ranch, says Mr. Barney. Although the meat could be purchased in quarters, halves, or the whole beef, the vast majority of the customers purchased the beef in quarter (about 125 pounds of beef) units. All of the meat has been sold except eight quarters which are waiting in a freezer ready to be purchased.

People from as far away as Philadelphia, Pennsylvania, and Boulder City, Nevada, purchased Western Wyoming Beef from the Barneys. Most of the beef was sold in western Wyoming.

Mr. Barney says they had the most success with print advertising in newspapers. There were no purchases over the website; however, all of the print advertising directed possible consumers to the website, where they could learn more information about the Barney Ranch and its product. Bill says he did have one inquiry for a large amountof beef through the website from Egypt, though he suspects it is a hoax.

Individual consumers purchased all of the beef from this first run. The Barneys did get some inquiries from restaurants, says Bill, but there's a problem in that the beef is delivered frozen, and most restaurants want chilled beef.

Lessons Learned

Not surprisingly, Bill says he's learned some hard lessons from this first run. One of these lessons was the realization that kill slots at the kill plant in Colorado which process the beef, have to be booked up months in advance. For the first run, Bill reserved kill slots for the number of animals he anticipated would be in demand, but came up short. Subsequently, he had to pay the expense of shipping fattened cattle to another plant in Wyoming to meet the demand.

Advertising costs were also greater than anticipated. Mr. Barney plans to look back now before the next run of beef to determine which advertising methods were most effective in drawing customers.

Also, the bone and fat from the beef was trimmed a little more than was expected, says Mr. Barney. And while this led to a better product for the consumer, it also meant less weight per quarter and greater expense for the ranch.

"You'd be surprised about how much time I've spent in the freezer," continues Mr. Barney about one of the lessons he's learned, "zero degrees working outside in the sunlight is a lot warmer than zero degrees working inside a freezer in dim light. After a couple hours, it's grim."

Looking Ahead

Overall, Mr. Barney is encouraged by his first run at direct marketing beef. He says the initial results were "in the middle of where I'd hoped and where I'd figured." The logistics involved - shipping, packaging, delivering - are by far the most complicated and troublesome aspect of the endeavor. "Almost the easiest part is raising good animals," says Bill. "No matter how good your beef is," he continues, "unless you can do the logistics it might as well not exist."

One of the lessons Bill learned with the first run is that if he had inventory on hand, he could have sold more beef. Thus, Barney Ranches is working to keep up a steady supply of meat ready to sell. The ranch already has 60 more steers down at the Colorado feedlot fattening up in preparation for slaughter in February. They'll send another 80 head of yearling calves down in December, which will be slaughtered in June or July. In the spring they'll send yet another bunch down for slaughter in October. Thus, three times a year, October, February and July, the meat inventory will be replaced.

Further, the Barney's want to market and sell their beef to the millions of people who live on the Colorado Front Range, from Colorado Springs up to Fort Collins. Mr. Barney was able to find a dependable delivery service for his beef that is located in Denver, and he plans a concentrated marketing effort along the entire Front Range.

Finally, Bill has secured the first retail outlet for Western Wyoming Beef. He's worked out an arrangement to sell his product at the Short Stop convenience store in Marbleton.

Western Wyoming Beef has a toll free phone number for information and ordering: 1-877-WYOBEEF. The website address is: www.barneyranch.com.

See The Archives for past articles.
---
Copyright © 1999 The Sublette County Journal
All rights reserved. Reproduction by any means must have permission of the Publisher.
The Sublette County Journal, PO Box 3010, Pinedale, WY 82941 Phone 307-367-3713
Publisher/Editor: Rob Shaul editor@scjonline.com