From the pages of
The Sublette County Journal
Volume 4, Number 13 - 11/24/99
brought to you online by Pinedale Online
---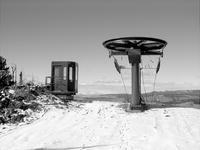 Summit of the "Great Spirit" Lift at White Pine Monday.

White Pine Opening Depends On Snow
Lodge may not open when the slopes do
by Jennifer Binning

"We are pleased with the progress, and the way the hill is looking," said Stewart Thompson concerning the possibility of opening White Pine before this Christmas. "Of course, it is highly dependent on the snow," he adds.

Right now, the crews are hard at work burning the last of the brush piles, and removing a few remaining log decks that line the sweeping runs.

Mr. Thompson said there is still a lot of work to be done, but the ski runs should be in great shape to ski on by Christmas provided they have at least two feet of snow base.

Most of the runs are named for local geographic features, and there is ample terrain for any skill level. Of the approximate 25 runs served by the main lift, there will be lots of groomed trails to choose from as well as several mogul runs. Additionally, the run called Lower Sky Pilot forms a natural half pipe, which should attract snow boarders and skiers alike.

Unfortunately, the progress on the lodge is not quite as far along as developers had hoped, and there is a very real possibility that the hill will open before the lodge is complete. The DEQ just issued White Pine a septic permit which has been lost in the never-never-land of new regulations, requiring the drilling of a water quality monitoring well for any large new development.

The lodge is ready for the outdoor decking to be laid in place, and the siding and windows are waiting to be installed. Then the indoor finish work must begin.

Mr. Thompson said most of the ski patrol has been hired, but other positions are still open. He expects the hours of operation for the hill to be from about 8:30 a.m. to around 4 p.m., with the hours being extended as the days get longer in February or March.

A full day ticket for adults or children will be $22, and the half-day tickets will cost slightly more than half of the full day ticket. There is also a "10 rider" ticket, which entitles the bearer to ride the chairlift 10 times over several days. This is ideal for the person who only wants to take a few runs, or a Nordic skier who wants to take one or two downhill runs at the end of the day. Season tickets are still unavailable, as Mr. Thompson is still unsure of the date when the hill will open.

"We would like to be there by Christmas," said Mr. Thompson with a smile, " but it is really hard to say."

See The Archives for past articles.
---
Copyright © 1999 The Sublette County Journal
All rights reserved. Reproduction by any means must have permission of the Publisher.
The Sublette County Journal, PO Box 3010, Pinedale, WY 82941 Phone 307-367-3713
Publisher/Editor: Rob Shaul editor@scjonline.com