From the pages of
The Sublette County Journal
Volume 4, Number 13 - 11/24/99
brought to you online by Pinedale Online
---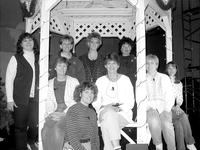 Marianne Mrak, Julie Konicek, Nancy Stevens, Sue Holz, Sharron Ziegler, Julie Huntley, Sue Briggs, Chris Cramer and Melissa Benard of Sweet Harmony

"Sweet Harmony"
Nine Sublette County women who laugh, cry and make spectacular music together
by Jennifer Binning

On the evenings of December 2nd and 4th, the women's vocal ensemble Sweet Harmony will be performing "A Millennial Celebration of Christmas" in the Pinedale Auditorium.

This is the sixth bi-annual Christmas concert that the group of nine Sublette County women has given in the 12 years that Sweet Harmony has been in existence. The group began in 1987, when several women who had performed in the annual Festival of Lessons and Carols, merged with a female barbershop quartet after a local talent show. The Sweet Harmony has gained and lost members over the years, but the overall core of the group has remained solid. The women perform many different styles of music, from gospel to jazz, and a capella to rousing piano accompaniment.

This year's show will feature many familiar faces from around the community, sharing their unique artistic talents in a production written, directed and choreographed by Kyle Walker.

Here is a closer look at the nine women who are "Sweet Harmony."

Nancy Stevens is an original member of Sweet Harmony, and like most of the other gals she harmonizes with, Ms. Stevens was raised in a home that was filled with music. Nancy's mother always sang, wrote programs, and performed, involving Nancy in musical productions throughout her childhood.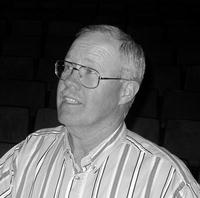 Kyle Walker

Nancy continued to nurture her musical muse in high school and college performing in plays and various choirs. "Music has always been a part of my life," she says, and as a result, she has fostered the same love of music in her children.

Nancy and her husband Paul have five beautiful daughters with whom they sit around the piano and sing as often as they are able. Nancy says one of her favorite days of the week is Monday, when she and the rest of Sweet Harmony gather to practice their music. "I love singing with the other ladies of Sweet Harmony, they are what make singing so much fun!"

Another mother of five girls and original harmonizer, Christine Cramer, moved to Pinedale in 1977 with husband Dennis, a Pinedale native. When she arrived in town, Chris never thought she would be able to fulfill her desire to sing in such a small town. She was happily surprised.

Chris attended Ricks College in her home state of Idaho, and played in the Symphony Orchestra while there. Her parents believed in giving their children a broad musical background, and Chris had always had a bit more of an instrumental bent to her musical interest, but singing is something her entire family enjoys to do together. Three of her girls are attending college at BYU in Provo, where they room together and generally enjoy one another's friendship.

Chris feels very fortunate to share in the closeness that the women of Sweet Harmony have developed. "There is such a variety of talent in this group, and everyone has something to contribute," she continues, "We have been through new babies, deaths, sicknesses, graduations and a whole lot more together. What a great support group. I guess you could call us a therapy group."

Julie Huntley is another member of the original core group of Sweet Harmony. Julie has studied music formally since the age of eight, and feels strongly it is the "best way to communicate, with others and with God. The combination of rhyme, rhythm, and song allow us to commune more completely with each other and our maker."

Julie and husband Jim have lived in Wyoming for almost 25 years, and they "very intentionally" chose to live in Pinedale. The Huntleys raised their three daughters, without indoor plumbing, in their "Blizzard Hideout" near Horse Creek.

Julie clearly loves the camaraderie the women in the group share, stating, "Though we each bring a special gift to Sweet Harmony, our sum total is much greater than the parts. It is magic."

Marianne Mrak is another 12-year veteran of the group. She was raised in Cowley, Wyoming, and graduated from a school where almost all 65 students were involved in band or choir.

Marianne's parents made sure she was enrolled in piano and dance lessons, and whenever she and her siblings are together, music is bound to erupt at some point.

Ms. Mrak attended Northwest Community College, where she played the French horn and trumpet in the band, and also sang with a pop group called Northwest Winds. She graduated from the University of Wyoming with a degree in Education and a minor in Music.

Marianne married husband Mark 20 years ago, and they have lived in Pinedale ever since, raising two sons, Adam, a guitar and trumpet player, and Eli, a drummer.

The only grandmother in the original group, Sharron Ziegler simply glows when she talks about two of her favorite subjects; granddaughter Gabrielle and Sweet Harmony. A Utah girl by birth, Sharron and her family moved to Wyoming when she was a freshman in High School, and she felt like she had been "dropped off the face of the earth" when she arrived in Kemmerer. Sharron and her sister sang and performed together frequently while growing up, and during her years at Kemmerer High, Sharron participated in several choirs and was selected to the All-State Choir for two years in a row. A runner-up in the Wyoming Junior Miss contest, she majored in art in college, and enjoyed singing in various choirs while there.

Sharron was immersed in music from the get go, as her father owned several radio stations around the state. She spent many years in those stations as a broadcaster in Wyoming. Sharron and her husband Alan have four children, all of whom have inherited their mother's love of music. Even little "Gabby" gets in on the act when she calls her grandparents and sings to them over the telephone.

Sharron's mother Duveen Gunter, who still lives in Kemmerer, also is a valuable member of Sweet Harmony and helps sew the group's wardrobe.

Sharron says with obvious affection that she has been very blessed to work with the "truly sweet women who have pulled, pushed, and carried me to new heights musically, and given me great camaraderie, personally."

Rounding out the core group of original Sweet Harmony members is Julie Konicek. Julie has been involved in music "for as long as I can remember." She began to sing in pre-school, and started piano lessons in 6th grade, when her grandmother gave her a piano and six weeks worth of lessons. She played the clarinet in junior high, and sang in a folk group once she was in high school.

Julie grew up in Clear Lake, Iowa, and graduated from the University of Northern Iowa in 1974. She has lived in Pinedale for 25 years with husband Ken and their three children.

"Music is a part of my life," she says, using it as a teaching tool in her classroom, relaxing as she plays the piano, and singing for fun while she croons with the stereo. Julie says, "My association with Sweet Harmony is one of the best things I do for myself. I feel lucky to be a part of these amazing women."

Melissa Bernard and Sue Briggs both joined Sweet Harmony five years ago. Sue grew up in Pinedale on a ranch on Ehman Lane, the youngest of the four daughters of Floyd and Kathryn Briggs.

Sue has always loved to sing, and she has participated in choirs since elementary school, singing in the high school choir and the show choir, and playing alto and tenor sax in the band and jazz band.

A University of Wyoming graduate, Sue has taught elementary special ed, kindergarten, and music for the past 9 years in the Kaycee and Pinedale school systems. While attending college, Sue participated in many singing groups, was a member of the Wyoming State Choir, and has performed at the Lincoln Center in New York City.

Sue has been with SH ever since she returned to Pinedale, and she "thoroughly enjoys working with these ladies."

Melissa Bernard is the second of seven children born to Donald and Janet Parker of Springville, Utah. Melissa's mother encouraged her brood to take advantage of any opportunity to sing and perform as they grew up. Thankfully, Melissa took her mother's advice, singing with several choirs during her high school years, and performing with a trio in high school and college.

Melissa and her husband, Lynn, have lived in Pinedale for the past 10 years, and have a young son, Spencer, who delights in his mother's lullabies.

Having been a Sweet Harmonizer for just six months, Sue Holz is the new kid on the block. Sue has had a lifelong love affair with music, a gift from her mother who is a piano teacher.

Having lived all over Wyoming, Sue and husband, Bernie, moved to Sublette County in 1989, finally settling in Pinedale four years ago with their two young children. A physical therapist, Sue continues her musical education on the piano with Coralee Petersen, and she also helps with the music at St. Andrews-in-the-Pines Episcopal Church.

Bubbling with excitement, Sue says about her involvement in Sweet Harmony: "They are all extremely talented, dedicated, and fun. We have a blast!"

Watching these women work with Kyle Walker during a rehearsal for their Christmas show is truly a treat. Their laughter is contagious, and the music is a delight. Under penalty of certain death, I am unable to reveal any details of the upcoming performance. However I feel safe in revealing that my 4 and 6-year old daughters, sat transfixed during the rehearsal and became unhinged when the women of Sweet Harmony began to dissolve into laughter due to some unseen foible backstage.

Those who have witnessed a Sweet Harmony concert before know that a wonderful treat is in store. Those who have not yet been lucky enough to enjoy an evening with Sweet Harmony must make the effort to come and enjoy the show, or forever be sentenced to the regret of missing a truly wonderful evening. As Julie Huntley says, "This is our special Christmas gift to a great community." And a better one we could not ask for.

Photo credits: Jennifer Binning, Jennifer Binning

See The Archives for past articles.
---
Copyright © 1999 The Sublette County Journal
All rights reserved. Reproduction by any means must have permission of the Publisher.
The Sublette County Journal, PO Box 3010, Pinedale, WY 82941 Phone 307-367-3713
Publisher/Editor: Rob Shaul editor@scjonline.com