From the pages of
The Sublette County Journal
Volume 4, Number 14 - 12/2/99
brought to you online by Pinedale Online
---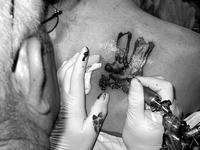 Jackson Tattooist Terry Myers applies a "boots and rose" tattoo to the shoulder of Daniel's Cris Paravicini last Sunday.

Body Art in Sublette County
Pinedale residents line up for tattoos and body piercings
by Rob Shaul

"It's not bad, actually, I thought it would be worse" says Cris Paravicini about the pain from the boots and rose tattoo being applied to her right back shoulder. "The pain feels broad," she continues, "and it doesn't feel sharp. It feels like if you had a hunting knife that wasn't sharp and had a nicked blade and were dragging it across your skin - it feels like pulling, dragging, tearing."

Applying Cris' tattoo is Terry Myers of American Spirit Tattooing of Jackson. Terry came to Pinedale at the invitation of beautician Kimberly Shaul and was working in Kim's shop, the Ultimate Image, next to the Cowboy Bar on Pine Street.

Short and stocky, Terry has a ponytail, graying beard, warm, friendly eyes and tattood arms. Mr. Myers started tattooing on his own in 1990. In 1994 he apprenticed with a 31-year "tattoo master" in San Diego for a year. He opened his own shop in Jackson 13 months ago and has been busy ever since.

The Traditional and the Different

Terry says tattooing has been around for generations and spans age groups. The oldest person he's tattooed was a 94-year-old man in California. In Jackson, Terry applied matching bucking horses to the buns of two older women, ages 65 and 67.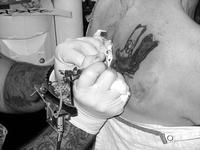 Terry shades in one of Cris' boots.

Seventy-five percent of Mr. Myers' business comes from women. The most common spot women want tattoos is on their ankle, "which is one of the most painful," says Terry, because there's little flesh between the skin and bone. The most popular tattoos for women are of flowers and butterflies.

The most popular tattoos for men are "black Indian" art, and cow and bull skulls. The favorite spot for men's tattoos are the arms and shoulders.

The most unusual tattoo request Terry's had in his years of tattooing was for a "Tweety Bird pushing a lawnmower into a girl's pubic region." He's had requests to tattoo obscenities inside people's lips and once spent 4 1/2 hours tattooing a wizard on the full back of one gentleman. Another had a likeness of his black lab tattooed on his shoulder and plans to cover the rest of his back with a duck and wetlands scene. Terry's even had people request that he tattoo their pets - which he refused. "What's the point in that?" he asks.

"I don't do heavy racial or gang stuff," continues Mr. Myers, who's had tattoo requests from white supremacists. He did have one man come in recently who already had a swastika tattooed on his shoulder. The man had Terry tattoo a spider web over the top of the swastika, hiding it.

Mr. Myers won't tattoo anyone under the age of 18, "even with their parent's permission." On Sunday, a seventeen-year-old Pinedale youth asked for a Metallica tattoo. "You say you want Metallica now," Terry scolded him, "but I bet in a few years you won't." Mr. Myers also won't tattoo anyone who's drunk or otherwise impaired.

Terry never asks why people are getting tattoos, and he doesn't like to get involved in their placement on the body. "The next day they could come in and be mad because I recommended they should get it on their leg and they'll say they really wanted it on their back or something," he explains.

Mr. Myers also does body piercing, which is becoming more and more popular. On Sunday, four Pinedale women got body piercings - three in the navel and one through the tongue. Genital piercings are the most unusual, and Terry says he's done more of these in Jackson than California. In a year in San Diego, Terry applied genital piercings for five women and three men. In the thirteen months he's been in Jackson, he's done 23 women and three men. One woman wanted seven rings below the waist!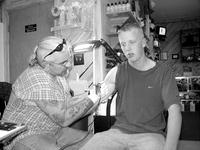 Terry Myers applies a "black Indian" band to the arm of Trevor Daniels.

Terry continues that all types of different people come see him for body piercings. For example, he's pierced the nipples of several attorneys in Jackson.

"Earning" the Tattoo

By now, Terry is well into applying Cris' tattoo, and while it's clear she's not comfortable, Cris is able to hold a regular conversation. The tattoo needle penetrates three levels of skin, "about a millimeter and a half" says Terry. Cris describes the feeling as a "semi-automatic needle." There's little, if any, blood.

Where the skin crosses bone is the most painful. Tattoos applied to the butt or breast area are the least painful says Mr. Myers. And, he continues, "Women always take pain better than men." In San Diego groups of sailors would stop by Terry's shop for tattoos. Invariably the biggest, beefiest guy would be the first to step up, "and the first to faint," from the pain.

The pain is part of the whole experience of getting a tattoo, explains Terry. He doesn't give any anesthetic. Instead, enduring the pain is how you "earn your tattoo," he says. Further, the pain doesn't dissuade people from getting a second or more tattoos. Terry has only had three people tell him they wouldn't get another tattoo because of the pain.

"Tattoos are very, very addicting," continues Terry, "as much as any drug." "Yeah," adds Cris Paravicini, halfway through her first tattoo, "I'm planning my next one now."

"See," says Terry, looking at me knowingly.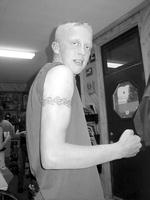 Trevor shows off his new tattoo.

"This is a very stressful job," concludes Mr. Myers, tattoo needle in hand and a deadly serious look on his face, "there's no erasing, you know."

Last Sunday in Pinedale, Mr. Myers gave three women and two men tattoos, in addition to the four body piercings. Terry will be back at the Ultimate Image on December 19 to apply more tattoos to Sublette County residents.

Photo credits: Rob Shaul, Rob Shaul, Rob Shaul

See The Archives for past articles.
---
Copyright © 1999 The Sublette County Journal
All rights reserved. Reproduction by any means must have permission of the Publisher.
The Sublette County Journal, PO Box 3010, Pinedale, WY 82941 Phone 307-367-3713
Publisher/Editor: Rob Shaul editor@scjonline.com