From the pages of
The Sublette County Journal
Volume 4, Number 15 - 12/9/99
brought to you online by Pinedale Online
---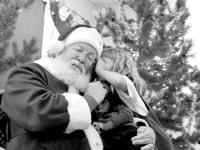 Sublette County's Santa with Xebulynn Lindgren and her sister, Tavailya Layland, last Friday.

Sublette County's Own Santa
Uniting communities and recalling the magic of Christmas past is John Godfrey's goal
by Jennifer Binning

Pere Noel, Chris Kringle, Father Christmas, Saint Nicholas, Santa. No matter by what name he is called, the mere mention of the jolly old elf conjures up memories of candy canes, sugar cookies and the magical time we call Christmas. For the past fifteen years, John Godfrey has "become" Santa. John and his wife Jackie moved to Pinedale several years ago, he brought with him his tradition of rekindling the Christmas spirit.

John and Jackie simply love Pinedale and Sublette County in general. The quality of the people and the natural beauty of the place are hard to beat. But John has seen a need for establishing a special Christmas tradition here. A tradition that may begin with Santa, but certainly does not end there.

Many years ago, John was asked by the Kiwanis Club to bring a little Christmas magic to the disadvantaged children in Lyle, Illinois. Thus Santa began to visit the town located just outside of Chicago. Like Pinedale, it had a few holiday traditions, but John felt there was room for improvement. As Santa, John began visiting an historic park in the town, and the children followed. Up to one thousand children would line up to visit with Santa each weekend. Parents would drive miles from Chicago, just so their children could have the opportunity to visit with this special Santa Claus.

Soon the town began to respond to the magic that Santa brought with him. People organized hay rides, craft fairs and petting zoos, and soon other nearby towns joined in the effort. The holiday parade grew from a few dozen floats into a massive multi-community celebration involving well over 100 entries. Even the railroad got into the spirit with the "Polar Express," a train that carried Santa and hundreds of children into Chicago and back for a fun-filled evening visiting, playing games and just having wonderful one-on-one time with the chief elf himself.

Even the coffee cart lady got into the spirit. Mary did not recognize Santa in his civilian clothes, and she would occasionally call him an "old fart" when she was having a bad day. The children knew who he was, of course, and they began to leave their letters to Santa with Mary at her coffee cart. When he arrived to pick them up, Mary finally recognized him, and never again called him any unflattering names. With the help of the Kiwanis members, those disadvantaged children had a Christmas they would never forget, and the town established an enduring Christmas tradition.

Mr. Godfrey notes that recently children have not had much of an opportunity to visit with Santa in an uncommercialized setting. This is why he teamed up first with Laurie Latta at the Museum of the Mountain Man, and later the Pinedale Chamber of Commerce, to try to give the children of Sublette County a place to sit and chat with a stern, caring and loving Santa, in a realistic and appropriate setting, allowing them to "believe."

With children growing up so quickly these days, Mr. Godfrey has noticed that they are not quite as willing to believe in Santa as they once were, so he employs some ingenious methods to keep the magic alive for as long as he can.

While Santa talks with the children, parents are able to discuss with the elves any information they feel may be important for their child's visit. The helpers then pass along the information to Santa who uses it to remind children that he is always watching. One year, a mischievous looking young man with red hair and freckles crawled up into Santa's lap and was stunned that Santa knew his name. After speaking with him about the need to keep his room clean, Santa informed the youngster that it really was not nice of him to have gotten in that fight at school. The little boy denied any involvement, and so Santa felt obligated to check his records again. Lo and behold, Santa had made a mistake and was looking at the wrong child's misdeed. He apologized, and told the boy that indeed, Santa does occasionally make mistakes, just like everyone else. When the time came for the next child to talk to Santa, the little boy, who had overheard the previous exchange, jumped in his lap and confessed on the spot, "It wasn't my fault, he hit me first!"

Mr. Godfrey likes to use his time with the children to help the parents find out what their children really want for Christmas. One two-year old, Caleb, recently sat on Santa's lap and made himself quite comfortable. When asked what he really wanted for Christmas, young Caleb replied with confidence, "a MasterCard."

Another youngster became frustrated by "Santa Block," and asked for "a snowboard that you put gas in and really hauls butt!" AKA, a snowmobile.

John thinks it is refreshing that in Pinedale Santa does not receive many requests for Pokemon or Furby, and he can always count on getting the simple appeal for a watering trough for a young man's horses and his "ships," better known as sheep.

When a youngster seems to be wavering in their belief, Mr. Godfrey is not above using some of the information his helpers have gathered to disperse any lingering doubts. Santa will never ask a child their name, because he already knows it. He also knows the names of their pets, their siblings and how they have been behaving at home and school. Parents seem to be rather forthcoming with this information.

Bill and Mary Sours' granddaughters, Miranda and Ashley, wanted to know where Santa kept his reindeer, and why couldn't they see them? Santa informed them that he had to disguise them as regular deer so as to avoid any traffic jams on the highway. He then told them that they generally stayed in their Grandfather's pasture, and could they please have a chat with him about it? It seems Grandpa Bill had asked Santa to remove the reindeer, as they were bothering his llamas. The girls promised to take care of the situation and the reindeer were allowed to stay.

A child will never be rushed when talking to Santa, and as long as there is a child waiting, Santa is happy to stay and chat. Never, ever will a child have to pay to see him, and Santa takes care to make sure the children know that he really does not like raisins in his cookies. One year, Santa asked a little girl why she did not leave him any cookies the previous Christmas. The youngster protested that she had, in fact, left him cookies. Santa replied that all that were left were crumbs, and he wondered what had happened. The little girl sat up straight, looked accusingly at her father and said, "DAD!"

Santa loves to spend this time with children just before his big night, and he truly wants to use his time in Sublette County to bring the people from all the communities together as a group to enjoy the season, get to know one another, and "rekindle the magic that is."

Santa will be making one more appearance in Pinedale before he must return to Christmas Valley at the North Pole. He will be visiting with children on Saturday, December 11 from 10 to 12 in the old library building, then from 12 to 2 at the new Children's Discovery Center open house, and back to the old library again until 4:00 p.m.

Mr. Godfrey truly enjoys this time in Sublette County, and he simply cannot give enough thanks to all of the people who help him spend time with the children, from the staff at the Museum of the Mountain Man to the hard-working volunteers of the Chamber. As a special treat this year, Santa will be reading "The Night Before Christmas" on KPIN.

Photo credits: Jennifer Binning

See The Archives for past articles.
---
Copyright © 1999 The Sublette County Journal
All rights reserved. Reproduction by any means must have permission of the Publisher.
The Sublette County Journal, PO Box 3010, Pinedale, WY 82941 Phone 307-367-3713
Publisher/Editor: Rob Shaul editor@scjonline.com