From the pages of
The Sublette County Journal
Volume 4, Number 17 - 12/23/99
brought to you online by Pinedale Online
---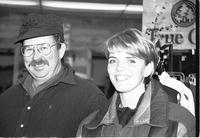 Duke Early gets a little help from stepdaughter Tanya Schlaht in the Cowboy Shop during Men's Night last Friday.

Men - Last Minute Christmas Shoppers
Local retailers tell their stories of "last minute men"
by Jennifer Binning

It is Men's Night at the Cowboy Shop in Pinedale, and the store is eerily quiet. In an effort to help take the stress of last minute gift buying off of local men, Bob Bing tried having a men's only night almost a week before Christmas. Apparently, men thrive on the stress of last minute gift buying, or they were busy watching the Wranglers basketball games, for only a few men took advantage of the special savings and munchies awaiting them at the Cowboy Shop.

When asked who are the worst last-minute offenders, Mr. Bing says without hesitation that men are "very last minute." He was not really surprised that the store was quiet on Friday the 17th, because historically the real crush begins on the 23rd, and continues into the 24th. Once, a man who had spent a bit too much time at the bar and needed to buy his wife a gift called the Bings at home late on Christmas Eve. "We were wrapping presents at midnight that Christmas Eve. We probably saved a life," said Mr. Bing with a laugh.

Usually, holiday shopping in the Cowboy Shop begins around December 1st, with the mornings being fairly slow and business picking up in the evenings after work. This year, fleece jackets and pullovers are the hot items, as well as the always popular vest.

Generally, the male shoppers lean heavily on the female staff at the Cowboy Shop for gift ideas and help deciphering the strange world of women's sizes. Mr. Bing has a few suggestions for the man in the midst of a gift-buying frenzy. First, stay away from household items and, second, when considering clothing, "if anything, guess small."

Joanne Hines at Bears Trading feels that this year "even the men are doing better" as far as buying their gifts ahead of time. The gift buying seemed to start a bit later this year than usual, with the first holiday shoppers trickling in the third week of November, a phenomenon she feels may be related to the delayed payment with credit cards.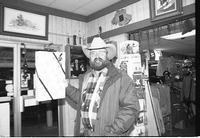 He orginally came to have his hat worked on, but Charlie Hipke found a little something for his wife, as well.

Ms. Hines is also a veteran last-minute, crazed shopper survivor, and notes that it is not as bad in Pinedale as it is in the larger towns, when Christmas Eve can be complete chaos in the retail business.

She says that with a man, "It helps to put an outfit together," but towards the last few days before the holiday, "most men will buy anything that you show them."

Ms. Hines said that her periodic employee, Ann Holman, has noted that "The men always think their wives are the same size as the salesperson."

This is apparently a universal truth, as over at the Great Outdoor Shop, Linda and Rex Poulson, and Tina Rock are always trying on clothes for people. Linda says she does get a few female last-minute shoppers, but by and large, men make up the bulk of the last-minute rush. One man in the store said he has gotten better during the last few years about buying gifts ahead of time. He would quite literally wait until the last second to find something for his wife, often with less than optimal results. His wife, when pressed, did admit to having received something odd from a 24-hour convenience store on more than one occasion.

The gals at Faler's Floral and Gifts grumble good-naturedly about the last-minute shoppers, but at least one claims that women are getting as bad as the men.

Lana Koppenhafer notes that it is not uncommon for her to get a call from a harried husband with a request to grab a certain item and "wrap it up," as they will be by later to pick up the gift.

Lana and JoAnne Gaston chuckle while talking about the last-minute warriors, and they both agree that men are more laid back about gift buying, stating once a man gets into the spirit, he really gets into the spirit. "Perhaps that is because they only have to shop for their wife, and the wife has to shop for everyone else," says Lana with a grin.

With most shops offering free gift wrapping services, most shoppers feel as if they have been let off the hook, and take advantage of the offer, "Can I wrap that for you?" Most of the shoppers who use the wrapping service at the various stores are very patient, as they realize the enormous workload some of the wrappers have. Even if the men do shop late, they more than make up for it in appreciation, says Ms. Gaston. "The men tip really well," she says, adding " I think it is because they feel so inadequate."

Ms. Gaston says her favorite shoppers are the children, who are just at that age when they realize it is nice to give as well as receive. "They are just thrilled to be doing their own shopping," she says with a smile.

Photo credits: Jennifer Binning, Jennifer Binning

See The Archives for past articles.
---
Copyright © 1999 The Sublette County Journal
All rights reserved. Reproduction by any means must have permission of the Publisher.
The Sublette County Journal, PO Box 3010, Pinedale, WY 82941 Phone 307-367-3713
Publisher/Editor: Rob Shaul editor@scjonline.com