From the pages of
The Sublette County Journal
Volume 4, Number 17 - 12/23/99
brought to you online by Pinedale Online
---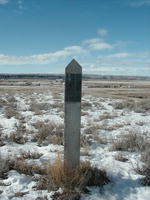 Grave marker of DeNise child overlooking the orginial family homestead.

DeNise Christmas Traditions Remembered
Homestead Family Shares Their Christmas Traditions


In 1975 Nancy Penton married Ken Smith of Boulder. When they built their house out on the Boulder flat, they were one of only two homes between Pole Creek and Boulder.

One Mother's Day, knowing Nancy's fondness for the history of the area, Ken took his new wife to a burned down old homestead and a grave site, across the highway and up onto the bench. There Ken showed her the grave of the "infant child of Geo. DeNise, 1911," and Nancy adopted the gravesite on the spot.

Several years went by, and Nancy began to learn bits and pieces about the DeNise family. On her many sojourns up to the gravesite, she scoured the brush for clues as to who these people were. Among other artifacts she found were a doll's head, a porcelain doll's arm, a roller-skate, and silverware with the name "DeNise" written on it.

One day Nancy noticed a man looking up in the general direction of homestead, and she asked him if she could help him. He said his family had homesteaded the area, and he had come to visit the gravesite of his little brother that had died in 1911. Nancy blurted out "Oh! You must mean my baby!" She explained that she had adopted the site years ago, and she took him up to see it. She also packed up all the artifacts she found and sent them to her visitors.

Several weeks later, Nancy received a letter from Katherine DeNise Eakins, the twin sister of the infant buried on the bench. Thus began a long friendship between the two women as they corresponded by letter and phone for many years. What follows are excerpts from those letters about how a homesteading family celebrated Christmas in the Boulder valley.

From a letter dated

September 29, 1982.

"Dear Nancy Smith and Family,

I'm Dee DeNise's sister Kay, and wish to express my appreciation for the many kind things you did for Dee and Beda on their visit to our dear old ranch area. I am truly dumfounded that my twin brother's grave was even found, let alone that people thereabouts cared enough to erect a monument. Or that they even knew about him. No one knows how many times I rode those foothills searching for the little resting-place. Dad may have tried to tell me where but never took me there. The boys didn't know either, and it did amount to an obsession. Thank you for showing it to my folks. They gave me a picture of the monument. I picked one looking down across the alfalfa field, beyond to where our own house was and on over to the mesa. It brought back zillions of memories. We, the boys and I, left there when I was just 11.

"The beautiful little doll head I am sure was a Christmas Tree Ornament, and the dolls arm I think belonged to my favorite doll, Genevive - I am impressed that the little hand shows lines in it - they don't take the time and care with details like that anymore - at least none that I've seen.

"Christmastime was when, after Genevive had mysteriously disappeared for a time, she reappeared with a beautiful new head on her shoulders closely resembling the former one. She must have been battered during the course of the year with all that loving attention. She was my only companion aside from a big red Irish Setter who patiently put up with a lot, I am sure. Oh, and G. (enevive) also had a beautiful new dress, of course, and the holiday was complete. She had gray-blue eyes that opened and closed, as they have today."

From a letter dated

December 12, 1982

"I am reminded of how dad ordered a box of apples about the time the air turned crisp and the horses' breaths looked like smoke from their nostrils. I would watch from the east window facing Boulder watching for the big freight wagons bringing supplies from Rock Springs - six horse teams sometimes pulling up after dark - and the fragrance of those apples filled the house. He would order another one about Christmas, I think, mingling apple scent with pine aroma as the big tree would be in place then, but not with lighted candles as some neighbors did. .... I remember those early days when we were so isolated, and know that a package in the mail isn't the moon, stars and firmament anymore."

(In response to a question posed by Ms. Smith.)

"Yes - yes - we had a beautiful big tree at Christmas, filling the whole house with it's fragrance, and like Ken (Smith), the boys were very critical as they went 'round and 'round the best looking trees to finally pick out one as nearly symmetrical as they could find, and haul it down to the ranch." (According to Ms. Smith, the family would go tree hunting on Half Moon Mountain, and haul the tree all the way back to the ranch using a team of horses.)

"George saw a beautiful ad in Mom's Ladies Home Journal, I think it was - with a recipe for making gumdrops, so he made red, white and green pans of them cutting in perfect squares about that size (1" square) and heaping them on one of mom's lovely plates. I used to sit staring in admiration at the colorful, shimmering cubes, especially when the low winter sun slanted through the south dining room window, catching them in its light. He rolled them in granulated sugar to make them look frosty. Also, the boys made root beer in the winter and would stick several bottles of it out in a snowdrift when it was a good time to have one. It was good root beer too. Dad used to make me snow ice cream! He'd get a bowl of clean snow, of which we had a lot around, put some canned milk and vanilla in it with sugar, and beat it in with a frothy mush, and did I love that! Mom always had oatmeal cookies on hand and how I would love to get my mitts on her recipe - they had the most wonderful elusive flavor - Honey Maid grahams have just a hint of that. I have an idea - I will try some oatmeal cookies using part graham flour. ... I hoard things I like, even candy or cookies - it must be a habit picked up from living so far from everything on the ranch. How silly."

The DeNise family moved to the area when they were told by a "reliable" source that the railroad would be coming right through Pinedale. They moved here and acquired several desert homesteads. They put a tremendous amount of effort into designing and digging the irrigation ditches that run from Pole Creek and crisscross the desert in what is now known as Bargerville. When the railroad did not materialize, the DeNise family, broken and homeless, (the ranch house had burned to the ground with everything in it) left Wyoming for the promise of greener pastures on the west coast around 1922.

Photo credits: Jennifer Binning, Jennifer Binning

See The Archives for past articles.
---
Copyright © 1999 The Sublette County Journal
All rights reserved. Reproduction by any means must have permission of the Publisher.
The Sublette County Journal, PO Box 3010, Pinedale, WY 82941 Phone 307-367-3713
Publisher/Editor: Rob Shaul editor@scjonline.com