From the pages of
The Sublette County Journal
Volume 4, Number 19 - 1/6/99
brought to you online by Pinedale Online
---
White Pine Memories



I had a wonderful time last Sunday. Kim, the boys and I got up early, wolfed down some burnt pancakes (I cooked) and hustled up to White Pine for a day of skiing and snowboarding.

For a mere $40 we bought four tickets to the bunny hill. I matched up with my 4-year old son, Emmett, who is learning to ski. This brought some great memories. I learned to ski, at White Pine, when I was four.

At the beginning of the day, I rode the lift without my snowboard and gave Emmett some basic lessons on snowplowing. By the end of the day, Emmett and I were racing down the hill. I'm learning to snowboard, and my son was beating me handily - much to the amusement of all the locals who knew me and saw our races while riding the lift overhead. "Hey Rob, he's doing better than you!" was one unsolicited comment.

I saw lots of other locals skiing Sunday. Most were skiing on old equipment, and out-of-style ski suits - just like me. Everyone had a smile on their face.

Thank you, thank you, thank you, Stuart & Mary Thompson and Max Lundberg. Because of your courage, determination and perseverance, Emmett is learning to ski, Kim, Wyatt and I are learning to snowboard together, and Sublette County again has its own family-oriented ski area.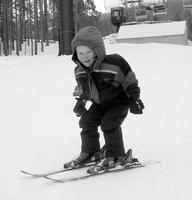 Emmett at White Pine last Sunday.

Who knows, perhaps someday Emmett will teach is four-year old son how to ski at White Pine . . .

See The Archives for past articles.
---
Copyright © 1999 The Sublette County Journal
All rights reserved. Reproduction by any means must have permission of the Publisher.
The Sublette County Journal, PO Box 3010, Pinedale, WY 82941 Phone 307-367-3713
Publisher/Editor: Rob Shaul editor@scjonline.com