From the pages of
The Sublette County Journal
Volume 4, Number 19 - 1/6/99
brought to you online by Pinedale Online
---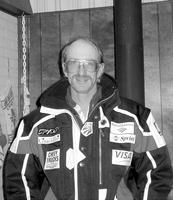 Tommy Johnston.

Tommy Johnston Works to Bring Highest Standards to North American Ski Racing
Local Skier is a technical advisor for World Cup ski races
by Jennifer Binning

When Tom Johnston began skiing at the age of four, he had no idea he would be one of only three technical advisors in the world who are responsible for the safety of the top alpine ski racers worldwide.

Tom, the son of Dr. Tom and Jane Johnston of Pinedale, has held a special place in his heart for many years for alpine ski racing. Introduced to the sport by his parents when he was just a small boy, Tom quickly found his ski legs and began racing himself at the age of seven. It has been full speed ahead ever since.

Tom ski raced throughout high school and college, and was named an All-American skier while attending Whitman College, where he also coached for a year.

As his involvement grew with the ski club, so to did his responsibility and he began working as the Jackson Hole Ski Clubs' Chief of Race for all of the races in Jackson in 1986.

Jackson Hole won the bid to hold the United States National Championships in 1998, and Tom worked incredibly hard as Chief of Race for the ski club in order to have a fun, safe and memorable event for the racers. His efforts did not go unnoticed. The Chief of Race for the USSA, Tim "Swampy" LaMarche was watching, and he told his supervisor about Tom, who then offered Tom a job as a Technical Advisor for the USSA's Super Series races in North America.

According to Tom, the Super Series races were set up three years ago to create high quality, international caliber races in North America, so the American racers can compete with some of the top skiers in the world before they head off to Europe and the World Cup circuit. The Super Series is "sort of a mini-World Cup," he says.

As a Technical Advisor, Tom inspects each Super Series site in the fall and tries to anticipate what staff and equipment will be needed for safety when the race is set up the following winter. They develop communications plans, media placement, start and finish areas, safety netting and course layout. They also decide how many gatekeepers will be needed, how many people must be shoveling snow back onto the course, where emergency medical staff are stationed, and where are the best vantage points for the television cameras and other media.

Once the Super Series starts, Tom spends very little time at home. He dashes from race site to race site, setting up and tearing down courses, coordinating the constant grooming of the race course by man and machine and even grabbing a shovel himself upon occasion, when the number of volunteers available falls short of the number needed to run the race.

For the most part, resort areas and sponsoring ski clubs are very appreciative to have Technical Advisor to help them run a race, but Tom has run into a few unpleasant situations. If Tom feels that the race organizers are neglecting some area of safety, he can recommend that the USSA pull its sanction of the event, thus revoking their insurance as well. Without this added insurance coverage, most ski clubs will not run a race.

Tom is quick to point out that this is not the norm. When a race scheduled for late November in Park City was cancelled due to lack of snow and moved to Copper Mountain, the folks at Park City and surrounding areas jumped in where they could and donated all their safety equipment for the race. Tom says with a grin, "we set up a World Cup in seven days," an unbelievable feat. "I was able to do what I knew needed to be done," he says, and the Copper Mountain management simply gave the go ahead and stood aside, letting the experts do their jobs. The race went off without a hitch.

Last year, when Tom began working with the USSA, he took every skier's injury personally. It really began to tear him up, until one day a co-worker reminded him that his job was to prevent a catastrophic injury, such as when a skier lost control during a race several years ago, smashing into a pole in the finish line, and died. Now Tom not only focuses on the safety of the race, but making the competitors "really feel they had gone somewhere and done something. I want the coaches to feel good that I am there," looking out for the welfare of their athletes, who compete in the second most dangerous sport in the world.

This year, Tom will have spent almost 100 days on the road before March first, which is quite a change for a guy who says he really does not like to travel much beyond the county line.

Jackson will host the National Championships again this year, and Tom and his crew of three will work three weeks to prepare for the nine-day event. In addition to this, he will be crossing the continent repeatedly this winter to coordinate the safety at each Super Series race, and there will be three test events at the Olympic alpine venue in Park City, where Tom will be working closely with the Salt Lake City Olympic Organizing Committee to ensure safe Olympic events.

Although he misses his wife Cassy and their three children when he is on the road, the experience has made him really enjoy the time he is able to spend at home.

Smiling, he says "safety is the main thing, but it is really fun to put the race together and just watch it work."

See The Archives for past articles.
---
Copyright © 1999 The Sublette County Journal
All rights reserved. Reproduction by any means must have permission of the Publisher.
The Sublette County Journal, PO Box 3010, Pinedale, WY 82941 Phone 307-367-3713
Publisher/Editor: Rob Shaul editor@scjonline.com