From the pages of
The Sublette County Journal
Volume 4, Number 22 - 1/27/00
brought to you online by Pinedale Online
---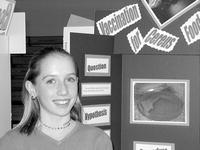 Casey Dean's project on vaccination won "Best of Show" at last week's Science Fair

Science Fair Growing by Leaps & Bounds
Exceptional field of entries inspires new award
by Jennifer Binning

Amid an impressive 82 projects in last weeks Pinedale Middle School Science Fair, 15 students took home first place ribbons in their category. Three of these entrants also were awarded special science fair trophies for "Best in Fair," "Student Body Choice award" and "Best Visual Display". This year, however, the field was so strong that the judges unanimously voted to add a new "scientific frontiers" trophy to the special awards for the fair.

Casey Dean was awarded the trophy for "Best in Fair" with her project entitled "Vaccinating for Cereus Food Poisoning."

Casey, a seventh grader at the Pinedale Middle School, said she had been reading an article about vaccines in a magazine, and her interest as piqued. After talking with her dad who had worked with vaccines in college, she was hooked.

For her project, Casey chose Bacillus cereus, a bacterium that is found in non-refrigerated rice, and is a common source of food poisoning in Asia.

In order to make a batch of vaccine, Casey painstakingly grew colonies of B. cereus, and then killed the bacteria to release the enterotoxin, which is the active ingredient in the vaccine.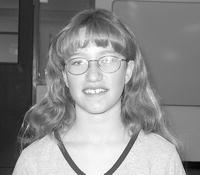 Kendall Brunette

Casey chose to use six rats for her test subjects, using two for a control group, two unvaccinated subjects and two vaccinated subjects. According to Casey, her father was not too thrilled with her giving shots to rats with their propensity to bite when they are poked, so Dr. Dean helped Casey design a "Rat Holder," which was basically a toilet paper tube that is paced over the rats heads so they cannot bite.

After injecting two rats several times with her vaccine, Casey fed B. cereus tainted rice to the vaccinated group and the unvaccinated group of rats. The control group was fed regular, untainted rice.

Almost immediately, Casey knew she had a winner on her hands. The unvaccinated rats became mildly ill with intestinal problems, while the group Casey vaccinated had no ill effects from the tainted rice whatsoever.

Casey hopes someone will pick up where she left off and develop more vaccines for food borne illnesses. "There are an estimated 76 million cases of food poisoning in the United States alone every year," said Ms. Dean. "It would take about $5 million to develop a vaccine," she said, "and I just cannot afford that."

The judges were so impressed with another exhibit in this years fair that they were moved to add a new trophy in recognition of a project that is advancing scientific theory. The "Scientific Frontiers" trophy was presented to Kendall Brunette for her project in the earth sciences, specifically archaeology, entitled "Traces of the Past."

Kendall, a sixth grader, was one of the middle school students who worked on the Fremont Lake archeological dig site last summer with Dave Volcek.

During the dig, Kendall noticed some small round spheres all over the dig area, and she decided her project would focus on discovering how the spheres were made.

After experimenting with materials found around Fremont Lake which did not stand up to Kendall's rigorous testing, Ms. Brunette then tried chert, a local rock that ancient peoples utilized for arrowhead making, to try and simulate the spheres. After learning how to napp the chert from a local archeologist, Kendall chipped away at her sample until she had a sphere similar to the one found on the dig. Kendall feels this may be how the spheres were formed, since many of the artifacts were found under water, which may have helped smooth the stones.

Kendall is so excited about this project that she is already planning for next years science fair, when she may attempt to discover what the spheres were used for.

Middle school science teachers Elaine Ullery and Michele Costello are very pleased with the interest the students have shown in the science fair, and the growing number of students who are involved.

" All 82 projects are winners, in that these students have completed an in depth scientific study," says Ms. Ullery. Ms. Costello agrees, stating that the students have invested a lot of time and effort in the completion of a project using the scientific method to solve problems.

Both women note that participation in the science fair drastically increases students self esteem, and allows them to be recognized for outstanding academic and personal achievement.

Of the 82 local winners, 49 students from Pinedale will travel to Rock Springs to compete in the regional science fair on January 28.

Photo credits: Jennifer Binning, Jennifer Binning

See The Archives for past articles.
---
Copyright © 1999 The Sublette County Journal
All rights reserved. Reproduction by any means must have permission of the Publisher.
The Sublette County Journal, PO Box 3010, Pinedale, WY 82941 Phone 307-367-3713
Publisher/Editor: Rob Shaul editor@scjonline.com