From the pages of
The Sublette County Journal
Volume 4, Number 24 - 2/10/00
brought to you online by Pinedale Online
---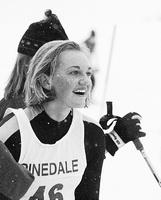 Kristen Boroff.

Boroff Wins Nordic Ski Meet
PHS Junior wins race to delight of hometown crowd
by Rob Shaul

Kristin Boroff has consistently placed in the top five during this winters' Nordic ski meets across Wyoming. Last Saturday, the Pinedale junior, encouraged by the hometown crowd, won her first race ever during the ski meet held at White Pine.

Pinedale's Nordic ski coach, Holly Thayne, says Ms. Boroff not only placed higher than ever, but registered her best time on the 7.5 kilometer Pinedale ski course.

Holly was also proud of the race put in by freshman skier Whitney Huntley. "Whitney moved up considerably," said the coach. "Her goal was to finish in the top 20 and she nearly did it, finishing 25th overall."

The remaining girls on Pinedale squad placed as follows in the individual race which had 50 competitors: Crystal Pfister - 37th; Tessa Schwab - 49th, and; Kathryn Bailey - 47th.

The Pinedale girl's relay team consisting of Boroff, Pfisterer, and Bailey, finished a strong 4th in the six-kilometer team relay race held last Friday.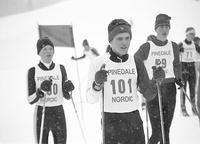 Ben Storrud and Sage Sulenta before the mass start of Saturday's Race.

On the boys' side, Holly was pleased by the performance of sophomore skier Sage Sulenta who she describes as "moving up all the time." Mr. Sulenta finished 32nd in the boys' race, which had 50 competitors. His teammate and the only other boy on the Nordic ski team, Ben Storrud, got hung up in during the mass start of the boys' individual race and ended up breaking the tip of his ski. "Ben skied the whole race with a broken ski," says his coach, "and didn't say a word. I couldn't believe it."

Hampered by the broken ski and a good two minutes lost untangling from the mass start wreck, Mr. Storrud still managed to outpace several skiers and place 44th in the race.

Pinedale's Nordic team has one more ski meet remaining at Jackson in two weeks and then travels for the state meet in Casper.

See The Archives for past articles.
---
Copyright © 1999 The Sublette County Journal
All rights reserved. Reproduction by any means must have permission of the Publisher.
The Sublette County Journal, PO Box 3010, Pinedale, WY 82941 Phone 307-367-3713
Publisher/Editor: Rob Shaul editor@scjonline.com