From the pages of
The Sublette County Journal
Volume 4, Number 24 - 2/10/00
brought to you online by Pinedale Online
---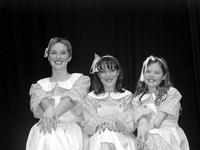 Taren Anderson, Rachel Nystrom, and Mariah McKay each played Alice in the production.

Alice in Wonderland

by Jennifer Binning

A talented group of Pinedale's youngest thespians delighted a standing room only crowd on Saturday night when the Missoula Childrens' Theater brought their magic back to Pinedale after an entirely too long absence.

Arriving in Pinedale just six days before showtime, two members of the Childrens' Theater assembled a cast of over 50 local school children during a wild after school audition. The children, ranging in age from Kindergarten to 12th grade were required to attend 4-hour rehearsals every night for five nights after school to produce a most decidedly enchanting show.

Although the story may have been a bit difficult to follow for those who have never read the book Alice in Wonderland, the audience sat entranced for the entire performance.

To illustrate the lead character's ever changing size, Alice was played by three young ladies who magically changed places behind a moving screen; at one point Alice grew and shrank several times within a matter of seconds, a feat that left the audience watching in awe.

The performances by the three young leads were nothing short of terrific, and the rest of the cast, from the door mouse and caterpillar, to the lobsters and cards, made for one spectacular show. Although the two adult performers, Craig Hart (the white rabbit) and Carrie Ann Mallino (the queen of hearts) were wonderful, the children stole the show, delighting all in attendance with hysterical song and dance routines and witty lines, delivered in a very professional and engaging manner.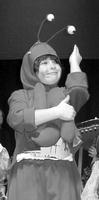 Rock'n Lobster.

Many parents left the auditorium wondering how these two actors were able to pull off a complex production involving 57 children in just five days. Others fell in love with the costuming, from rapping flowers to dancing lobsters, and the wonderful sleepy door mouse that would meander across the stage periodically.

All in all, the evening was truly a success, leaving proud parents, excited siblings and friends, and a happy cast who wanted to do it all over again. Welcome back, Missoula Children's Theater. We have missed you.

Photo credits: Jennifer Binning, Jennifer Binning, Jennifer Binning

See The Archives for past articles.
---
Copyright © 1999 The Sublette County Journal
All rights reserved. Reproduction by any means must have permission of the Publisher.
The Sublette County Journal, PO Box 3010, Pinedale, WY 82941 Phone 307-367-3713
Publisher/Editor: Rob Shaul editor@scjonline.com