From the pages of
The Sublette County Journal
Volume 4, Number 25 - 2/17/00
brought to you online by Pinedale Online
---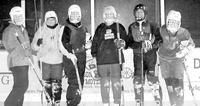 Women Hockey Players: Paula Johnston, Shelly Hallsten, Julie Belton, Gwen Schwab, Jenifer Proud and Jar Mortenson.

Women's Hockey!

by Jennifer Binning

I stood in the doorway of the changing hut at the hockey rink staring in horror at Ben Farmer. He was expending an enormous amount of energy pulling on about 50 pounds of goalie padding. Ben told me he was goal tending for the women's hockey practice, which was why I was standing in the doorway, quaking in fear. I was there for the women's hockey practice, and all I had was a pair of figure skates and gloves - no pads, no helmet, no stick, no nothing!

And there was Ben in 800 pounds of NHL regulation gear. I asked him to try and not run me over like a freight train, reminding him that I have two young daughters to raise.

Soon I began to take Gwen Schwab's name in vain. For several weeks, Gwen had been asking me to join her during a "fun" women's hockey practice. "We don't hit," she said. "Most of us really don't skate very well!" she said.

"Sure Gwen," I thought, as I watched a fully padded Julie Belton arrive wearing the crazed look of a woman who works with small children all day.

Ben asked if I had a helmet or pads. When I meekly said I forgot my bike helmet at home, I heard him groan. How reassuring.

Paula Johnston then arrived and pointed out a set of pads I might use, as Jenifer Proud was trying to sell them. Without asking permission, I grabbed them.

Then the mother of a departing hockey player offered me her son's helmet and stick, which I eagerly accepted. I was now almost ready to go, I just had to remember how to skate. It took a few turns around the rink before my ankles remembered how to balance on razor blades. Slowly, ever so slowly, it came back, and just in time. The women had arrived.

I played field hockey in high school and I figured stick handling would come back too. Wrong. In field hockey, you only use one side of the stick, and it is considerably shorter than the ice hockey stick. This took a little getting used to, but eventually I screwed up enough courage to take a shot on goal. Ben gave me a false sense of security by letting the puck squeak by him and go into the goal.

Ok! I can do this!

After a few more warm-up shots, it was time to scrimmage.

Jar Mortensen, Jenifer Proud and Julie Belton donned the red jerseys, while Paula Johnston and Shelley Halsted looked at me, their teammate, and shook their heads. Oh, great! I was going to be hamburger.

We played 1/2 ice, as we were short a few people, and I soon realized why hockey skates don't have picks on them. Picks have a tendency to catch the ice and send you flying just when you least expect it. (The boards stop forward momentum quite well, and they really make an impressive sound when you hit them.)

After about 20 minutes of avoiding the red-shirted steamrollers - I could have sworn Gwen said no checking allowed - Gwen finally showed up and took mercy on my team, who were lagging behind 0-2.

By this time I was beginning to get my feet under me, sort of, and feeling a bit better about my hockey abilities. The weather was warm, and a light, fluffy snow was falling, illuminated by the bright lights of the rink. It was a beautiful sight.

Suddenly, the red steamroller lost control of the puck and it shot past me. I turned and sprinted after it to claim it for my team. Instead, my toe picks found the ice and I went down, into the boards, clinging to the top like a drowning woman. I had no idea my body could move in so many directions at once. I made a mental note to give Andy Nelson a call in the morning.

After about 45 minutes of hard sprinting, shooting, missing, and a flurry of "sorry," "excuse me," and, "I beg your pardons," the red steamrollers began to drop to the ice, steam rising like fog from head and shoulders.

We plain shirts were too proud to lie, gasping on the frozen water, but oddly we seemed to have trouble with our skate laces.

I left the ice in the hope that I could get a few, good, action pictures, and when I returned, Shelly Halsted was lying down, clutching her knee after hearing an appalling "pop." Time to call it a night.

Gwen pulled the group together and elicited (forced?) promises out of us that we would return once again. Oddly enough, I cannot wait until the next Wednesday night practice. I really had a ball. Now, if I can only get up out of this chair . . .

Photo credits: Jennifer Binning

See The Archives for past articles.
---
Copyright © 1999 The Sublette County Journal
All rights reserved. Reproduction by any means must have permission of the Publisher.
The Sublette County Journal, PO Box 3010, Pinedale, WY 82941 Phone 307-367-3713
Publisher/Editor: Rob Shaul editor@scjonline.com