From the pages of
The Sublette County Journal
Volume 4, Number 25 - 2/17/00
brought to you online by Pinedale Online
---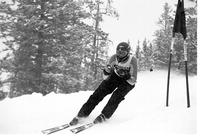 Pinedale's Ben Laster carves a turn last Saturday.

Houfek & Oglietti Ski to Top-10 Finishes

by Rob Shaul

The Pinedale High School Alpine Ski Team put on a strong performance at the first Alpine ski meet held in Pinedale since 1987. Last Friday and Saturday, Pinedale and White Pine Ski Area played host to Alpine ski racers from six high schools from around Wyoming. The racers skied a giant slalom course twice each day.

Pinedale's Nick Houfek and Katherine Oglietti led the way with top-10 finishes both days. Sophmore Nick Houfek, attends high school in Big Piney, but skis for PHS. On Friday, Mr. Houfek skied to a 6th place overall finish. He got stronger on Saturday, put together two fast runs, and ended up 4th overall. "Nick is consistently our top skier," said Pinedale ski coach Max Lundberg. On a good day, his coach says Nick could beat all of the other kids in the top ten. "He's a good kid, a hard working kid," continues Mr. Lundberg. "All of that has added up to give him the kind of success he's having."

The rest of the men varsity skiers on Pinedale's team are seniors. Of these, Mr. Lundberg is impressed with the skiing of Mike Moulton, who placed 12th on Friday and 15th on Saturday. Mike is "really coming on," says the coach, adding that Mr. Moulton has had a couple of top-ten finishes this year and on any day can place in the top-ten.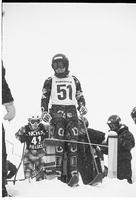 Maria Lundberg at the start.

Ms. Oglietti also grew stronger as the meet moved on. On Friday, the PHS senior put together two good runs for a overall ninth place finish. On Saturday, she moved up two notches and placed seventh overall. Ms. Oglietti has placed in the top-ten in all but one meet this year, says Max Lundberg. "She is skiing consistently well," he continued.

The coach is also pleased with the skiing of seniors Tayte Biffle and Maria Lundberg. Ms. Biffle placed 13th overall on Friday, and 16th overall on Saturday. Maria skied to a 15th place finish on Friday and a 13th place finish on Saturday.

Overall, Mr. Lundberg was very pleased with his kids' performance last weekend. The State Championship will be held in Jackson on February 24 and 25, and Max thinks state championships are within the range of both Nick Houfek and Ms. Oglietti.

Photo credits: Rob Shaul

See The Archives for past articles.
---
Copyright © 1999 The Sublette County Journal
All rights reserved. Reproduction by any means must have permission of the Publisher.
The Sublette County Journal, PO Box 3010, Pinedale, WY 82941 Phone 307-367-3713
Publisher/Editor: Rob Shaul editor@scjonline.com