From the pages of
The Sublette County Journal
Volume 4, Number 25 - 2/17/00
brought to you online by Pinedale Online
---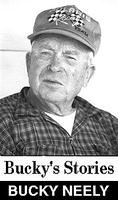 The How-to On Catching Coyote Breeding Stock - cont.



Melvin David helped me part of the time and was real good help and lived right up in coyote country. I could haul my machine from Pinedale to Merna and be over to Melvin's place at daylight. We could work from his place down country and the snow would be getting a little less all the time. One trip we didn't find anything until we got down to the Turtle Hill country and we were running out of good coyote-running snow. We jumped a small female and were having trouble because of the wind-blown bare ridges and a lot of sagebrush sticking out. Good for the coyote but not for us. She had to cross a place where there was some snow left and just a few bare places in the sagebrush. Melvin caught up to her but she wasn't very played out yet, but she was small enough, he figured he could handle her anyway. He made a bulldogging dive at her from his snowmachine, figuring to catch her by the neck with both hands and hold her until I could get there to help him. His plan about half worked, as he got one hand on her neck and she grabbed his other hand and clamped down and hung on. When I caught up to him he said, "By Gosh, I got her!" It looked like a draw to me, but it was easy to get the first loop on her jaws but couldn't pull it down tight until we got Melvin's hand pried out of her mouth. His hand was bleeding pretty good and I told Melvin I carry a lot of stuff with me but I don't have a first aid kit! As soon as we got her tussed up and loaded, we headed for his house and some disinfectant. We quit for the day and the next morning I went back up to his place. I assumed his hand would bother him enough that he'd want to lay off for a few days. He said, "Heck no, it don't hurt near as much as the time I pasted old so and so down at the Green River Bar . . . "

We wound up with sixteen live coyotes and the only mishap was Melvin's hand. Probably pretty luck. At home, I had put them in three 4x10 ft. cages and there were heavy enough the floors started sagging down pretty good so we decided we better quit. Mike Hobbs from Idaho came over and hauled them to his fur farm for his breeding program. A short time later Lucy and I went to his fur farm and they picked us out three pair of Silver Fox for breeders, so we started in the Silver Fox business. Their pelts at the time brought from $400 to $600 each, but by the time we had some to sell an overproduction of pen-raised fox had flooded the market and their pelts had dropped to $40 each. That was the way most of our fur raising ventrues went, but we sure did get a lot of experience.

See The Archives for past articles.
---
Copyright © 1999 The Sublette County Journal
All rights reserved. Reproduction by any means must have permission of the Publisher.
The Sublette County Journal, PO Box 3010, Pinedale, WY 82941 Phone 307-367-3713
Publisher/Editor: Rob Shaul editor@scjonline.com