From the pages of
The Sublette County Journal
Volume 4, Number 26 - 2/24/00
brought to you online by Pinedale Online
---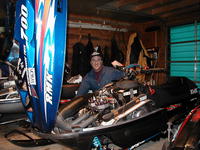 High performance rider Kelly Winters and his high performance snowmachine.

The Need for Speed
Kelly Winters hopes $12,500 and 190 horses will result in a 1st place finish at this weekend's snow drags
by Rob Shaul

"The snow drags are coming up," says Pinedale's Kelly Winters explaining why he spent $5,000 on an after-market engine for his Polaris snowmachine. "I don't want second place."

It's about 5:30 p.m. and Kelly and I are standing in a small, dimly-lit shed at Carl Winters' house south of town. Three modified snowmobiles are packed snugly inside. Kelly's black Polaris is the middle one.

Mr. Winters is an intense guy, and he gets more fired up as he describes his "sled," and especially its new engine - a hand-built, purple-and-chrome, 890cc PSI Genesis Twin.

Why spend $5,000 on a snowmobile engine? One word: horsepower. The stock Polaris engine Kelly replaced with the Genesis put out 117-120 horsepower. His new engine puts out a whopping 190-horsepower. This translates into speed on the track and raw power climbing hills in the deep powder.

Kelly blames his brother, Brad, for causing him to buy the Genesis. "I never would have gambled and bought one if Brad hadn't bought one last year," he says.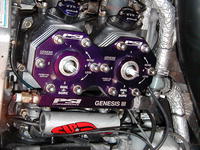 The $5,000 Genesis engine.

Also, Kelly says the stock sleds being built today are highly tuned and very difficult to beat in their own right. "It takes about 190-200 horsepower to outrun a stock sled," he rationalizes.

Brad purchased a smaller 825cc Genesis engine for his sled last winter, and Kelly says the horsepower and performance difference between Brad's snowmobile and the stock sleds was just too much to ignore. He had to have one.

The Genesis engines are made by a company in Wisconsin - PSI Performance. Each engine is built to order and it took the company 17 weeks to build Kelly's. "It comes totally unassembled," he says, "I spent three days rebuilding it myself."

Putting the engine together and fitting it into the Polaris body was a stressful job. Just one small mistake, like a misplaced gasket or loose screw, "and you can blow the whole engine," especially given the power and pressures involved. The engine is so powerful it requires a torque plate and torque arm below it just to hold it in place on the chassis.

Further, the 890cc Genesis is new this year, and consequently didn't come with any clutching or jetting specifications. Mr. Winters had to learn what settings to use through trial and error. He sought out the expertise of Bruce Kahlhamer, the President and Owner of PSI, as well as Performance Tech's Brent Cheeney.

Since he installed the Genesis in his sled about Christmas time, Mr. Winters has put 1,000 miles on the engine and says he just now has it tuned right. Last week, for the first time, Kelly was able to beat Brad in a "brotherly race" in the Winters' field. Last weekend, the two brothers took both sleds to the snow drags in Afton, and decided to enter Kelly's sled. He took third place in the "open-mod" or "anything goes" division. "I got beat by a 990 Genesis (the next larger engine)," says Kelly, "and a $10,000, 1,450cc Genesis 'Viper Cat.'"

Mr. Winters doesn't restrict his riding to the drag races, however. He also bought the Genesis for the hills. "I went out two days ago," he says excitedly, "and I just slaughtered the stock sleds on the hills." Kelly says the more snow there is, the better his sled and the Genesis perform.

Looking ahead to this weekend's snow drags, Mr. Winters sees his main competition as his brother Brad and Gary Neely of Bucky's Outdoors.

Kelly exudes confidence. After two months and 1,000 miles, his sled is tuned and ready to race. He seems especially anxious to beat Brad. "Until last weekend, I haven't been able to beat him. He's a little bit more of a sore loser than I am - but I ain't going to let up!"

Overall, Mr. Winters estimates he's put $12,000 into his sled. "Make that $12,500," he corrects himself. "I put in a $500 light-weight seat last week!" He doesn't consider the money he's spent an investment, either. "It's totally screw-around and blow-off money," he says directly and unabashedly.

And it isn't going to stop. Already, Mr. Winters is eyeing PSI's 210 horsepower, 990cc Genesis for next year. The 990 is "proven to be the ultimate warrior," declares the glossy, purple PSI catalog. The engine has a sticker price of $6,500.

"It's an addiction," concludes Mr. Winters of his high performance snowmobiling habit. "It really is a fun hobby. It just sucks that it costs so much."

Photo credits: Rob Shaul, Rob Shaul

See The Archives for past articles.
---
Copyright © 1999 The Sublette County Journal
All rights reserved. Reproduction by any means must have permission of the Publisher.
The Sublette County Journal, PO Box 3010, Pinedale, WY 82941 Phone 307-367-3713
Publisher/Editor: Rob Shaul editor@scjonline.com