From the pages of
The Sublette County Journal
Volume 4, Number 27 - 3/2/00
brought to you online by Pinedale Online
---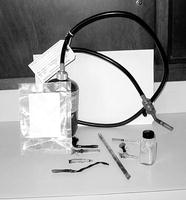 Methamphetamine drug paraphernalia siezed by the Sheriff's Department.

Meth Use in Sublette County
We know it's here, but how widespread?
by Rob Shaul

On Friday and Saturday of last week, the Rock Springs Rocket-Miner ran two major stories on methamphetamine, or "meth."

Methamphetamine is a synthetic, illegal narcotic that has been called the "poor man's cocaine." Earlier this month, the U.S. Drug Czar, General Barry McCaffery, speaking in Cheyenne, said, "Methamphetamine is the worst thing to happen to the country in my view," according to a report by the Associated Press.

Among Wyoming teenagers, methamphetamine use exceeds national levels, according to The American Drug and Alcohol Survey. The study found that Wyoming teenagers were more than twice as likely to use meth in the past year as other teenagers nationwide.

According to the Rocket Miner report, half of all drug-related arrests in Wyoming were linked to methamphetamine, as cited in Division of Criminal Investigation (DCI) statistics. In 1999, there were 169 drug arrests in the southwest region of Wyoming and 68 involved methamphetamine. Further, DCI closed five meth labs in southwest Wyoming last year, four in Sweetwater County.

In 1997, law enforcement officials broke up a meth distribution ring based at Little America west of Green River. According to the Rocket-Miner, $4.5 million worth of the drug flowed through the Rock Springs and Green River area.

Governor Geringer mentioned Wyoming's methamphetamine problem in his State of the State Address at the beginning of this year's legislative session. Mr. Geringer told legislators that DCI closed 20 clandestine meth labs last year - a "ten-fold increase in the number of labs discovered and closed in Wyoming over the past two years."

The extent of methamphetamine use in Sublette County is unclear. Local officials know the drug has a presence here, but how much of a presence, they're unsure.

What it is and what it does

Methamphetamine is a synthetic, highly addictive stimulant that can be snorted, smoked or injected into the body. "Synthetic" means the drug can be manufactured in small, clandestine labs anywhere, and it doesn't require a plant ingredient, like the coca plant for cocaine.

The drug is manufactured in a powder form in various colors, and can be smoked, injected, or snorted. Street names include meth, crank, ice, and crystal or crystal meth.

It is very easy to manufacture methamphetamine, says Sublette County Sheriff's Department Lead Detective Rocky Shaver. The chemical ingredients for the drug can be purchased over the counter and there are hundreds of meth recipes readily available on the Internet.

When taken, the drug causes the brain to fire off dopamine, a "feel-good chemical." According to one former user, who wished to remain anonymous, meth is an intense high. "It makes you feel like you can think clearer. Everything seems to be sharp, pure, clear. All your feelings of doubt and failure are gone. You feel that what you're doing and thinking at that time is 100% correct."

Meth doesn't make you feel euphoric, says this person, or drunk and goofy. "You can walk and talk straight, but your mind is racing really, really fast."

While meth makes the user feel confident and powerful while he or she is on the drug, the terrible price for this feeling comes due when he or she comes down off the high. "Here comes the fear," said the person. "That's why it's such a hellish drug."

Meth actually changes the chemistry in the brain and causes the organ to quit producing dopamine naturally. Pretty soon, the only way a meth user can feel good is to take the drug. The fear during withdrawal leads to paranoia and addiction.

Meth is second only to nicotine in terms of addictiveness, says Sublette Community Counseling Service Executive Director K. Craig Margo. "You're addicted by the second or third use."

The drug has been around since the 1950s, according to Detective Shaver, but has become more popular during the 1990s. It was initially popular among people in occupations that demand long hours, mental alertness and physical endurance, such as truck drivers and oil field workers, but today anybody could be using it.

Mr. Shaver says meth can be a "cheap" high. A gram of the drug has a street value of about $100, and is enough for 7-10 "hits." "So for $10 you can get high," he says.

Finally, Mr. Shaver says meth readily available in Wyoming and Sublette County. Part of the reason is that it can be manufactured here. Secondly, he says Mexican drug cartels are manufacturing and dealing the drug in an attempt to push aside the Colombians and their cocaine business. Many of the individuals who were arrested as part of the 1997 meth drug ring bust in Sweetwater County were Mexican nationals.

Meth in Sublette County

"There's a lot of meth use here," says Detective Shaver. However, the extent of its use is unknown. Rocky and the Sheriff's Department do consider meth the number one drug threat in the county because of its suspected heavy use, serious side effects, and addiction potential.

Mr. Shaver adds that there have been five law enforcement operations in the county over the past three or four years involving methamphetamine. The largest and scariest meth drug bust involved David Brown of Marbleton. When Mr. Brown was arrested, the Sheriff's Department found nineteen guns, including four assault rifles and numerous automatic pistols located throughout the trailer house. There was evidence Mr. Brown had been shooting the firearms in the house.

Mr. Shaver points to these numerous firearms as evidence of Mr. Brown's meth-induced paranoia. "He was afraid someone was going to come and take his drugs," said Mr. Shaver.

The Rocket-Miner reported that meth is a large problem in Sweetwater County schools. According to one report, high school aged kids in the Sweetwater County area purchased $350,000 worth of the drug from the Little America ring broken up in 1997. The Rocket-Miner reported that one Lyman High School student distributed $250,000 worth of meth to Bridger Valley residents.

Regarding meth use in Sublette County schools, Detective Shaver says the Sheriff's Department hears rumors about it, but has no information to confirm those rumors. He adds that the Sheriff's Department has never found a clandestine meth lab in the County.

Principal Dick Kennedy is not aware of any meth problems in the Pinedale High School. Similarly, Big Piney High School Guidance Counselor Ray Clark says the administration has not seen any meth use or related problems in the Big Piney High School, "but that doesn't mean it's not here."

Dr. Burnett at the Marbleton/Big Piney Clinic said his clinic has not treated any patients with meth-related symptoms but he does suspect there's widespread use in the county.

At the Pinedale Clinic, Dr. Johnston said he has not seen any patients with symptoms that made him suspicious of methamphetamine use.

Mr. Margo at Sublette Community Counseling has counseled local residents who use methamphetamine. He considers the drug third in seriousness of abuse in Sublette County, behind alcohol and marijuana. Beyond being incredibly addictive, Mr. Margo says a steady user becomes so paranoid and psychotic that they become a threat to others. Also, the drug is made or "cut" with poisonous chemicals such as Raid insect killer.

Mr. Margo says meth is considered "the hard drug" in Sublette County. Which means the type of people using and dealing the drug are rougher and more dangerous.

Finally, Mr. Margo says he has worked with Sublette County teenagers who were using, or had used methamphetamine. He wouldn't provide any more details.

See The Archives for past articles.
---
Copyright © 1999 The Sublette County Journal
All rights reserved. Reproduction by any means must have permission of the Publisher.
The Sublette County Journal, PO Box 3010, Pinedale, WY 82941 Phone 307-367-3713
Publisher/Editor: Rob Shaul editor@scjonline.com