From the pages of
The Sublette County Journal
Volume 4, Number 27 - 3/2/00
brought to you online by Pinedale Online
---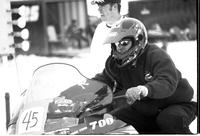 Kelly Winters ready for his second heat during the Open Mod division races.

Kelly Falls Short
$12,500 and 190 horses aren't enough for a 1st place finish
by Rob Shaul

Pinedale's Kelly Winters fell short of a first place finish in the Open Mod division of last Sunday's Snow Drag Races in Cora.

After his first race in the division, Mr. Winters told me he wasn't going to win. His $12,500, 190 horse snowmobile was doing fine in the bottom end of the race, but was losing ground in the top end and the Yamaha he was racing was catching up to him.

Sure enough, Kelly and his sled were knocked out of the bracket after his fourth heat. His brother Brad's sled, however, stayed in contention.

Brad's sled was driven by Luke Morss. Luke lost his second race, but eventually fought up through the losers' bracket and took first place in the Open Mod division. A sled driven by Jerry Alexander of Lander advanced to the championship race unbeaten, and Luke had to beat him twice in a row to take first place.

The Bucky Outdoors' sled, driven by Sandy Sletten, took third in the division.

Photo credits: Rob Shaul

See The Archives for past articles.
---
Copyright © 1999 The Sublette County Journal
All rights reserved. Reproduction by any means must have permission of the Publisher.
The Sublette County Journal, PO Box 3010, Pinedale, WY 82941 Phone 307-367-3713
Publisher/Editor: Rob Shaul editor@scjonline.com