From the pages of
The Sublette County Journal
Volume 4, Number 3 - 9/16/99
brought to you online by Pinedale Online
---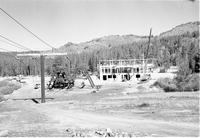 The new ski lift and lodge at White Pine.

White Pine Will Open By Christmas
New lift nearly complete; tickets will cost $22.
by Rob

White Pine will be open by Christmas, says the principal owner of the ski area, Stuart Thompson.

White Pine's last full season of operation was fifteen years ago during the winter of 1984-85.

Ultimately, White Pine will have six chair lifts. The first of these, a double, triple-chair lift, is nearly complete and is the lift that will be operating this winter.

The lift is the only one of its kind in the western U.S. It consists of two, three-person chair lifts and is powered by a 300 horsepower electric motor. Mr. Thompson says the lift will be able to transport 2,500 skiers up the hill each hour.

One of the chair lifts, named "Great Spirit," will run to the top of the mountain. The second chair lift, "Little Spirit," will serve the beginner hill.

A cable splicer from Wilson, Wyoming will arrive Friday to splice the lift's cable, and next week the lift contractor will begin hanging chairs.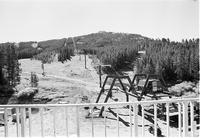 The new lift with the ski mountain behind it.

Work on the new 12,000 square foot ski lodge is also steadily progressing. However, Mr. Thompson says its completion schedule is not as definite. "The lodge is looking great," says Mr. Thompson, "But I wish it was further along."

The lodge will have three stories, including the basement. It will house a cafeteria, ski equipment rentals, ski sales shop, lockers, restrooms, office space and a bar. Eventually, the resort owners plan to build a 40-room motel at White Pine.

White Pine will open before Christmas, "with or without the lodge," says Mr. Thompson. Primarily, the weather and snowfall will determine the exact opening date. He hopes White Pine can open two or three weeks after Thanksgiving. (In the future, the resort will have snow-making capabilities, which will decrease its reliance on the weather.)

The ski area has already hired managers for the ski shop, lift ticket sales, and food service. A lift superintendent has also been hired along with several ski school instructors. The National Ski Patrol has been "spooled up" and will be ready to help when the ski area opens. Over the next 60 days, the remaining staff of 35 will be hired.

A full-day lift ticket will cost $22. Season tickets will go on sale for a limited time in October, but a season ticket price hasn't yet been determined. Mr. Thompson says 10-pass tickets will also be offered. White Pine will be open for skiing seven days a week.

Making trail maps and naming the ski runs is already well underway. Mr. Thompson says the trails will be named after peaks in the Wind River Mountains and other geographic features. "Sitz Mark" has been renamed "Bonneville." "Sunny's" - named for Sublette County native and ski pioneer, Sunny Korfanta - will keep its same name. When it opens this winter, between 20 and 25 runs will be available for skiers.

White Pine will be marketed as a "family-friendly" ski area targeted at skiers in Sublette, Sweetwater, and Lincoln counties. Mr. Thompson and his partners have invested $2-$3 million into the project and need twenty to thirty thousand skier visits per season to make the resort financially viable. Previously, White Pine has topped out at 10,000 skier visits per season.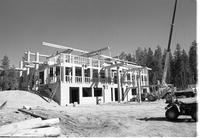 The new lodge.

For Stuart Thompson and his wife Mary, reopening White Pine has been a 17-year odyssey involving years of frustration, mountains of paperwork, and lots of money and hard work. But, Stuart's eyes sparkled and his smile widened as he looked toward the new lift and the freshly cut ski runs. "It's been a long time, but it's starting to come through. I guess you could say perseverance paid off," he says. "It's a good mountain, and I hope people come and enjoy it."

See The Archives for past articles.
---
Copyright © 1999 The Sublette County Journal
All rights reserved. Reproduction by any means must have permission of the Publisher.
The Sublette County Journal, PO Box 3010, Pinedale, WY 82941 Phone 307-367-3713
Publisher/Editor: Rob Shaul editor@scjonline.com