From the pages of
The Sublette County Journal
Volume 4, Number 3 - 9/16/99
brought to you online by Pinedale Online
---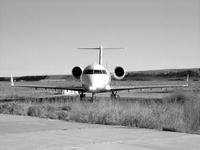 Private jet at the Pinedale Airport this week.

Pinedale Airport 8th Busiest in Wyoming
Runway is 800 ft. longer than Jackson's.
by Jennifer Binning

The Fixed Base Operator at the Pinedale airport is getting a reputation for being cheap. David Goodwin and his wife Sandra, the airport FBO and owners of "New Breed Aviation," are attracting pilots from all over the intermountain region who want to save some money when they fuel up.

New Breed Aviation has been leasing the airport facility from the Town of Pinedale for the last two years, providing fuel, airplane maintenance and parking, and being the local weatherman and information source for pilots and their clients wishing to land at Wenz Field. The City of Pinedale receives $600 per month for the lease, in addition to a seven-and-one-half cents per gallon as a fuel flow fee for all gas sold by New Breed. This fuel flow fee has the potential to bring tens of thousands of dollars into the town coffers each year, as the flow fee from just one jet fueling can be $50; about 6 planes arrive and depart from the airport on an average day.

Mr. Goodwin says that from August of 1997 to August of 1998, business at the airport increased by 50%, partially because the Goodwins have been selling fuel at lower prices than surrounding airports. This year, however, the airport saw a decrease in the numbers of smaller aircraft, which caused a small drop in the total number of sales. This dip was counterbalanced by an increase in larger lear-jet traffic, translating into a higher volume of gas sold per airplane.

Aviation fuel sales can fluctuate wildly from month to month, which places the repair and maintenance of airplanes as New Breeds most stable source of income. Ever since he started New Breed Aviation, David has been kept busy with fixing airplanes, and keeping those of his regular customers flying without a hitch. Twenty percent of his maintenance workload is spent keeping up with paperwork the FAA requires on any work performed on an aircraft. David is relieved that he has caught up with his maintenance backlog for the first time in 2 years, and may be able to enjoy hunting with his father this fall.

Recently, Mr. Goodwin read a study about the impact of small airports on a community. According to Mr. Goodwin, the conclusion of the researchers was, for every single dollar spent on an airport by a community, the airport-related return to the community was approximately $350. David feels that people who fly into Wenz Field rent at least 300-500 local hotel rooms every year.

The Pinedale Airport sees a lot of people flying in to go hiking or hunting with outfitters in the Wind Rivers, or to go fishing on the Ryegrass or Seven Mile River Ranches. However, Mr. Goodwin believes he is losing business to the Jackson Hole airport. Guests at local dude ranches have told him that the lack of a car rental agency in Pinedale causes many people to fly charter jets into Jackson, in spite of the fact that the Pinedale runway is 800 feet longer than Jackson's, and the drive to their final destination in Sublette County is shorter from Wenz field.

Mr. Goodwin says aviation is a booming business. David feels people seem to have more disposable income, and they are flying more and more. The outfitters, guest ranches and local wilderness schools are providing a steady flow of passengers into the Pinedale Airport, as are the seismograph companies.

Some local landowners also use the airport frequently, as do the local and student pilots.

Mr. Goodwin believes more and more people are choosing Pinedale and Sublette County as a destination for their vacations, rather than just a pit stop on the way to Jackson and Yellowstone. He believes Pinedale will eventually have a commuter shuttle service.

An Automated Weather Observation System has been installed at the airport recently. Now pilots can tune into the Pinedale frequency on their radios from 100 miles away and know the weather conditions at the airport instantly, 24 hours a day, 7 days a week. This new weather system also provides information needed in order to do an instrument landing, which was unavailable before.

Half way through the 10-year airport improvement plan, which is designed to make small improvements to the facility each year, it is not inconceivable that Sublette County may have a full service commuter airline flying into Wenz Field in the not too distant future.

Photo credits: Jennifer Binning.

See The Archives for past articles.
---
Copyright © 1999 The Sublette County Journal
All rights reserved. Reproduction by any means must have permission of the Publisher.
The Sublette County Journal, PO Box 3010, Pinedale, WY 82941 Phone 307-367-3713
Publisher/Editor: Rob Shaul editor@scjonline.com