From the pages of
The Sublette County Journal
Volume 4, Number 31 - 3/30/00
brought to you online by Pinedale Online
---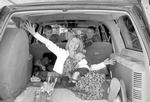 Happy to be free: Jennifer and her sons in the Suburban

Missing Woman Found Trapped in Suburban
Jennifer Winters was missing for three days
by Rob Shaul

A Pinedale woman missing for three days was found Tuesday trapped beneath the third seat of her Chevy Suburban.

On Saturday, Gil Winters of Pinedale contacted the Sublette County Sheriff's Department and reported that his wife, Jennifer, was missing. Mr. Winters discovered his wife missing after returning from work and discovering his three children eating ice cream from the carton on the floor of his living room. The couple's maroon Suburban was parked in the driveway.

After hearing from Mr. Winters, the Sheriff's department and dozens of local community volunteers began an exhaustive search in and around the family's home in Pinedale. Mrs. Winters' family members throughout the country were also contacted, but to no avail. "We were getting nowhere," said Sheriff Hank Ruland.

Mrs. Winters was finally discovered early Tuesday morning by her husband. "I had to pick up eight search volunteers at 7 a.m.," said Mr. Winters, "so at 6:30 a.m. I went out to warm up the Suburban."

When he opened Suburban to start it, Mr. Winters said he heard what he describes as "squeaking" from the rear of the vehicle. "At first I thought it was a mouse or something," says Mr. Winters. He decided to investigate, and to his wonderful surprise discovered not a mouse, but his wife trapped under the third rear seat.

Mr. Winters immediately freed Jennifer and called an ambulance. Mrs. Winters was taken to the Jackson hospital and treated for dehydration and compaction. She spoke with the Journal from her hospital bed on Wednesday.

"We had just gotten home from a shopping trip to Rock Springs," said Mrs. Winters. "After emptying the groceries, I was setting up the third back seat because I had to transport 12 cub scouts to a den meeting that afternoon. I lost my balance, and the seat fell on top of me, trapping me." The diminutive Mrs. Winters, who stands just 4 ft, 8 inches, and weighs 85 pounds, was unable to free herself. During her three days trapped beneath the seat, she survived by eating cookie crumbs and dried McDonalds French fries dropped by her children on the floor of the Suburban.

For his part, Sheriff Ruland says the department has found lost kids in the backs of the popular, large sport utility vehicles, but this is the first time an adult has been lost inside one.

Though shaken by her ordeal, Jennifer Winters has no plans on selling her Suburban. "I love that car," she declares.

Photo credits: Joyce Bohm

See The Archives for past articles.
---
Copyright © 1999, 2000 The Sublette County Journal
All rights reserved. Reproduction by any means must have permission of the Publisher.
The Sublette County Journal, PO Box 3010, Pinedale, WY 82941 Phone 307-367-3713
Publisher/Editor: Rob Shaul editor@scjonline.com