From the pages of
The Sublette County Journal
Volume 4, Number 32 - April 6, 2000
brought to you online by Pinedale Online
---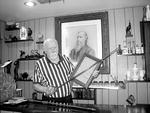 Pinedale's Barley Skinner with George Washington's letter to his great great grandfather and his great grandfather's Civil War sword. Behind him is the portrait of his great grandfather, Charles Anderson, Governor of Ohio.

Now That's Some Heritage!
Pinedale's Bartley Skinner has roots that go back to the Revolutionary War
by Rob Shaul

Pinedale's Bartley Skinner has an original letter signed by George Washington during the Revolutionary War in 1778. The letter is written to Bartley's great great grandfather, Richard Clough (pronounced "Cluff") Anderson, who rose to be a Colonel in the Continental Army and an aide to Lafayette.

Mr. Skinner keeps the letter in a handmade frame and padded paper envelope to protect it from the light. And it gets better. On the other side of the frame from Washington's letter is an original personal letter to Richard Clough from Revolutionary patriot Patrick Henry.

The letters are just the beginning of Mr. Skinner's amazing family heritage.

Richard Clough Anderson's commission into the Continental Army was dated March 7, 1776, and was signed by none other than John Hancock. He served in several battles during the Revolutionary War and at one point was taken prisoner by the British. He eventually rose to the rank of Lieutenant Colonel.

Bartley's great great grandfather fathered 18 children from two wives, the first of whom was Elizabeth Clark. Elizabeth's brother was William Clark, of the Lewis and Clark Expedition, according to Mr. Skinner.

Richard Clough's youngest child, and Bartley's great grandfather, was Charles Anderson, who served in the Union Army during the Civil War.

Like his father, Charles rose to the rank of Colonel in the Union Army, but suffered a severe wound at Stone River and was forced to resign from the service. In 1863 he was elected Lieutenant Governor of Ohio, and later became Governor when Governor Bough died.

Charles brother, and Bartley's great great uncle, was Robert Anderson, who also served in the Union Army, and was the Commanding Officer of Fort Sumter in Charleston Harbor when the Civil War began. Further, according to Mr. Skinner, the frame which holds the George Washington and Patrick Henry letters to Richard Clough is made from the flag pole which stood at Fort Sumter when the first shots were fired.

It doesn't end there. Another of Barley's great great uncles, William Marshall Anderson, came west with William Parker and William Sublette in 1834, and the three of them founded Fort William, which later became Fort Laramie in eastern Wyoming. During the trip, the trio camped five miles south of where Pinedale sits today, and they attended the 1834 Rendezvous near Daniel.

Bartley himself grew up in Arizona, where his father was a lawyer and banker. Bartley and wife Rose operated a ceramic tile business in Phoenix for years, and in 1954 bought the property in Sublette County on which he built the Fort William steakhouse. The Skinners owned Fort William until 1988.

Understandably, Bartley is very proud of his family's heritage. Throughout our interview his blue eyes were ablaze with enthusiasm and his voice crackling with excitement. What an amazing heritage, indeed!

Photo credits: Rob Shaul

See The Archives for past articles.
---
Copyright © 1999, 2000 The Sublette County Journal
All rights reserved. Reproduction by any means must have permission of the Publisher.
The Sublette County Journal, PO Box 3010, Pinedale, WY 82941 Phone 307-367-3713
Publisher/Editor: Rob Shaul editor@scjonline.com