From the pages of
The Sublette County Journal
Volume 4, Number 34 - 4/20/00
brought to you online by Pinedale Online
---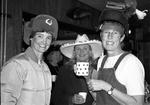 Laurie Latta, Julie James and Jo Crandall engage in witty repartee at the Daniel Tea last Thursday.

Daniel Tea Revisited
Bringing back an old tradition. The last Daniel Tea was held in the 1980s.
by Jennifer Binning

Last Thursday, an almost forgotten tradition was revisited in Daniel.

Using Pat Walker as a consultant, Laurie Latta and Mary Lankford approached Nan McKeough who owns the Green River Bar, and asked if they could hold a high tea like they has done in the early 1980s.

Nan thought the idea was wonderful, and the dynamic duo Latta and Lankford began to put together a plan.

Just as was done the first time around, the pool table was covered by plywood and a tablecloth, and a full-fledged high tea placed on top.

The Bronx Homemakers had volunteered to make the finger sandwiches and cookies for the tea, and as the afternoon sun hung lower in the sky, even more decadent goodies began to make their presence known.

The tea was wonderful, and expertly served by Ellen Reed from silver tea services loaned for the event by Julie James and Pat Jackson.

As more people filtered in, a crowd began to gather at the table near the windows to sign the Daniel Centennial Book, as well as look at Pat Walker's photograph albums from when she and her husband owned the GRB.

The pictures contained therein hold immortal the images of many of the same women standing in the GRB today, only 20 years younger. The giggles turned into guffaws as the years melted away, and the stories began to be told.

Jean Rahm, who arrived bearing a miniature teacup, slowly unwrapped a beautiful teacup and saucer, which had been found by her granddaughter MeLissa Binning. According to legend, a large portion of the china set to which the cup belongs survived the long trip out west in a wagon train. Apparently, it is a copy of a set of china that can be found in the White House.

Pinedale Librarian Daphne Platts arrived in a hat, gloves and a book bag that says it all; "My library has something to offend everyone."

Jo Crandall, fully decked out in a flowered welding hat and gloves, found it difficult to properly extend her little finger while attempting to daintily sip her tea while wearing the heavy leather mitts. Her welder's shield kept sliding down over her eyes, making it necessary for Jo to tip her head back and peer under it so she could see who she was talking to.

Laurie Latta was not much more comfortable, having worn her husband's down long underwear and uncle's big, Russian comrade hat.

Melba Jaskolski arrived and wowed the room wearing a king-sized ten gallon hat which overflowed with green Easter grass and eggs, while the always elegant Sally Mackey sported a chapeau of 1950s vintage.

All in all, Mary Lankford estimated 50 people attended the event. An enormous teacup and saucer borrowed from Linda Hayward served to collect donations for the Daniel Book Project, and at the end of the evening, almost $200 had been placed in the cup, including a nylon net bag containing five new Saccajewea dollars.

By and large, the tea was a wonderful success, bringing together old friends in a wonderfully wacky way. Laurie and Mary had great fun pulling the event together, and they both learned a tremendous amount about how one "does" a proper high tea. While looking over the pictures from teas past, it is difficult not to look around and notice that many of the faces in the pictures and at the tea are the same, just a little more wrinkled, a lot more wise, and a whole lot of fun.

Photo credits: Jennifer Binning

See The Archives for past articles.
---
Copyright © 1999, 2000 The Sublette County Journal
All rights reserved. Reproduction by any means must have permission of the Publisher.
The Sublette County Journal, PO Box 3010, Pinedale, WY 82941 Phone 307-367-3713
Publisher/Editor: Rob Shaul editor@scjonline.com