From the pages of
The Sublette County Journal
Volume 4, Number 37 - 5/11/00
brought to you online by Pinedale Online
---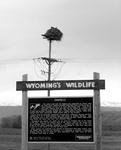 Two osprey were shot from this nest along highway 191 last week. A new pair has already moved in.

Information Sought in Osprey Shooting
Raptors shot from highway near Pole Creek Bridge
by Jennifer Binning

Sometime during the second or early on the third of May, someone shot a pair of osprey as they sat in their nest above Pole Creek.

"This is a stupid, senseless deal," said Game Warden Dennis Almquist in an interview Tuesday night.

Apparently, someone spotted the body of one of the birds on the ground below the nest and called the Game and Fish Department in Pinedale. Scott Werbelow responded to the call, and knowing there was a mating pair in the nest, asked Pacific Power to come out with their truck and take a peek into the nest. Sadly, they found the body of another bird, as well as several eggs. It seems that both birds had been shot.

At this point in time, it unknown if the eggs belong to the dead birds, or another pair that moved into the nest when the original residents of the nest were shot. Mr. Almquist said the new pair may be the offspring of the dead birds.

The nest is one known by all who travel the highway between Boulder and Pinedale, as it sits next to the highway where Pole Creek drains into the New Fork, just east of the airport. The nest is marked by a wildlife observation area with an educational sign about the osprey.

Mr. Almquist urges anyone with information about the shooting to please call the Game and Fish. They may be eligible for a reward as this is a violation of the Migratory Bird Act, and punishable on the State and Federal level.

The Game and Fish is holding the carcass' of the birds for further investigation.

Photo credits: Jennifer Binning

See The Archives for past articles.
---
Copyright © 1999, 2000 The Sublette County Journal
All rights reserved. Reproduction by any means must have permission of the Publisher.
The Sublette County Journal, PO Box 3010, Pinedale, WY 82941 Phone 307-367-3713
Publisher/Editor: Rob Shaul editor@scjonline.com