From the pages of
The Sublette County Journal
Volume 4, Number 40 - 6/1/00
brought to you online by Pinedale Online
---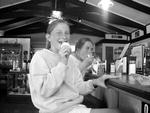 Pinedale student May Rose Huntley enjoys some SweetWaters ice cream Tuesday.

Pinedale's Sweet Spot

by Kimberly Brokling

"Everybody loves ice cream," claims Steve Caldarera, owner of a Pinedale's old-fashioned soda shop, SweetWaters, located on Pine Street across from the Cowboy Shop. Most high school students agree. As a matter of fact, SweetWaters has become the new hot spot for middle school and high school students to hang out after school.

Teens are not the only ones that hang out at SweetWaters. Customers are anywhere from 3 years old and up.

Steve "invented" SweetWaters when he was unable to find a snow cone in Pinedale. Mr. Caldarera, who had grown up with ice cream and snow cones, decided that he could do better. Besides, people seemed to miss the old fashioned soda fountains. In short, Mr. Caldarera says, "it looked like it would fit here"

Last year, SweetWaters was much smaller, and was located across the street from McGregor's. At that time, SweetWaters only sold snow cones, milkshakes, and soft serve ice cream. This spring, Mr. Caldarera relocated his business to Pine Street and greatly expanded the menu. Today, SweetWaters offers a huge selection of many different coffees, ice creams, and sodas. Featured are 12 flavors of regular ice cream, 1 sorbet, 2 gelatos, 150 flavors of snow cones, 8 flavors of ice cream sodas, and various different smoothies. Ice cream toppings begin with 8 fruit flavers and several varieties of ground up candy bars.

Coffee, Cheesecake, and Moose Tracks are the most popular ice cream flavors. "Silver Fox" and "Tiger's Blood" are the most popular snow cone flavors. Despite the variety of flavors, about half of the customers ask for mixed flavors.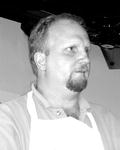 Steve Caldarera

Allan Kinnison, a student at Pinedale High School, stated that variety is the best part of the soda shop. Customers of all ages seem to agree that the multitude of choices is a definite quality of SweetWaters.

Mr. Caldarera designed his shop to look as old fashioned as possible. The building, which used to be a soda fountain, was recently remodeled and set up to look like the 1950's movie "This Boy's Life." Most of the decorations were gathered at various auctions over a period of four months. The shop features a dipping cabinet and three antique soda fountains.

The dipping cabinet, a glass topped cabinet to store ice cream in, is essential to business. According to Steve, "ice cream is a very visual business. People like to see what they're getting." The antique soda fountains are equally important to SweetWaters. After all, "old fashioned sodas are basic."

SweetWaters - Pinedale's hottest spot to stop in for a cold one!

See The Archives for past articles.
---
Copyright © 1999, 2000 The Sublette County Journal
All rights reserved. Reproduction by any means must have permission of the Publisher.
The Sublette County Journal, PO Box 3010, Pinedale, WY 82941 Phone 307-367-3713
Publisher/Editor: Rob Shaul editor@scjonline.com