From the pages of
The Sublette County Journal
Volume 4, Number 42 - 6/15/00
brought to you online by Pinedale Online
---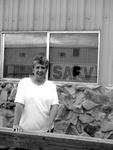 Pat Bean.

SAFV Coordinator gives options, doesn't judge
Pat Bean used to be a security guard for the Cinncinnatti Reds
by Jennifer Binning

u Pat Bean used to be a securiy guard for the Cincinnati Reds

Pat Bean is a feisty, funky and fun grandma, to whom Sublette County's families in crisis turn when the going gets tough.

Pat was born and raised in Cincinnati, Ohio as the only daughter of Omar and Bert Poynter. Her father was a house painter who had worked on a paddleboat when she was young, and her mother worked nights at Proctor and Gamble. As a result of the working situation in her home, Pat spent a lot of time with her father. Together they went target shooting and fishing - "guy things," she says with a smile.

Bert, who is turning 90 this year, gave her daughter a wonderful role model. She turned around and invested the money she earned at P&G. "Watching my mother helped me develop into a strong, independent woman," Pat says with conviction.

Omar and Bert had come from just across the Ohio border in Kentucky, and they did not feel the need to travel much beyond Cincinnati. They passed this trait on to Pat, who did not get the urge to leave until she was nearing 50.

Pat married while still in high school in Cincinnati, and later started a family. As a young mother, Pat went back to school, middle school that is, as a security guard.

Over the course of 16 years, Pat worked in two schools and eventually became the head of security in a middle school located in a rather rough neighborhood. "We had metal detectors, we had gangs, we had 9th graders having their second babies, it is nothing like the Pinedale schools," she says with a smile. During the summer, Pat would often work security for the Cincinnati Reds, remarking, "I saw every Reds home game those summers, and I never want to watch it again!"

During her tenure as a school guard, Pat was the first line of support the kids had. "I knew what was going on because I saw them every day. If a kid was in trouble, I knew it and I could point them in the right direction for some help." Pat also did a lot of substitute teaching in the schools, simply due to the fact that the school was located in an area that substitute teachers tried to avoid at all costs.

Eventually Pat became the single mother of four children. She began to look around and noticed that many of the kids she knew at the beginning of her career were returning to the school as parents. They would recognize Pat and approach her in the halls to strike up a conversation. This made Pat feel old. Very old. And burned out.

That summer, rather than endure another baseball season, Pat accepted an invitation from her daughter in law's parents to come out to Wyoming for the summer. This was a real adventure for Pat, who says she had really never left Ohio. Within days of arriving in Baggs, Wyoming, she had a job flagging on a road crew in the mountains between Savory and Encampment. This ignited her love of the great outdoors.

Later, Pat went to see a friend in Grand Teton National Park, who encouraged her to apply for a security position there. Pat turned in her application and was beginning to walk out the door when she was stopped by the woman who had taken her application and asked if she could begin work the next day. After begging off for a few days, Pat returned to Baggs, got her clothing, and went to work at the Park.

Having fallen in love with western Wyoming, Pat applied for a job at the Teton County Sheriff's office and took a leave of absence from her school district job in Ohio. "I don't understand it, but they picked a young guy just out of the Marines over me," Pat says with a head to toe grin.

The time had come for Pat to decide just how much she wanted to stay in Wyoming, and it wasn't a difficult decision. Her son and the Wyoming gal he'd married lived in Thermopolis, and she found the country extraordinary.

Somewhere along the line, Pat met Ron Harrison, who offered her a housekeeping job at the Rusty Parrot Lodge in Jackson. Ron and his wife accepted Pat into their family, inviting her to all the family outings and festivities.

Pat recalls Ron as an excellent employer and an even better friend. After two years, Pat had been promoted to head housekeeper, and had spent the slow times furthering her interrupted education through the adult outreach program in Jackson.

Armed with her GED and a lot of determination, Pat spoke with the program coordinator who asked her what she might like to do. Looking back at her life, Pat felt she might be well suited for social work and counseling. The coordinator gave her a test, and sure enough, she showed an aptitude for counseling.

Excited, Pat signed up for several classes, but became frustrated when class after class was cancelled due to low student enrollment. She called her son Eric, a teacher, and vented.

A few days later, Pat's despair evaporated like fog under a hot summer sun when Eric and his wife Aimee called to insist that she come to live with them in Thermopolis so she could attend school full time. "Mom," said Eric, "We have decided you need an education. You put your kids through school; now it is time you quit your job and go to school." Misty eyed, Pat says she never could have returned to school without that boost.

"Central Wyoming College was just the place I needed to be," recalls Pat. "It is a small school and I developed a mentor in the Psychology department who pushed me way beyond what I thought I was capable of doing."

While in school, Pat was given the opportunity of a lifetime. For a psychology paper, she was able to interview a convicted serial killer sitting in jail doing several life sentences. Donald Harvey is known as one of the most prolific serial killers in the United States, having killed an unknown number of victims while he worked as a nurse's aide in two different Ohio hospitals. The murders were discovered only when a young accident victim died unexpectedly and a hospital coroner caught a whiff of the poison that had been used to kill him.

After two years of study, plus tutoring older and foreign exchange students, Pat graduated from Central Wyoming College with a two-year degree in Human Services in one hand, and the University of Wyoming Presidential Honor Scholarship in the other.

Pat soon found herself in Casper, taking classes at the UW campus there, and working with handicapped adults at NOWCAP. One of the courses she took was a women's studies class. During a section on domestic violence, Pat piped up that if a man ever laid a hand on her, he would feel one in return. At that point, the instructor told Pat that if this was to be her life's work, she had better get a more thorough understanding of domestic violence.

"I said all those things that we used to hear - if she was hit, she must have deserved it, or a woman who gets raped must have asked for it" Pat remembers with disbelief.

Pat was in need of some clinical experience for her degree, so she called the Self-Help Center in Casper and the only session she could fit into her schedule was as a co-facilitator for a batterers' group.

"I sat in there and listened to those men talk. We only had one voluntary man there; the rest were court-appointed. I was set to hate those men in there, but I didn't. I realized that only by the grace of God were these men not my sons." Pat had learned to understand, though not condone, their behavior. "Most of them were abused as youngsters; enter alcohol and drugs and an abuser is made."

This eye-opening experience made Pat decide to volunteer at the Self-Help Center, where she realized that she could be very effective working with women in crisis.

Later, Pat sent out five resumes around Wyoming, and eventually came to Pinedale to fill the position of Sexual Assault and Family Violence Coordinator. With tongue firmly planted in cheek, she says that this is her first job out of college.

Pat has noticed a change in Sublette County domestic violence. She feels that law enforcement officers are better prepared to deal with offenders than they have been in the past, and County Attorney Dale Aronson is prosecuting batterers aggressively. Pat notes that several high profile domestic homicides in the past 5 years in Sublette County have really opened up people's eyes. No longer do neighbors look away during a family fight. They call the cops.

The biggest challenge Pat has had to face during her three years in Pinedale is trying to change the attitudes about domestic violence in Sublette County. Her mantra is, "It will stop only when we refuse to allow it to happen."

Although fighting domestic violence and helping its victims occupies a lot of Pat's waking hours, she has a special place in her heart for adult survivors of incest. "They are heroes in my book," she says. "It takes incredible courage to come forward with something like that." Pat recalls one young lady who charged her father with incest as soon as she was living away from home and felt safe. While Pat sat in the courtroom and listened to her story, a story she had heard several times, she had to leave and go directly to the counseling service in order to rid herself of some of the anger she had built up concerning this case in particular.

"I will talk to anyone who walks into my door, be they battered or batterer," says Pat. "I get a lot of calls from men who want to take anger management classes here. It's not anger management they need; it is behavior modification. Anger management implies that their abusive behavior is not their fault, they can't help it. Well, they can help it and they need to take responsibility for their actions!" One of Pat's goals for the SAFV program in Sublette County is to eventually provide classes like this for people who need them. "Don't forget," Pat reminds us, "there are female batterers in Sublette County, too."

This year, Pat and Carl Ingersoll began a new program that sends a counselor into the homes of families who are in crisis. This ongoing family counseling has been very successful, especially when the victims continue to return to their batterer. In this program, the children receive the counseling they need, and the batterers, who may be reluctant to attend counseling sessions outside the home, are treated as well. "People just don't know how to fight. They need to be given the tools to do something different," she says.

Pat has adjusted well to her new life in Pinedale, and she says that everyone is welcome through her doorway to talk, to seek help or information, or for protection. "The only time I call the cops is when a person may be a danger to themselves or others, or when child abuse is involved." She adds, "A person may not be thinking 'I am gong to kill my wife,' but one day, he very well may."

See The Archives for past articles.
---
Copyright © 1999, 2000 The Sublette County Journal
All rights reserved. Reproduction by any means must have permission of the Publisher.
The Sublette County Journal, PO Box 3010, Pinedale, WY 82941 Phone 307-367-3713
Publisher/Editor: Rob Shaul editor@scjonline.com