From the pages of
The Sublette County Journal
Volume 4, Number 42 - 6/15/00
brought to you online by Pinedale Online
---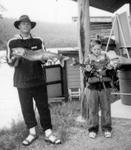 Doug and Nate Olsen and their winning fish. This father-son team took home $275 and a new fishing rod from the Half Moon Lake Derby.

Olsens Clean Up at Half Moon Fishing Derby
Afton man catches the winning fish from shore
by Rob Shaul

Doug and Nate Olsen of Pinedale had a great day fishing on Half Moon Lake last Saturday. Father and son were competing in the annual Half Moon Lake fishing derby, and spent the day trolling Flatfish, Rapellas and other lures five feet off the bottom through the intermittent rain and wind. Their stubborn fishermen's persistence and patience paid dividends in fish, prizes and money.

On Saturday alone, the two Olsens caught 23 fish, all Mackinaws. Doug caught a 7-1/4 pound mack, the largest fish on Saturday, and took home $125. Ten-year-old Nate caught a 4-1/4-pound mack, and won $50 for the biggest fish caught by a kid on Saturday.

The Olsens hit the lake again Sunday, but the fishing was much slower. While they brought in another 10 fish, none weighed more than the fish they caught Saturday. It didn't matter, because the two Saturday macks carried through and brought the Olsens prizes and more money on Sunday, when the derby ended.

Doug's fish was the runner-up overall, and Mr. Olsen took home the nice rod and reel runner-up prize. Nate's fish was the largest caught by a kid in the tournament, and won the young man another $100 as a result. All together, the pair caught 33 fish in two days, and won $275 and a new fishing pole in the derby. Not bad!

While the Olsens had a great weekend fishing, their luck wasn't quite good enough to land the $500, grand prize-winning fish. That 12-lb., 2-oz., 32-inch Mackinaw was caught by Afton's J. Dell Merritt - from shore! Mr. Merrit caught the winning fish shortly before noon on Sunday, and it was the only fish he caught all day. He was fishing a minnow off the bottom when the fish hit. J. Dell said the big mack gave him a "great, good fight" on his 8-lb. Test line, and his fishing buddy almost lost the fish in the process of netting it. But Mr. Merritt landed the fish, and it landed him $500.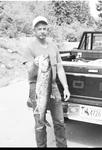 $500 Fish! Afton's J. Dell Merritt showsoff his 12-lb., 2-oz. Mackinaw - which took the grand prize at the Half Moon Fishing Derby last weekend.

This year's derby was a great success, says Half Moon Lake Resort manager Aaron Gesch. The derby had 80 entries, up from several from last year, and there were many more fish heavier than 5 pounds landed this year also. Last year's winner was a 9-lb., 14-oz. Mackinaw.

See The Archives for past articles.
---
Copyright © 1999, 2000 The Sublette County Journal
All rights reserved. Reproduction by any means must have permission of the Publisher.
The Sublette County Journal, PO Box 3010, Pinedale, WY 82941 Phone 307-367-3713
Publisher/Editor: Rob Shaul editor@scjonline.com