From the pages of
The Sublette County Journal
Volume 4, Number 43 - 6/22/00
brought to you online by Pinedale Online
---
Derby Day!



Derby Day! Finally I was invited to fish in the annual Father's Day Derby on Fremont Lake. My son, Scott, was away at basketball camp. That left a place in the boat for me to fish last Sunday. I had never been in a fishing derby, let alone caught a fish in Fremont Lake.

The day of the derby dawned bright and chilly. We were camped at the Fremont Lake Campground, so it was easy to run down to Lakeside Lodge to register. The derby ran from 7 a.m. to 4 p.m. By 7:30 a.m. Sunday morning, we were fishin'.

Brent rigged us up with deep troll rods. He put on about six feet of spoons, weights, bottom scratchers, and then a hook with bait trailing about three feet behind all that. I didn't have much experience with deep trolling and listened carefully to the many instructions. The idea was to let out line until you hit the bottom and then reel up a foot or two and troll along really slow until a big fat fish decides it is time for breakfast.

It didn't take me long to figure out this wasn't my style of fishing. I let out and reeled up. I had a bite! I set the hook and line just peeled out. I really thought I had a big one. Sure enough I did....the bottom. Brent backed the boat up past where I was hooked and then wiggled, jiggled and yanked on my rod until it came loose. He suggested that maybe I shouldn't fish for the bottom fish - I could maybe fish for the "hangers." Hangers are the fish on the fish finder graph that are about halfway down, (probably bubbles or sticks).

After about an hour with no bites, I was tired of fishing for hangers. Brent suggested we try fishing with our smaller rods and lures. This was my kind of fishing! It took me two flips of a fish tail and I was ready to let out line.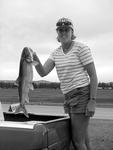 The author and her fish. You should have seen the one that got away - no really!

On the first pass I had a fish on. It felt BIG! My line peeled out. Brent stopped the boat and reeled his line in. My drag just kept singin'.

Brent started backing the boat up. Finally the fish jumped and twisted showing us what we had on. It was a beauty! I carefully played him along until I got him to the boat. Brent netted him with the expertise of a pro.

Now to see if he was derby worthy. The plan was to keep him in the water, while still in the net. Brent would take the hook out and measure and weigh him. If he didn't pass muster (fish had to be at least 22" long to enter in the derby), we would release him. I was in charge of the net. Brent got the hook out and started to measure the fish on the swim deck of the boat. All I had to do was keep the net up. Just then fish gave a big flop, rebounded off the swim deck, and flipped right over the side of the net. I gave a shuffle and a scoop and missed. My heart just dropped as watched my fish swim for the bottom of the lake.

After several apologies and a few tears, we were fishin'; again. We figured "the one who got away" probably warned his buddies, so we motored over to a new hole. We made a few passes and then boated farther down the lake. It was a likely looking spot and things were looking up. Brent started letting out his line when, WHAM! He had a fish on.

I scrambled for the net and scanned the water for the first sign of his fish. It wasn't long before I spotted Brent's minnow! I swear his lure was bigger than the fish. I doubled over in a fit of giggles and managed to gasp out some advice. "Why don't you just keep him on for bait?" Not a funny thing to say apparently. After releasing Brent's "fish," we moved on to bigger and better things. We tried this hole and that hole, then over to this slide and then back to the inlet. No luck. Finally, we decided to go back to the old reliable hole and see if fish have memories. Obviously they do, we couldn't even graph a fish on the fish finder.

With boredom setting in, we decided to go check out how our buddies were doing. We found Paul and Ryan McGuire. They weren't having much luck but seemed to be having a good time. Next we located Charlie and Lila Golden. No luck there either, but they were both catching a nice tan.

Finally I suggested we try my favorite spot. I have never fished there, I just think it is pretty. Brent agreed to try it because he had grafted fish there the day before. We set up our little rods again and started fast trolling. I didn't have much enthusiasm for fishing, so I had a book in one hand and my pole in the other.

Just when I got to a really good part in my book, I hooked a fish. I hollered that I had a fish on. Brent was skeptical and wanted to know if it was the bottom. I didn't really know, but I played it like it was a fish. Sure enough, by the time we had the boat stopped and things ready, it was a fish! I would reel him in for a while, then he would take my line, finally I got him close to the boat. He looked pretty good. He kept diving for the bottom and I really didn't want to let him get in the rocks. Finally I got him up to where Brent could net him.

Once again Brent did a splendid job of netting and we had him IN THE BOAT! All hook removal and measuring were done in the boat. We determined he was derby worthy and headed for Lakeside to weigh in.

As I hauled my fish up the dock for Jim Cwikla to weigh, my feet were barely touching ground. I was just tickled that I had caught a fish. Cwikla brought me crashing right back to earth with comments about minnows and girls not touching fish. (So I used the net, I didn't want anymore accidents!) After the official weight and length were recorded, we were back to fishing.

Brent didn't catch anymore fish that day, but he was proud of me for catching my first derby fish. He was quick to point out that he had won a hundred and one dollars more than me the weekend before at the Half Moon Lake derby. I didn't care, third place in the Father's Day Derby was good enough for me, even though I'm not a Father!

See The Archives for past articles.
---
Copyright © 1999, 2000 The Sublette County Journal
All rights reserved. Reproduction by any means must have permission of the Publisher.
The Sublette County Journal, PO Box 3010, Pinedale, WY 82941 Phone 307-367-3713
Publisher/Editor: Rob Shaul editor@scjonline.com