From the pages of
The Sublette County Journal
Volume 4, Number 45 - 6/29/00
brought to you online by Pinedale Online
---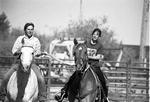 Nicci Marincic and Jennifer Ramsey partner up for the Toilet Paper Ribbon Race, where horses and riders must run, walk, trot and turn without losing contact with the TP.

Shaggy Pony's Play All Day!

by Story and photo by Jennifer Binning

Last Saturday, the newly minted 4-H club , The Wind River Riders, hosted the Shaggy Pony Play Day at the Pinedale Rodeo Grounds. With three classes and 33 riders, the fun continued for most of the day.

Events included a toilet paper ribbon race where pairs of riders put their horses through the paces while being teathered together by a piece of T.P. One false move and the T.P. breaks, forcing the pair out of the contest. The egg and spoon race was just that, albet on horseback and at a trot. Other events were a flag race, barrel racing and pole bending, jumping and a water glass ride, among others.

Wind River Riders leader Shelly Hrubochak said everyone seemed to have a lot of fun, and she was pleased with the turnout.

All around winners at the Shaggy Pony Play Day were: Pee wee winner, Kathryn Konicek, Jayne Thompson, runner up; Junior winner Jessica Belveal, Courtney Amerine runner up; Senior winner, Misty Grimes, Amber Grimes runner up.

See The Archives for past articles.
---
Copyright © 1999, 2000 The Sublette County Journal
All rights reserved. Reproduction by any means must have permission of the Publisher.
The Sublette County Journal, PO Box 3010, Pinedale, WY 82941 Phone 307-367-3713
Publisher/Editor: Rob Shaul editor@scjonline.com