From the pages of
The Sublette County Journal
Volume 4, Number 45 - 6/29/00
brought to you online by Pinedale Online
---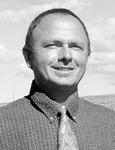 Monte Olsen

Louie Tomassi Has a Challenger
4-term Republican has run unoposed in last two elections
by Rob Shaul

For the first time since 1994, State Representative Louie Tomassi of Big Piney has competition in his re-election bid. The 4-term Republican is being challenged by Monte Olsen of Daniel, who plans to make a serious run against the incumbent.

Mr. Tomassi represents House District 20 in the State House of Representatives. His district includes Big Piney, Marbleton, Boulder, Kemmerer and Diamondville.

He was first elected to the seat in 1992 when he mounted a successful primary challenge to incumbent Dan Budd of Big Piney. He went on to defeat democrat Susan Hunzie, currently the mayor of Diamondville, in the November general election.

Prior to running for the State house, Mr. Tomassi served as a Sublette County Commissioner for two terms in the 1980s. He ran for a third term, but was defeated by Buzz Wassenberg. No Sublette County commissioner has ever been re-elected for a third term.

In 1994, during his first re-election bid, Mr. Tomassi was challenged in the primary by Karl Drum, an Exxon employee from LaBarge. Mr. Tomassi defeated Mr. Drum in the primary, and has run unopposed in the two elections since.

This year, Mr. Tomassi is being challenged by Monte Olsen, who lives in Daniel. Mr. Olsen, 43, was born in Cheyenne and has worked in the ski industry for 24 years. He currently commutes to work in Jackson, where he is a ski instructor and ski instructor supervisor at the Jackson Hole Mountain Resort. He has lived in Daniel for three years, and is married to Lisa Glenn, an optometrist who maintains clinics in both Jackson and Pinedale. He has two teenage sons.

In an interview, Mr. Olsen declares that he's going to mount a serious campaign and is a "viable candidate" against Mr. Tomassi, an entrenched incumbent. He has a campaign committee, steering committee, campaign budget - he says he's prepared to spend "whatever it takes" to get his name out - and even an intern for his effort. He also has campaign experience. In 1992 he lost a state house race in Laramie.

Mr. Olson says he's already met for 2 1/2 hours with members of the United Mine Workers of America union in Kemmerer, and has meetings set up with outfitters later this week and teachers next week. He further promises to spend time campaigning door to door. "This will be a grassroots campaign," says Mr. Olsen, though he's forgoing buttons and bumper stickers. "We'll have yard signs, of course."

In terms of message, Mr. Olsen is hesitant to attack or criticize the incumbent. However, his two campaign slogans suggest change is needed. The two slogans are: "Responsive Representation," and "A New Voice, New Energy."

Though the bulk of the votes in House District 20 are concentrated in the Kemmerer and Diamondville area, Mr. Olsen promises to fight for votes in "every precinct," including the outskirts of Boulder and the ten votes in Calpet.

For his part, Mr. Tomassi is more combative and seems invigorated by the competition. "I don't know this guy very well," said the incumbent of his challenger, "I think he moved here two weeks ago." He continued, "I can't find anyplace where he's done anything in this county or any place else." Mr. Tomassi made a point to note that Mr. Olsen has an office in Teton County.

The incumbent declared he's going to continue the work in the legislature he's done all this time. He promises to continue to fight to "hold harmless" school districts in his county from any further changes in the school funding formulas. He's against any more tax cuts for industry "of any kind," and will oppose a statewide income tax or any further increase in the sales tax.

At 76 years old, Mr. Tomassi is still working at his E&L car dealerships in Big Piney and Diamondville. He successfully fought back throat cancer three years ago and today says his health is good.

Because both candidates are republicans and no democrats have filed for the seat, this election will be decided in the August 22 primary. The primary winner will advance on to the November general election where he will run unopposed.

See The Archives for past articles.
---
Copyright © 1999, 2000 The Sublette County Journal
All rights reserved. Reproduction by any means must have permission of the Publisher.
The Sublette County Journal, PO Box 3010, Pinedale, WY 82941 Phone 307-367-3713
Publisher/Editor: Rob Shaul editor@scjonline.com