From the pages of
The Sublette County Journal
Volume 4, Number 45 - 6/29/00
brought to you online by Pinedale Online
---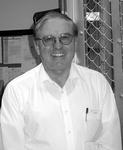 Hank Ruland

County Sheriff is a Pinedale Boy, Born & Bred
Once Hank Ruland got law enforcement into his blood, he couldn't shake it
by Jennifer Binning

"She is the strength that gets me through the day to day stuff," says Sublette County Sheriff Hank Ruland with obvious affection when he talks about Debi, his wife of 28 years. It takes a special person to be a cop's wife, and very few can do it, but according to Hank, Debi has it down to an art. "We are very good friends, and she is the one I go home to and cry on her shoulder when the things I see on this job get hard to take."

For Hank Ruland, "this job" is law enforcement, and he takes it very seriously, having been in the field almost continuously for the past 27 years. But before Hank was a cop, he was a Pinedale boy, born and bred.

Hank was born in Rock Springs in 1946, and when his parents Henry Sr. and Helen brought him home, it was to the "Old Jorgensen Ranch," now owned by Stan and Madeleine Murdock.

Henry Sr. was the foreman on the ranch, and Helen helped out cooking for the hungry crew during haying and branding. Little Hank was one of a brood of five Rulands who spent many days running amuck "doing kid things" on the ranch, when they weren't working themselves weary under their father's watchful eye. Sadly, Hank never knew his older brother, who was killed in a hunting accident at the age of 11, before Hank was born.

"It was a great life and a good way to grow up," says Hank. "I learned how to work hard and be responsible at a young age. I also learned that I did not want to be a rancher and be on the job seven days a week. That is hard work!" Hank adds with a smile.

After graduating from Pinedale High School, Hank attended 3 1/2 years of college, between the University of Wyoming, Chadron Teachers College and Western Wyoming Community College. With a major in Education and a minor in Psychology, Hank muses that if he had not gone into law enforcement, he probably would have been a teacher.

In April1969, Hank received a letter from Uncle Sam and joined the largest group of draftees called to serve during the Vietnam conflict. Hank however did not see active combat in Vietnam, he was trained as a computer operator and fought his battles with punch cards just South of the DMZ in Korea. "Talk about culture shock! Here is this kid from Pinedale who climbs off the plane in Seoul, Korea," Hank laughs his easy laugh at the memory.

After his two year stint was over, Hank returned to Pinedale and became a "very minor star" in a movie being shot in Boulder. The movie, "The Story of Earl Duran" was never released, to the best of Hank's knowledge, but he clearly remembers the excitement the filming caused in town. "It was kind of fun, the whole town was involved. I mostly helped pack equipment into the mountains, but I got a little time on camera too."

The memories roll right off of Hanks brain, and if he cannot come up with a name, he can tell you enough information about the person that it leaves little doubt as to who he is talking about. "Martin Sheen was here and so was that guy who owned a cabin up at Boulder Lake. That character actor who died. Slim Pickins! He was here too, as well as a bunch of others" recalls Hank fondly.

When Hank came back to Pinedale, he met a local gal named Debi King who had just graduated from High School. Smitten, he married her in 1971. They decided that California was the place to be, and with dreams of the big city and dollar signs in their eyes, the pair left Pinedale in 1972 to make their fortune. They lasted just about three months before the two Pinedale kids returned to the peace and quiet of Pinedale.

Hank really never set out to become a lawman, but having grown up here, he knew most of the officers and respected them. A spot opened up in the Sheriff's department, and Hank went to work as a dispatcher, in charge of calling both of the Pinedale cops when needed, as well as the county sheriff's deputies.

As soon as Hank sat behind his dispatcher desk, then located upstairs in the courthouse, he knew he was hooked. His vantagepoint in the courthouse made him the eyes and ears of Pinedale, and a career which has lasted almost 30 years had begun.

One of Hanks favorite stories about his early career involves the suspected homicide of the former Sheriffs son, Terry Horton, who turned up dead on his father's lawn one night. "I was a boot green rookie, with only 5 or 6 months under my belt when I was involved in my first death investigation. I was working for the Pinedale Police Department at the time, and the Sheriff's office handled any felonies that came along, so they did most of the investigation, but I got to do some of the footwork, walking from door to door, interviewing possible witnesses." After it was all said and done, no one was arrested because the victim died of a subdural hematoma due to a nasty blow to the head, which may have happened if the boy tripped, fell and hit his head. If Hank wasn't hooked before, he sure was now.

"I have always gravitated towards homicides and other investigations, and I have been involved in every homicide investigation in Sublette County since 1973" says Hank, recalling yet another Pinedale death.

"It is never fun to work a homicide, but it is definitely interesting," Hank says, prefacing the investigation of Bill DuPlantis murder.

One day in 1987, the Sheriff's office received a call from a passing motorist about something floating in a river. That something was later identified in the morgue by Hank as Bill DuPlantis. He had been hog tied, shoved in the water and shot in the head. "No one knew who he was, but having lived around here all my life, I took a look and knew just who he was." The Department of Criminal Investigation entered the scene and Hank was kept busy searching for suspects and issuing search warrants. Finally after a manhunt in Cody, the long arm of the law got their man, and two people were convicted of premeditated murder. "We just couldn't do anything wrong on during this investigation," says Hank. Every question produced more answers than they could have hoped for, but it was not without a lot of good police work. "The first 72 hours following the discovery, we had virtually no sleep. We just kept following leads."

Not only did the officers involved find the murderers quickly, but the case also ended a long dry spell of no murder convictions in Sublette County.

In 1974, with just 18 months of law enforcement under his belt, Hank ran for Sheriff and won. Having come straight from the Chief of Police job he held with the town, Hank was confident he would be a good Sheriff. He soon found out he had bitten off more than he could chew. After a few years of putting out personnel fires and trying to keep everyone happy, Hank threw up his hands in disgust and left the department, going to work at the Black Butte Coal Company. "I had no clue how to resolve conflicts," Hank said ruefully.

Once law enforcement got into his blood, however, he just couldn't shake it, and in 1980 Hank returned to Pinedale and went to work for his former Undersheriff who had taken over when Hank left the department.

Although the experience was a difficult one, it helped formulate Hank's philosophy that he lives by now, and repeats often to anyone in the department who needs to hear it. "I don't know what the key to success is, but I do know the key to failure is trying to please everybody" Hank intones slowly, so every syllable soaks in.

This philosophy comes in handy for Hank when he thinks about the biggest challenge he faces in his job: trying to keep 3 mayors, 12 town councilmen and 3 commissioners reasonably happy and well informed.

"I make decisions everyday that people don't like, I just try to be as consistent as possible and treat people as fairly as possible," says Hank, with the caution of a man who has been chewed up and spit out during the election process. "The election of 1992 [vs. Doyle Hopper] was a tough one on me and my family. There was so much stuff being said in the newspaper that wasn't true, and my young kids were asking if I was really the bad guy they said I was."

With so many years of law enforcement in Hank's rear view mirror, the Sheriff is planning on retiring when his term expires in 2 1/2 years. "I believe that any sheriff's office worth it's salt needs a leadership change every 8 years."

As for what the future holds, Hank says he has been considering a run for County Commissioner at some point, and feels he has the qualifications, considering he has attended almost every Commissioners meeting for the past 5 1/2 years, and he is well acquainted with the issues. But what Hank is really looking forward to is fishing -" you can't worry when you are fishing," - and hiking in his beloved Wind Rivers, "without a pager" or a worry in the world.

See The Archives for past articles.
---
Copyright © 1999, 2000 The Sublette County Journal
All rights reserved. Reproduction by any means must have permission of the Publisher.
The Sublette County Journal, PO Box 3010, Pinedale, WY 82941 Phone 307-367-3713
Publisher/Editor: Rob Shaul editor@scjonline.com